A delicious bowl of chicken noodle soup can be ultra-satisfying when it is well-seasoned with the right amount of flavors you need. So, this post is dedicated to everyone who wants to learn about the best chicken noodle soup seasonings.
You can make your chicken noodle soup flavorful by incorporating seasoning blends such as:
Continue reading for further details!
The 04 Best Seasonings For Chicken Noodle Soup
This soup dish does not actually come with a fixed recipe. In fact, you can prepare and flavor it with the ingredients and seasonings the way your taste buds prefer!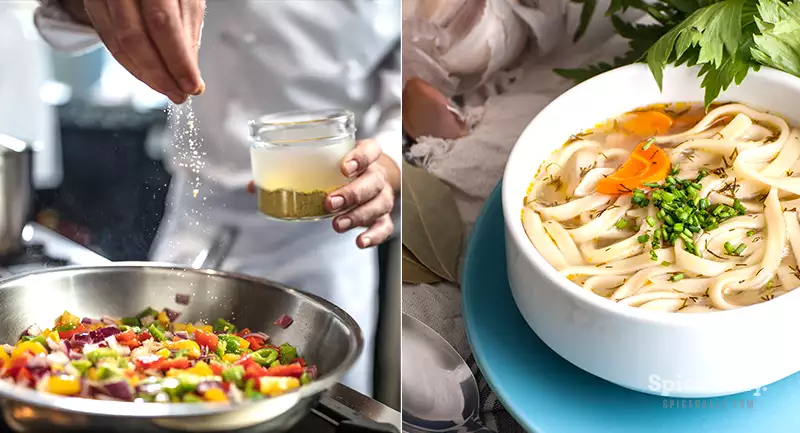 Thus, seasoning blends can play a significant role here since they can bring many flavors with just one single element. Even though there are many seasonings that we regularly use, each one of them will not go so well with this light dish.
So, check out these chicken noodle soup seasonings and choose the one you like!
01- Poultry Seasoning
Poultry seasoning is one of the most famous additions to our topic leader. This blend contains ingredients like:
Nutmeg
Thyme
Sage
Rosemary
Marjoram
You can allow its flavors to infuse with the broth really well by adding this seasoning when you saute the vegetables for the soup.
The taste of nutmeg, when paired with other herbs in the mix, will give a unique warmth to your soup. However, some varieties of Poultry seasoning you buy from the store could contain salt. So, be careful when you add extra salt to your dish.
If you like to try a tasty homemade spicy chicken noodle soup, click on this link and get our complete step-by-step guide from this article.
02- Italian Seasoning
Who said Italian seasoning is only for pizza? You can actually have a tasty twist by shaking some of this into your soup. Italian seasoning is generally a blend of herbs that includes:
Marjoram
Basil
Rosemary
Oregano
Sage
Thyme
Savory
Thanks to the majority of pungent and aromatic herbs, a little from this blend can go a long way in your dish. 
Therefore, be mindful if you intend to go with additional herbs since Italian seasoning can give a sophisticated flavor. You can use this blend as a base flavoring or to enhance the taste of the broth.
Did you know that Italian seasoning is also an excellent complement to beef? If you need to discover more seasonings for ground beef, click on this link and refer to this post.
03- Herbes de Provence
Herbes de Provence works well as much as Italian seasoning in your chicken noodle soup. This is also a distinctive blend of herbs that generally contains:
Basil 
Rosemary
Savory
Thyme
Tarragon
Lavender flowers
Herbes de Provence can add a depth of flavor to your dish while getting along well with the rest of the ingredients. Like you would do with poultry and Italian seasonings, you can incorporate this into your soup when you saute the vegetables or add it to the broth.
Since this blend also has many flavorful herbs, be moderate when adding other aromatics, so it can prevent their flavors from overpowering your bowl of soup.
Are you interested in learning about the best spices and herbs that work well with chicken noodle soup? Just take a minute and refer to this article.
04- Other Store-Bought Seasonings
You know that the spice aisle of the supermarket never runs out of various kinds of seasonings under many leading brands. Hence, try to pick something savory and herbal in your next shopping session.
For example, you can go for seasonings like garlic and herb, onion and herb, vegetable seasonings, etc. These types of blends typically contain ingredients like:
Dried onion
Dried garlic
Thyme 
Basil
Oregano
Savory
Dried vegetables (celery, carrot)
Dried bell peppers
Use them just like the rest in our list- while sauteing vegetables or to flavor the broth. Just be mindful not to pick seasonings that are overwhelmingly spicy and hot. More the herbs- the better it would be!
Soup is a lot like a family. Each ingredient enhances the others; each batch has its own characteristics; and it needs time to simmer to reach full flavor.

Marge Kennedy
Concluding With The Best Chicken Noodle Soup Seasonings…
Chicken noodle soup is a light and healthy meal, so we should follow up with seasoning blends that will not overpower its overall taste. Consequently, poultry seasoning, Italian seasoning, Herbes de Provence, and many other store-bought seasoning blends can really work wonders in your soup.
Related Topics