Did you think that Thai curries are only put together with curry pastes? Absolutely not! Thai curry powder is one of their primary elements, and here's all about the versatile Thai curry powder and its ingredients!
Thai curry powder is milder than Indian curry powder and less spicy than regular Thai curry pastes. It is typically made with several ground spices and herbs, such as:
Turmeric
Coriander
Cumin
Ginger/ galangal
White pepper
Red chili flakes/ powder
Cloves
Bay leaves
So, let's dive into more ins and outs about this spice blend, and you'll be rewarded with a simple homemade Thai curry powder recipe at the bottom of this post; keep reading!
What Is Thai Curry Powder?
Thai curry powder is a simple blend of ground herbs, and spices often used to make authentic Thai foods. Although it is not widely used as much as Thai curry pastes, it still adds depth, color, and an amazing flavor boost to Thai classics with its not-so-overpowering nature.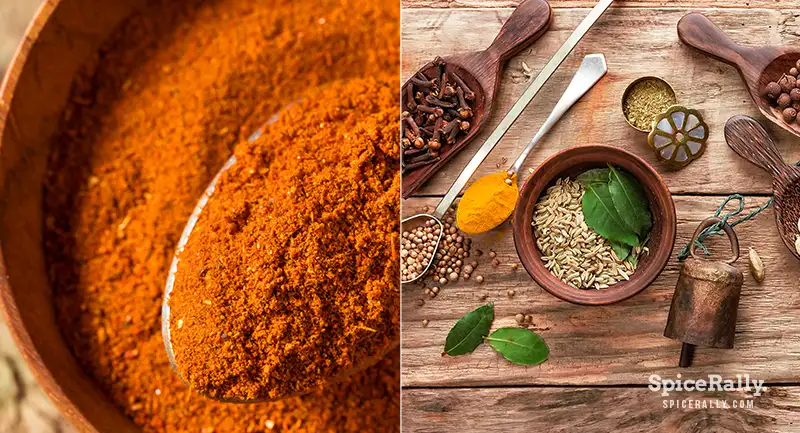 You'll find Thai curry powder in the international shopping aisle of your local supermarket under a few brand names, while you could also make this blend simply at home. This spice blend is less intense than regular Indian curry powder and less intense/spicy than any Thai curry pastes. 
Thus, it has a versatile, colorful, and aromatic nature with bold, earthy, mildly spicy, and hot flavor notes. Salt is not usually added to Thai curry powder, and we can see that the productions are sticking to the same set of ingredients without changing it much. This way, the Thai curry powder has been able to maintain its versatility and keep things simple as such.
Did you know Thai curry powder's flavor profile perfectly matches that of rasam powder? Click here and refer to our article to learn how Thai curry powder works as a substitute for rasam powder and many more!
Thai Curry Powder Ingredients.
Spices And Herbs –
Turmeric- This works as the base of Thai curry powder, which is accountable for most of its iconic earthy undertones and bright yellow hue. Turmeric powder adds so much depth to this blend, pairing well with all the other elements used.
Coriander- Mildly citrusy, warm, and earthy coriander seeds possess a gentle flavor profile to back up all the other ingredients used here. The flavor of this spice intensifies with toasting and often makes a heavenly pairing with other spices like turmeric, cloves, and ginger.
Cumin- Nutty, warm, and slightly bitter-sweet cumin seeds lend the desired distinctive flavor to Thai curry powder while making this blend incredibly aromatic. Like coriander, the taste of cumin gets heightened when toasted, and it teams up well with all the other warm spices used in this blend.
Ginger/ galangal- Traditionally, most Thai curry powder recipes include ground galangal, while ground ginger features in most of them when it comes to Western cuisine. However, both of them add a unique zest to this blend with spicy-sweet, warm and lemony hints. Galangal is usually more intense than ground ginger, but they both give a similar effect to this spice blend.
White pepper– Brighter, sharper, earthy, and grassy white pepper gives the perfect pepperiness to Thai curry powder, blending in with all the other ingredients used in this mixture. White peppercorns are usually toasted with other whole spices, while powdered white pepper is sometimes used.
Red chili flakes/ powder- This spice is the ultimate heat agent of this blend. While traditionally, red chili flakes are used in the mixture, some recipes put together in Western cuisine contain red chile powder types such as cayenne pepper. More or less of this spice is used to give the expected heat, spiciness, and profundity to this blend.
Cloves- this ingredient is considered one of the most intense spices used in Thai curry powder. Cloves are often incorporated moderately due to their characteristic fragrance and powerful, warm, astringent, and spicy flavor notes. This spice perfectly pairs with all the warm ingredients used in this blend.
Bay leaves- Pungent, bold, warm, and slightly bitter undertones of bay leaves give a remarkable depth to Thai curry powder. Like most other whole spices, the flavor elements of this spice boost when toasted, and it pairs well with other ingredients in the mix, such as cloves, white pepper, ginger/ galangal, etc.
Other Thai Curry Powder Ingredients –
As aforementioned, most Thai curry powders have been confined to the same ingredients that do not differ much from the authentic recipe. However, some recipes put together in Western cuisine occasionally include additional elements such as:
Ground nutmeg
Onion powder
Dried herbs (parsley, basil, etc.)
Moreover, the Thai curry powder options you find in the store might contain additives, color enhancers, and other preservatives unless they are organic.
Japanese curry powder is another type of curry powder that is as flavorful as Thai curry powder. Follow up on this link and read our comprehensive article to learn what this spice blend really is!
How To Use Thai Curry Powder?
Since versatility is the first thing that comes with this spice blend, you can use this simply with anything that calls for curry powder or a signature curry flavor. In consequence, you have endless options to incorporate this flavorful blend with your regular dishes other than curries. Some of them include the following:
Soups and stews
With ground meat or fish recipes
With rice or noodles
Vegetable recipes
To flavor sauces
To incorporate marinades and rubs
It can be used to spice up creamy dishes
Follow up on this link to find out more ways and tips to incorporate Thai curry powder with your favorite dishes!
Thai Curry Powder Substitutes
This spice blend has a mild and buildable flavor, so you can find several substitutes which could effectively give out the flavor, color, and even texture similar to it. Here are some of them you can count on wherever you can't find or run of Thai curry powder:
Homemade Thai curry powder
Curry powder used in western cuisine
Madras curry powder
Thai curry pastes
Vindaloo curry powder
Click on this link and refer to our informative article to check out how these Thai curry powder substitutes will help you out whenever the original product is not around.
Is Thai Curry Powder Vegan?
You might find traces of fish in most Thai curry pastes, but Thai curry powder does not typically contain any animal traces, unlike them. In fact, this spice blend usually comes together with spices and herbs, which derive from one hundred percent plant sources.
Is Thai Curry Powder Keto-Friendly?
This blend is made with ground spices and herbs, which are very low in carbs. Therefore, Thai curry powder can be considered a safe addition to your diet if you follow a ketogenic diet.
Is Thai Curry Powder Gluten-Free?
Gluten-related ingredients are not usually included in this spice blend. However, this could depend on the ingredients used in each production since wheat extracts can be occasionally used. Thus, it would be best to read the list of ingredients before buying if you are concerned.
Are Thai seasoning and Thai curry powder the same thing, or are they different? Let's clear this out for you; the answers are right in this article!
Does Thai Curry Powder Contain MSG?
MSG is not typically an element used in Thai curry powder. But you will have to check and read the label if you need to make sure before purchasing.
There Are Many Reasons To Make Thai Curry Powder One Of Your Pantry Staples!
Thai curry powder is a signature blend of spices and herbs, such as turmeric, coriander, cumin, ground ginger, bay leaves, etc. The gentle and not-so-intense flavor profile of this spice blend is ideal to be added to a variety of dishes. So, try it out with your next Asian-style recipe, and let us know how your family loved it!
Related Topics