Famous as one of the staples in Indian cuisine, Sambar powder is a unique spice blend that adds depth to their famous sambar curry. So, this guide is to enlighten you about sambar powder and its ingredients.
Sambar powder is also known as Sambar Masala Powder or Sambar Podi in Tamil. It is a spicy, vibrant, and aromatic blend of spices, herbs, and lentils. This distinctive spice blend usually comes together with spices and herbs such as:
Coriander
Cumin
Red chiles
Fenugreek seeds
Black peppercorns
Mustard seeds
Turmeric powder
Curry leaves
This spice mixture also contains a few Indian lentils, such as chana dal, urad dal, etc. And may include coconut, asafoetida, and salt.
Use this guide to learn about sambar masala and educate yourself if you love traditional Indian foods!
What Is Sambar Powder?
India is a nation known for its rich spice culture. And sambar powder can undoubtedly be considered one of its jewels. This flavorful and aromatic spice blend is typically made with dried and toasted spices, herbs, and lentils. 
You might be able to find different variations of sambar powder unique to each region and household of India, depending on the content. But, a set of similar ingredients often show up in every recipe, which gives its distinctive taste, color, and fragrance. Sambar powder is also recognized as Sambar Masala Powder or Sambar Podi. This is the base of India's renowned, traditional sambar vegetable curry.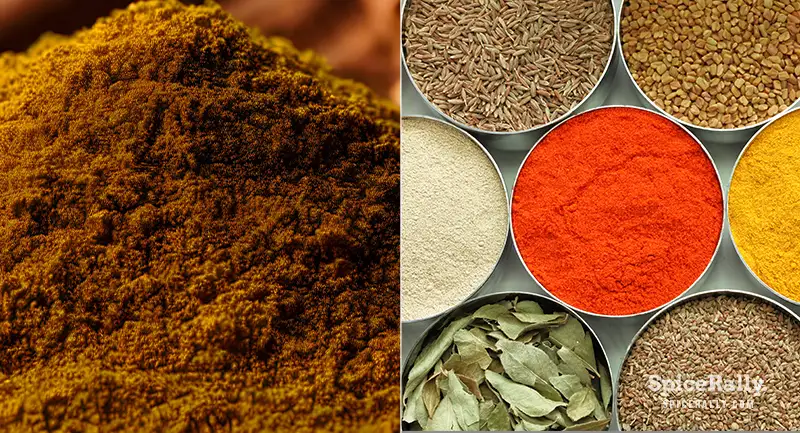 Even though this is commonly used in this dish, this spice blend could also add profundity to many other Indian-inspired recipes. The essential Indian spices usually give the exotic, earthy, warm, and spiciness to this spice blend. Also, the lentil helps to build richness and thickness. 
You'll find plenty of store-bought options, and you'll be able to get them in different heat levels. Above all, sambar powder is very easy to make at home, which calls for only a few of the pantry staples.
Click on this link and refer to this post to get the guidelines for making a simple batch of homemade sambar powder.
Ingredients In Sambar Powder
Spices And Herbs ~
Coriander- This spice actually works like the base of sambar powder. Accordingly, a more considerable quantity of coriander seeds is used compared to other spices, herbs, or lentils. Coriander seeds usually give a pleasant, gentle flavor with warm, citrusy, slightly sweet, and earthy undertones. This spice usually pairs with all other ingredients used in this blend.
Cumin- Being another staple in the mixture, cumin seeds complement the gentle flavor notes offered by coriander seeds. The nutty, bitter-sweet, warm, and earthy overtones enhance the overall depth of sambar powder. Cumin seeds are incredibly aromatic, so they are largely accountable for the exotic fragrance of this spice mixture.
Red chiles- Traditional south Indian sambar powder recipes often include either Kashmiri red chiles, Byadgi red chiles, or a combination of both. Whole red chiles are toasted with the rest of the spices to give this blend its signature smoky, earthy, and warm flavor along with the desired heat. Red chiles also add vibrancy to sambar powder. And the heat level of the mixture primarily depends on the amount of red chiles used.
Fenugreek seeds- Tangy and bitter fenugreek seeds, also popularly known as "methi" in South Indian cuisine, gives a remarkable flavor enhancement to this spice blend. Typically, only a smaller amount of fenugreek seeds are used due to their sharp, easily overpowering flavor notes. This spice pairs well with all the warm spices and herbs used in our topic leader while complementing the taste of lentils.
Black peppercorns- This is another must-have ingredient in this spice blend which contributes with its distinctive peppery, earthy, piney, and warm flavor elements. Black peppercorns team up well with the heat of the red chiles and back up the warm flavors of the rest of the spices used. This spice is also toasted with other ingredients so that the taste usually gets intensified by heating them up.
Mustard seeds- The savory, warm, and pungent spiciness of black mustard seeds give an iconic profundity to sambar powder. This spice is also roasted with the rest of the spices before grinding to intensify its flavor. The piquancy of mustard seeds often pairs well with red chiles, cumin, curry leaves, and lentils.
Turmeric powder- Incredibly earthy and warm turmeric lends a beautiful color to sambar powder. Since little from this spice goes a long way in your recipes, only a small amount is included in this spice mixture as well. Turmeric powder doesn't have an overpowering flavor effect. But the earthiness works pleasingly when paired with the rest of the warm spices.
Curry leaves- This herb is widely used in Southeast Asian cuisine and is known for its incredible aroma and characteristic herbal overtone. Fresh curry leaves are toasted with the rest of the whole spices before grinding up sambar powder. This ingredient essentially upgrades the taste of this mixture, teaming up well with black pepper, coriander, red chiles, mustard seeds, fenugreek, and dal.
Other Ingredients In Sambar Powder ~
In addition to the main spices and herbs mentioned above, some sambar powder recipes might also contain other ingredients like:
Toasted, unsweetened coconut
Asafoetida (hing)
And most importantly, lentils featured in sambar powder are the essential elements. They also play a significant role in bringing the heavenly flavor of this spice mixture. Lentils that are often included are as follows:
Chana dal
Urad dal
Pigeon peas (toor dal)
Although this blend does not have salt traditionally, you might find this ingredient in some recipes. Moreover, commercially packed sambar powder options might also include other preservatives, anti-caking agents, and color additives.
How To Use Sambar Powder?
As aforementioned, the primary purpose of sambar powder is to work as the base of traditional sambar curies made in Indian cuisine. This blend is also used by neighboring countries of India, like Sri Lanka, Pakistan, Bangladesh, Nepal, etc., to flavor many of their vegetable dishes. 
The interesting flavor profile of this spice mixture can complement a wide variety of vegetables like potatoes, carrots, radishes, okra, pumpkin, etc. Moreover, you could also try this in other dishes such as:
Soups, stews, and broths
To make curry sauces and gravies
When making lentil dishes
It can be added to stir-fried curries
To perk up rice dishes
Spices up meat or fish fillings
Follow up on this link and check out this article to find more impressive ways to use sambar powder to jazz up your daily dishes with a wonderful Asian kick.
What Are The Possible Sambar Powder Substitutes?
Sambar powder is typically different from other ubiquitous spice blends used in India. It has a rich flavor from roasted spices, herbs, and lentils. However, you'll be able to find a few possible alternatives for sambar powder if you can't find it around or run out of it at home. 
The best option is to make a DIY version of sambar powder at home that gives the closest flavor. You can also count on a few other popular blends that can be bought or made at home. These substitutes include:
Regular curry powder
Madras curry powder
Rasam powder
Vindaloo curry powder
Sri Lankan curry powder
We have shared a more detailed article about these sambar substitutes and how to use them when replacing the original blend. Go, check it out!
Does Sambar Powder Contain MSG?
Artificial flavor enhancers like MSG are not typically a part of sambar powder. And we don't see this ingredient included in most store-bought or homemade recipes. But you can always check the ingredients by reading the label if you need to make sure.
Is Sambar Powder Vegan-Friendly?
Sambar powder comes together with herbs, spices, and lentils, which are considered to come from one hundred percent plant sources. Therefore, this spice blend is a perfect choice to be added to your diet if you track a vegan or vegetarian diet.
Is Sambar Powder Gluten-free?
Most sambar powder recipes are gluten-free, while you may find commercially-packed exceptions with traces of gluten used as thickening agents. Thus, it would be best to check the label before purchasing.
Is Sambar Powder Keto-Friendly?
This spice blend contains a lot of lentils which could not be a favorable choice if you are following a strict ketogenic diet. But you could remove lentils and follow up only with roasted spices. In this way, you can align this blend to your keto diet if you make it at home.
Enliven Your Dishes With Sambar Powder!
The warm, earthy, and flavorful spices and herbs like coriander, cumin, red chiles, curry leaves, turmeric, etc., offer the ultimate depth to the sambar powder. At the same time, the lentils make it extra special by giving the desired nutty, crunchy, rich taste. 
This exotic spice blend is nothing new to the South Indians as they habitually consume it with their popular sambar curry. It jazzes up vegetables, bringing an authentic South Indian kick to your dinner table!
Related Topics