South Indian households are no short of rasam powder. But, westerners might find it hard to reach for the exact product when they need to make rasam. So, here we go with some of the best rasam powder substitutes!
Alternatives that could give a similar flavor replication to rasam powder include:
So, let's dive in and see how these substitutes can help you make Indian-style dishes without rasam powder.
9 Wonderful Rasam Powder Substitutes
Rasam powder is known for its characteristic and flavorful combination of hearty spices, herbs, and lentils. This is one of the dominant spice blends in south Indian cuisine, mainly used to make different types of rasam dishes. 
The taste of this spice blend is pretty versatile, and most of it holds the flavor of coriander, cumin, and black pepper. Other ingredients include:
Fenugreek seeds
Dried red chiles
Curry leaves
Toor dal
Chana dal
Asafetida
Ground turmeric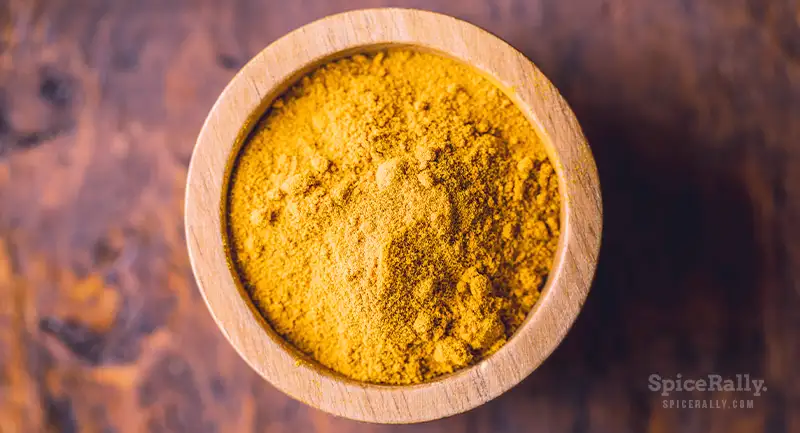 The uncomplicated flavor of rasam powder has made it easier for us to find several alternatives that will give a similar taste, texture, and depth to the original blend. While most of it is credited to the blends coming from Indian cuisine, you'll find a few other international spice mixtures as well. So, refer to the rest of this article to find out what alternative will work best for you.
01- Homemade Rasam Powder
Since rasam powder requires only a few simple ingredients, you can make this spice blend easily at home. This is undoubtedly the most effective substitute that can give the same effect as the product you buy from the store. 
You can even make a better batch with freshly ground spices. All you have to do is to get the required ingredients with just one visit to an Asian store! Homemade rasam powder can be used the same way you use any store-bought option. And this is ideal for making the main dish- rasam.
If you need to make your batch of rasam powder at home, click on this link and follow up on this simple recipe we have shared in this post.
02- Sambar Powder
Sambar powder is the next most effective alternative for rasam powder in terms of ingredients, flavor, texture, and even color. The ingredients used in both spice blends are similar, except that sambar powder contains more red chiles. 
And it also has coconut and mustard seeds which we don't usually get in rasam powder. The similar ingredients they share include:
Coriander
Cumin
Lentils
Curry leaves
Asafetida
Turmeric
Fenugreek seeds
Also, sambar powder is the perfect go-to substitute for our topic leader whenever you are out of it. In consequence, you can use this even in the rasam dish. 
But keep in mind that it can give a slight difference in taste. Feel free to use sambar powder in a 1:1 ratio in any dish that initially requires rasam powder.
03- Indian Or Madras Curry Powder
The next best pick to use in place of our topic leader is Indian curry powder or Madras curry powder. This is another popular Asian spice blend used primarily to make curries. However, Indian or Madras curry powder also contains some similar ingredients, such as:
Cumin
Coriander
Black peppercorns
Curry leaves
Ground turmeric
Dried red chiles
You'll not typically find ground lentils in this spice blend, so you'll find this option slightly lighter in depth. Moreover, Indian or Madras curry powder can be a little more intense in flavor due to additional spices like cloves, cinnamon, ground ginger, fennel, etc. 
Therefore, it is best to begin in pinches and then adjust the taste as desired. This alternative is best for dishes that initially call for rasam powder as a secondary ingredient.
04- Curry Powder Used In Western Cuisine
If you live out of India, probably in a Western country, the regular curry powder readily available in the market can help you to replace rasam powder! This is also one of the most gentle types of curry powders and shares a similar set of ingredients with our topic leader like:
Ground turmeric
Coriander
Cumin
Black pepper
This spice blend is typically less heaty, with a small number of red chiles and black pepper. And like most other options on our list, this, too, does not contain ground lentils. And it also often includes cardamom and ground ginger as additional ingredients. 
However, this curry powder is good to go with many recipes that call for rasam powder as a secondary element. Thus, you can start with a small quantity and then increase the amount to suit your palate.
05- Garam Masala
Garam Masala is the most popular spice across India, and is used almost in everything they make. This spice mixture is also famous even out of India, so you'll find it effortlessly. Garam Masala is, however, a complex spice blend but still has some elements to work as a substitute for rasam powder. 
This option might contain all the ingredients used in rasam powder, but you will not find ground lentils. Nevertheless, Garam Masala can be spicier in flavor regardless of the variation and will not be suitable for the main rasam dish. 
Hence, you can use this replacement with secondary dishes in pinches, adjusting the taste as you build up the flavor.
06- Vindaloo Curry Powder
Vindaloo is a popular Goan curry powder mixture used commonly in meat and seafood dishes. This spice blend is another option that you can count on, but mindfully. 
The reason is that vindaloo curry powder possesses a more pungent chile and a cardamom note, making it hotter and spicier than rasam powder. Apart from that, it contains some similar elements compared with our topic leader, such as:
Coriander
Cumin
Black pepper
Turmeric
Curry leaves
Fenugreek seeds
This also has cinnamon, fennel seeds, bay leaves, star anise, etc. As with most options on our list, vindaloo curry powder also doesn't feature ground lentils. 
On that note, you can use this primarily with meat, fish, or other seafood dishes initially called for rasam powder. Remember to start slow and then proceed as you develop the flavor profile of the particular dish.
07- Thai Curry Powder
This is another gentle curry powder mixture coming down from Thai cuisine. This is versatile and has some similar ingredients to rasam powder, such as:
The heat profile is attained by the amount of red chile flakes or powder, while the pepperiness is obtained by white pepper. However, this spice blend typically includes galangal, bay leaves, and cloves as additional ingredients. 
Unlike many others on our list, you don't get ground lentils in this substitute. Thai curry powder has only a very few variations or is overwhelmingly spicy. 
Thus, you can use it in a 1:1 ratio when replacing it. But if you are unfamiliar with this blend or substituting, it would help you start moderately and increase the quantity as you go.
08- Sri Lankan Unroasted Curry Powder
Since we are talking about the "best" substitutes for rasam powder, it is in vain if we miss out on Sri Lankan unroasted curry powder! This is a popular spice blend used in almost every Sri Lankan household. This is the mildest curry powder of the Lankans, which contains similar elements to our topic leader, such as:
Coriander
Cumin
Fenugreek seeds
Curry leaves
Some unroasted curry powder variations might include black pepper, but they don't usually contain ground lentils, red chiles, or ground turmeric. 
So, if you're reaching out for this option, you might want to add some chile powder and black pepper (especially when making rasam) for a better flavor approximation. 
Sri Lankan unroasted curry powder can be recommended as a suitable substitute for anything that initially calls for rasam powder. You can start with a 1:1 ratio and develop the taste as you make the dish.
09- Chaat Masala
The last on our list is a possible spice blend to pick in case you cannot find any else mentioned above. Chaat Masala is another popular Indian mixture mainly used to spice up Indian street food. The bulk of this spice blend is ground cumin. But it has many other interesting ingredients, such as mango powder and black salt. 
Chaat Masala also contains asafoetida and black peppercorns, which can be compared to the flavor of rasam powder. However, you should be mindful of using this ingredient since too much of it can completely change the overall taste of your dish. It doesn't contain coriander, turmeric, red chiles, or curry leaves. 
If you pick this option as a substitute, you might want to add them in pinches to balance out the flavor. We don't recommend going with Chaat Masala in every dish that calls for rasam powder. In that case, you can use this alternative in pinches with the dishes that require our tropic leader as a secondary ingredient. 
You could also try this with a heavy rasam dish, along with other ingredients, just to get an incredible flavor twist! However, most chaat masala options from the store could contain citric acid and artificial color additives. So, pay attention to them as well.
Make These Easily Accessible Blends Your Best Savior When Rasam Powder Is Not Around!
Getting a similar taste to an exotic spice blend seems out of the question when you don't know how to compare the ingredients or flavor with another. So, in that case, we hope this episode helped you choose the best substitutes for rasam powder. 
While homemade rasam powder can be the best possible pick, other Indian spice blends, like sambar powder, Indian curry powder, garam masala, etc., can come to your rescue with a similar effect. 
In addition, Thai curry powder, Sri Lankan unroasted curry powder, and the curry powder used in Western cuisine are also perfect picks to go for whenever you don't have or can't find rasam powder around.
Related Topics