Food lovers who have a thing for spicy food always crave the right amount of kick of heat and spiciness in their plates. So, in this post, we will guide you with information about chili powder and its ingredients,
Chili powder, often known as "Chilli," powder in the UK, is mainly a blend of several ground spices and herbs. The base of this powder is pulverized red chili peppers, while the following ingredients back up its piquancy:
This blend may also include salt and sometimes onion powder or paprika. Keep reading as we have piled up more exciting information for you!
What Is Chili Powder- A Flashback To The History And Origins!
Chili powder is a robust, zesty red color powder that adds a depth of flavor, especially to spicy and savory dishes. It is not merely pulverized red chili peppers but a piquant blend of spices and flavorings that is widely available in stores, or you can also make it at home. This blend is popular in Tex-Mex dishes since it is considered an integral ingredient in Chili con carne.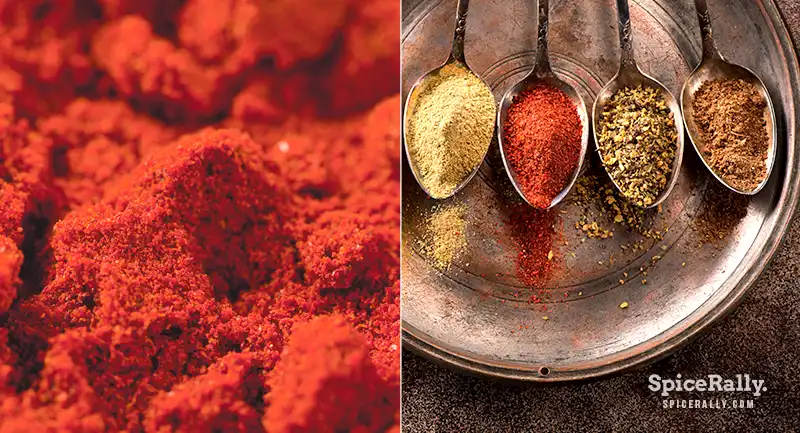 The sources claim that a German immigrant named William Gebhardt invented this blend in 1894. He imported chili peppers from Mexico and in order to preserve the bulk of chilies Gebhardt has decided to pulverize his chili peppers in a meat grinder. As an experimental cook who ran a cafe in Texas, Gebhardt has added cumin seeds and dried oregano to his ground chilies which he called "Tampico Dust." 
He then opened his own factory to sell his chili pepper blend, rebranding it as  Gebhardt's Eagle Chili Powder. And soon, the vogue of chili powder spread all over the nation, increasing the popularity of Tex-Mex food throughout the US. Now, many producers have come up with their own chili powder blends, but the basic ingredients have not changed over time.
Chili Powder And Its Ingredients
The potent combination of spices and herbs in chili powder offers a magical twist to our dishes, even when used in pinches. The base of the spice mix is usually non-negotiable, while other ingredients could vary depending on the producer. 
However, depending on the blend, things work as a ratio of one part red chili peppers to seven parts other spices.
Spices And Herbs In Chili Powder
01- Red Chili Peppers
The bulk of chili powder is made from ground red chili peppers, which is pulverized dry cayenne pepper – the most common variety we see in a majority of chili powder options in the USA market. 
But some chili powder variants might also include other chili pepper varieties like Ancho chilies, New Mexican, Chipotle, etc.
02- Garlic Powder
The rich and pungent flavor of garlic powder takes chili powder to a whole new level. The easy flow of powdered garlic enables its flavor to disperse throughout the blend. 
Although this wasn't an ingredient in the authentic chili powder, now garlic powder has become an ultimate tastemaker in the mix.
03- Ground Cumin
The distinctive nutty, earthy, bitter-sweet undertones of ground cumin provide a soulful taste and aroma to chili powder, pairing well with the piquancy of the ground chili peppers.
This spice instantly ramps up the flavor of hearty dishes that calls for some extra kick of spiciness when teamed up with the rest of the ingredients,
04- Dried Oregano
This herb is another authentic addition to our topic leader; this inclusion hasn't been altered over the years. Dried oregano gives a unique zing to chili powder with earthy and bitter notes.  
The slightly astringent mouthfeel of dried oregano pairs well with the heat of the red chili peppers, the nutty element of ground cumin, and the kick of garlic.
Other Chili Powder Ingredients
Apart from the essential ingredients mentioned above, most chili powder options contain salt. In addition, you may also find paprika or onion powder in some recipes. Store-bought options could also contain anti-caking agents and other preservatives.
Is Chili Powder The Same as "Red Chilli Powder"?
Chili powder and "red chili powder" are not the same. They are very different in terms of flavor, heat level, spiciness, and even color. 
Red chilli powder is the most common type of ground chile powder used mostly in Asian and Southeast Asian cuisines, especially Indian, Sri Lankan, Pakistan, Bangladeshi, Korean, Chinese, etc. It is made solely with hot red chile peppers, possesses an extremely high heat level, and is often bright red in color.
Red chilli powder does not usually contain any extra ingredients like chili powder. It is basically more intense in hotness but less spicy than chili powder used in American or British cuisines. You can buy red chili powder from Asian, particularly Indian, Korean or Chinese stores in the USA.
Note – Red chilli powder is typically made with very hot red chile peppers, and therefore, it could easily overpower your dishes with heat, even with a minor addition. Hence, it is important that you double-check the label of the product you purchase- always check if it is labeled as "Chili Powder" or "Red Chilli Powder" and confirm with the ingredients before buying.
What Is The Difference Between Light Chili Powder And Dark Chili Powder?
The most apparent difference between dark chili powder and light chili powder is their colors. While light chili powder is reddish-brown in color, dark chili powder is slightly darker than that. 
Above all, dark chili powder tends to be earthier, smokier, and a bit more intense than light chili powder. They both contain similar ingredients, but dark chili powder includes darker red chili peppers, and the spices have been a bit more toasted than the ones in light chili powder.
Is "Chili Powder" The Same As "Chile Powder"?
This is obviously a point where most of us need clarification. But chili powder and chile powder are two completely different cooking ingredients. In essence, chili powder is a blend of various spices, herbs, and flavorings, while chile powder is merely a dry mixture of a single element made out of red, yellow, or green chili peppers.
Chile powders can be found in various forms, such as:
How Does Chili Powder Taste?
Chili powder holds a mild to moderate spiciness, depending on the ratio of the ingredients. The fragrant and zesty spices in the blend create the flavor profile known as Tex-Mex. 
You could savor the earthy, nutty elements from ground cumin, the distinctive pungency of dried oregano, the piquancy of garlic, or any other additional spices if you have a good palate. 
The briny accent is mainly due to the salt added to the mix. But most chili powder options are prominent in spices and herbs, so you'll taste salt as only a backup flavor.
Chili Powder Heat Level
Most chili powder options used in  Western cuisine contain cayenne pepper as its base ingredient. Thus, since cayenne pepper holds a moderate heat level, the chili powder, too, is moderate in its heat. However, the hotness of this blend can vary depending on the red chili pepper type used as the base.
Substitutes For Chili Powder
The combination of chili powder is pretty simple, so it becomes easy for us to find something similar to use as a substitution when the original product is not around. Consequently, here are some of the best replacements that can bring a closer flavor approximation to chili powder:
If you are interested in learning about more chili powder substitutes and how to use them, click here and refer to our detailed article.
Uses Of Chili Powder
Chili powder's versatile and rich flavor profile can add a profundity of flavor to a wide variety of dishes. This blend is widely used in chili con carne. It could create a wonderful taste in other dishes such as:
Click on this link to discover more exciting ways to use chili powder in your everyday dishes.
Does Chili Powder Contain MSG?
MSG is not typically included in most chili powder options that are produced commercially or made at home. However, you can always check the list of ingredients to make sure if you are concerned.
Does Chili Powder Contain Gluten?
Common thickeners or gluten-related ingredients are not essential ingredients in homemade or commercially prepared chili powder options. However, you can check the label if you are uncertain.
Is Chili Powder Vegan-Friendly?
Chili powder does not typically contain any non-vegan ingredient apart from plant-based spices and herbs. So, this blend can be considered safe to add to your diet if you are vegan.
Is Chili Powder Keto-Friendly?
Chili powder is usually low in carbs since no sugar or high-carb ingredient is included. So, this blend can be a great addition if you track a ketogenic diet.
Make Chili Powder Your Cooking Companion To Bring Magical Spiciness To Your Table!
The ultimate combination of ground red chili pepper, garlic powder, ground cumin, dried oregano, etc., in chili powder, offers the right amount of heat and spiciness to jazz up your daily dishes. There are many reasons for this versatile blend to be one of your pantry staples since it can give the quintessential kick wherever you need it!
Related Topics