It is no secret how much flavor and bliss Thai curry powder can lend to your dishes. But what to do when you don't have it around? You just don't have to bother, as we have listed the 7 best Thai curry substitutes here!
The best possibilities to replicate Thai curry powder include the following:
Read along to discover how effective these alternatives can be and with what dishes you can use them.
The Best 7 Thai Curry Powder Substitutes
Thai curry powder is not a highly complex blend which usually comes together with just a  few simple ground spices, including:
Coriander
Cumin
Ginger/ galangal
Turmeric
Red chili flakes/ powder
White pepper
Cloves
Bay leaves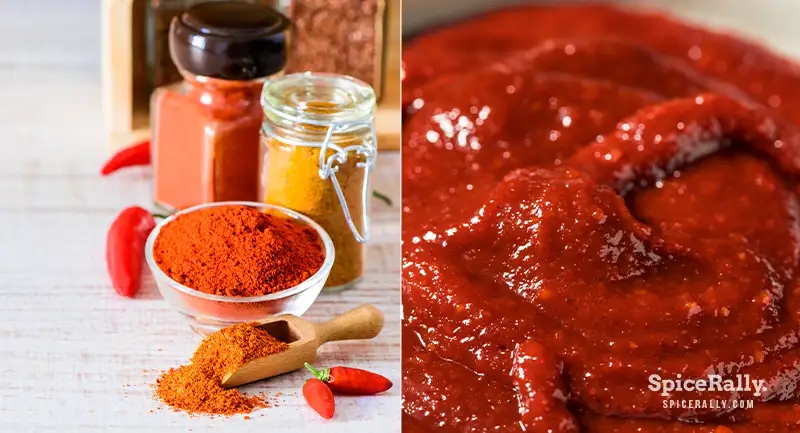 The warm, spicy, mildly intense, and earthy elements of this spice mixture are so versatile that it could be good to go with many other dishes apart from curries. But imagine that you are in the middle of a certain Thai meal preparation and suddenly realize that you have run out of your Thai curry powder. 
Or, you need to come up with a Thai-inspired dish but can't find the original product in your local supermarket. That is when the substitutes will come to your rescue! However, when choosing a replacement for this blend, you should consider a few things. You might want to resemble the flavor, texture, aroma, or color- our list includes the best possibilities to pick upon your preference.
01- Homemade Thai Curry Powder
As we mentioned earlier, this is a simple combination put together with a minimal amount of ground spices. And most importantly, these spices are often staples in your kitchen! Therefore, making a simple homemade Thai curry powder on your own is effortless. 
Moreover, it saves you a ton of money, and you could even come up with a more versatile, flavorful blend. A homemade mixture is even better because you will not find any fillers that you usually find in store-bought options, and it can be used without limitations! 
So, to help you with an easy homemade Thai curry powder recipe and enlighten you with lots of other interesting information about this blend, we have shared a detailed article right here that you might want to check.
02- Regular Curry Powder You Find In Western Cuisine
This ingredient won't leave your kitchen if you are a routine curry-maker! The regular curry powder available or used in Western cuisine is undoubtedly one of the closest alternatives you can use in place of our topic leader. They are widely available in the market and often share similar ingredients, such as:
Turmeric
Cayenne pepper powder
Coriander
Cumin
Ground ginger
In addition to these elements, regular curry powder might also contain dry mustard, fenugreek, ground cardamom, and black pepper to have the piquancy of white pepper. Without hesitation, you can substitute this option for any dish that originally calls for Thai curry powder in a 1:1 ratio.
03- Madras Curry Powder
Madras curry powder is also often found in the store as Indian curry powder. This is another readily available option and shares some of the similar ingredients we usually get in Thai curry powder, including:
Coriander
Cumin
Cloves
Dried or powdered chilies
ground turmeric
Bay leaves
In addition to these spices, Madras curry powder might also have star anise, granulated garlic, fenugreek seeds, etc., depending on the variant. However, this option can be more spicy and intense than our topic leader. Hence, you will have to start off moderately and then adjust the amount depending on the desired taste. 
Madras curry powder is good to go with hearty soups, stews, curries, and even with sauces or broths. But still, you'll be able to find milder versions of this alternative so that you can get a better flavor replication.
Click here and follow this link to discover how exactly madras curry powder (Indian curry powder) differs from Thai curry powder.
04- Vindaloo Curry Powder
Vindaloo is another popular south Indian spice blend that might contain flavor notes which are similar to Thai curry powder. 
This option usually has ground chiles that can be hotter than what is used in our topic leader. But it includes a lot of other ingredients featured in Thai curry powder, such as ground ginger, turmeric, cloves, etc. 
One thing you must keep in mind is that vindaloo curry powder can easily overpower your dish with its piquancy, so you always need to use a minimal amount for substitution. Also, it would be best if you could stick to curries and richly spiced dishes when replacing this spice blend in place of our topic leader.
While vindaloo curry powder works as an excellent substitute for Thai curry powder, vindaloo curry paste boasts its ability to work in place of Thai Massaman curry paste. Click here to learn more alternatives for this Thai curry paste!
05- Sambar Powder
When we say "curry," our minds deliberately run towards Indian cuisine because curries are actually so much associated with this country. Thus, it is not a wonder why different spice blends from Indian cuisine can be helpful to replace Thai curry powder as well. 
Sambar powder, also known as, Sambar masala,  is another blend of flavorful spices that feature similar elements such as coriander, turmeric, ground chiles, and cumin. Curry leaves in sambar powder can give a similar herbal effect to the bay leaves used in Thai curry powder, while black pepper can resemble the pepperiness of white pepper. 
However, sambar powder often contains ground lentils like urad dal and chana dhal. So, you might find this option to be different in texture, especially when added to liquid-based dishes, as they tend to get thicker with its addition. Therefore, it is better to begin with a small amount and increase the quantity as you proceed, And try to stick to curries, soups, and stews if using sambar powder as a replacement.
06- Garam Masala
Universal Garam Masala is the next to be ranked in our list as one of the best Thai curry powder substitutes. Thanks to the availability and popularity of this spice blend, you can use this as another effective option whenever you run out of the original product. 
The ingredients used in Garam Masala broadly vary depending on the household or producer. Still, we can guarantee you every one of them at least contains more than half of the ingredients included in our topic leader. However, the flavor profile of Garam Masala is way more complex than that of Thai curry powder, so you might need to use it moderately. 
As usual, you should start off with a small amount and adjust depending on your preference. And it is also essential to check on the recipe and use Garam Masala only if the particular recipe calls for Thai curry powder along with other complementary spices and herbs.
07- Thai Curry Pastes
The Thai kitchen is actually renowned for its curry pastes more than curry powder. Hence, there's a chance you could count on a few curry pastes when you can't access Thai curry powder. However, it is essential to understand that all the curry pastes will not go well with the mild flavor profile of our topic leader.
Curry pastes are simply  "pastes," while the original product is a "dry powder," so you might have to consider the texture as well. Accordingly, try to stick to Thai yellow curry paste, red curry paste, green curry paste, and Massaman curry paste if you only demand the authentic Thai flavor but don't care about the texture difference. 
Also, remember that some curry pastes contain traces of fish and nuts, which you don't usually find in Thai curry powder. So, if you are okay with every possible change, make them a good-to-go substitute, sticking to Thai-style curries, soups, and stews as much as you can.
Similar Ingredients These Curry Pastes Share With Our Topic Leader…
Turmeric
Coriander
Cumin
Ginger/ galangal
Chile peppers
White pepper
In addition to these ingredients, they also include kaffir lime leaves, lemongrass, garlic, shallots, etc.
Follow up on this link and refer to our informative article, as we have brought you how exactly Thai curry powder differs from Thai red curry paste.
Final Thoughts On The Substitutes For Thai Curry Powder…
Out of all these viable options to substitute Thai curry powder, it is crucial that you choose them according to your need. 
This simply means whether it is the homemade Thai curry powder, curry powder you get in Western cuisine, Madras curry powder, etc., it should be picked depending on the effectiveness of the flavor, texture, color, and aroma. 
However, all the replacements mentioned above can work really well as substitutes when the amounts used should be adjusted as desired.
Related Topics