A good cook always looks for a way to upgrade their regular recipes. On that note, let's talk about Thai seasoning and its ingredients which can definitely make a lovely Asian twist to your classic dishes!
Thai seasoning is a blend of ground spices and herbs that traditionally include:
Paprika
Ground chile pepper
Ground cumin
Ground coriander
Garlic
Dry mustard
Black pepper
Galangal/ ground ginger
Turmeric powder
Ground fenugreek
Dried basil
Lemongrass
In addition, most recipes include dried lemon peel, sesame seeds, sugar, salt, etc.
So, let's look deeper into the robust flavor profile of this spice blend.
What Is Thai Seasoning?
Thai seasoning is a piquant blend mainly put together with ground spices and a few herbs. It also includes several other flavorings, and the ingredients vary depending on the production or the cook. However, this blend has a deep, richly spicy, savory, and tangy Thai-inspired flavor profile, with the perfect balance of sweetness and sourness.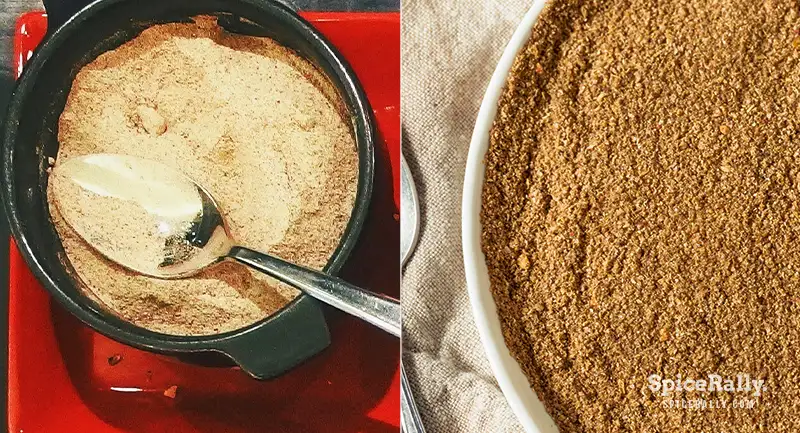 This seasoning blend is primarily associated with Asian foods. But still, it can give an incredible touch of oriental flavor to simply anything that is made in Western cuisine as well. The ingredients used in Thai seasoning are versatile and are not so overpowering. 
You can buy Thai seasoning from the store under a few brand names, while it is not at all difficult to make your own version at home (you'll find a simple recipe below).
Spices In Thai Seasoning –
Paprika- Vibrantly red paprika is one of the staples used in this mix to give this blend a profundity of flavor along with the color. Most often, regular paprika is used in Thai seasoning.
Ground chile pepper- Ground Thai chile peppers are used in authentic Thai seasoning recipes, but they can vary depending on the recipe. We see that primarily cayenne pepper powder is being incorporated, especially when it comes to Western cuisine. However, this is the ultimate ingredient that adds a heaty kick along with a red hue to this blend.
Ground cumin- This is another spice that features almost in every Thai seasoning blend. The nutty, earthy, warm, and slightly bitter-sweet flavor elements of ground cumin uplift the overall flavor profile of our topic leader, backing up all other warm ingredients used in it.
Ground coriander– Having an edge of citrusy effect, ground coriander has a gentle flavor with warm, slightly sweet undertones. We see this ingredient in most authentic Thai seasoning recipes, although it is not included in each and every recipe created by modern cooks.
Garlic- Pungent garlic offers an amazing taste to our topic leader, pairing well with most of the other robust ingredients used in this blend. Powdered garlic is another staple that often shows up in Thai seasoning blends regardless of the cook or production.
Dry mustard– Dry mustard or ground mustard is basically the powder of mustard seeds. Yellow or brown varieties are often used in this blend. Dry mustard has savory and pronounced flavor elements. This herb adds a depth of flavor to this blend, teaming up with the piquant spices in Thai seasoning. 
Black pepper- Coarsely ground or fine black pepper powder complements this blend, lending woody, earthy, peppery, and piney hints of flavors. This spice is one of the most versatile ingredients you get in this blend that pairs with almost every ingredient used.
Galangal/ ground ginger- While powdered galangal features authentic Thai seasoning, the recipes made in Western cuisine come together with ground ginger. However, both of them have an incredible zest with a citrusy-laced flavor. And also, galangal tends to be a bit more potent than ground ginger.
Turmeric powder- This is another spice that adds beautiful color to our topic leader, combined with paprika and ground chile powder. Turmeric powder usually gives an incredible earthiness to this mix, pairing exceptionally well with dry mustard and black pepper.
Ground fenugreek- Powdered or ground fenugreek is another ingredient that gives an intense, bold, and concentrated flavor to Thai seasoning. This unique spice is ideal for balancing out the piquancy of this seasoning blend while giving a profundity to the overall mixture.
Herbs In Thai Seasoning –
Dried basil- Dried basil is a common addition in most Thai seasoning recipes, regardless if it is made in Western or Thai cuisines. This herb has a wonderful aroma and a sharp, earthy bite that balances between sweet and savory. Dried basil can elevate the taste of this blend, teaming up with most other spices. 
Lemongrass- Dried lemongrass is a staple herb in authentic Thai seasoning. The distinguished lemony, bold flavor of this herb is like a blessing in disguise, adding to the exotic flavor profile of our topic leader.  
Other Ingredients In Thai Seasoning –
Aside from the main spices used in this blend, some recipes might also include additional spices and herbs, such as:
Star anise
Red chili flakes
Sesame seeds
Ground cloves
White pepper
Nutmeg
Onion powder
Dried cilantro
Dried mint
Moreover, while most homemade and store-bought options include salt and dried lemon peel, some may also have sugar, dried coconut flakes, dried ground pork, and natural chicken powder/ flavor. Commercially made Thai seasonings blends often include:
Citric acid
Lemon oil/ natural lemon flavor
Rice flour/ rice concentrate
Spice extracts
Other flavor additives, preservatives, and colors.
How To Use Thai Seasoning With Your Dishes?
As you see, this seasoning blend has a perfect balance of flavors of spiciness, heat, sweetness, and tanginess with a salty, umami kick. Therefore, you have the exceptional versatility to use with most of your dishes. Here're a few ways to incorporate Thai seasoning with your regular recipes:
Use as a dry rub or blend into a wet rub or a marinade for meat and seafood
Sprinkle on roasted vegetables
To be used in stir-fries
Add into curries and sauces
To be added to soups and stews
To flavor Asian-style rice and noodle dishes
It can be incorporated into salads and salad dressings
To be tossed with snacks
To spice up tacos and fajitas
Follow this link to learn how to use Thai seasoning to jazz up your favorite dishes!
What Are The Substitutes For Thai Seasoning?
The flavor profile and spice combination of Thai seasoning are pretty exotic. But you can find just a few readily available and easily accessible substitutes that give a closer flavor approximation to this seasoning blend. They are as follows:
Homemade Thai seasoning
All-purpose seasoning blends
Chili seasoning
Click here and refer to our informative article to get a clear idea about these Thai seasoning substitutes and when to use them.
Is Thai Seasoning Vegan-friendly?
This is a tricky question since this factor solely depends on the recipe and the ingredients used. Some homemade and store-bought Thai seasoning options like ground dried pork and chicken flavor/ powder may contain animal traces. In such cases, this blend will not be vegan-friendly. Therefore, it is always better to check the list of ingredients if you are purchasing this from the store.
Does Thai Seasoning Contain MSG?
Generally, we don't see the inclusion of MSG in most homemade or commercially made Thai seasoning recipes. But sometimes, this ingredient might be included in store-bought options for flavor-enhancing purposes. Thus, check the ingredients if you are concerned.
Does Thai Seasoning Contain Gluten?
Gluten-related ingredients are not typically a part of this blend. But the additives or preservatives added during commercial manufacturing might contain traces of gluten. Read the list of ingredients on the label and make certain before buying.
Is Thai Seasoning Keto-Friendly?
A dash of Thai seasoning will not harm your keto diet since it does not contain a lot of carbs. We recommend you go for a Thai seasoning blend that does not have sugar if you are a strict ketogenic follower. 
Add A Little Kick To Your Family Meals With Thai Seasoning!
The myriad zestful spices and herbs such as paprika, ground chile pepper, ground cumin, garlic, coriander, lemongrass, mustard, dried basil, etc., contribute with their delectable flavor profiles to create the amazing, exotic flavor of Thai seasoning. It packs a punch to give your food a tasty twist with a wonderful Asian/Thai vibe, and you'll definitely end up making this blend a staple in your kitchen!
Related Topics