From a classic chicken curry to a more complex Thai dish, options are limitless when it comes to the different ways to use Thai curry powder. So, let's enlighten you with more tips to use this flavorful blend!
The versatile flavor profile of Thai curry powder can be incorporated into your daily dishes in the following ways:
Check out the rest of our post to learn further about using Thai curry powder in many different ways!
The Best 7 Ways To Use Thai Curry Powder.
Thai curry powder is way less mild than conventional Thai curry pastes, which could add a rounded flavor to many of your favorite dishes. You might be thinking that it only calls for dishes that require a "curry" flavor.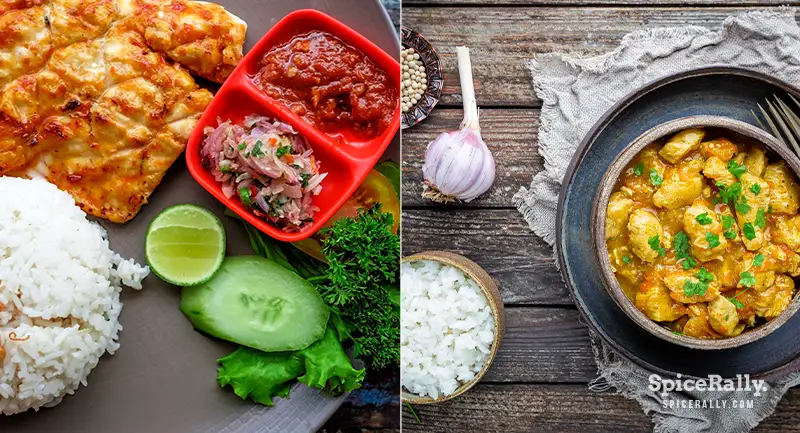 But this multifaceted spice blend gives an unexpected kick to many of your favorite recipes, regardless of them being Thai. If you need a more flavorful option than the curry powders you usually find in the Western market and also need something less intense than classic Indian curry powder, this is going to be your go-to choice! 
Here's how you can combine our topic leader with your dishes to impress everyone with an amazing family meal!
01- To Flavor Liquid-Based Dishes Like Soups, Stews, And Broths.
The warm, earthy, and spicy overtones of Thai curry powder can give an incredible signature tweak to most of your rich and hearty stews, soups, or broths. 
The "curry" element of this blend primarily complements coconut milk-based recipes while it also works in pinches with other spiced soups and stews. 
You can also throw in a dash of this blend to your classic beef, chicken, or vegetable broth to make them more flavorful and use them to make various recipes like rice, cook grains, make risotto, casseroles, etc.
02- It Can Be Stirred Into A Variety Of Vegetable Dishes.
Did you know our topic leader works wonders with your veggies? Thai curry powder is an excellent addition to your diet if you are following a vegan or vegetarian meal plan! Also, suppose you have kids who despise eating their vegetables. 
In that case, you can try incorporating this blend with their veggie dishes to make a tasty twist without overpowering them with spiciness or heat. The hearty combination of spices in this goes really well with vegetables such as sweet potatoes, potatoes, green beans, carrots, pumpkin, etc., along with tofu, soya, or paneer. 
Toss with roasted vegetables, or rub them with olive oil before grilling. You can also put together a simple vegetable Korma, a curry, or a stir-fry to enjoy with plain rice- it all depends on how creative you can be!
03- As A Base For Rubs And Marinades.
Spices like ground chile peppers, turmeric, cloves, coriander, cumin, etc., are great ingredients that complement meat and seafood. Thus you can use this earthy, spicy, and potent combination as a base for your rubs and marinades. 
Thai curry powder can work as a dry rub when mixed with other elements like garlic powder, onion powder, chili powder, salt, sugar, etc. You can also mix a generous amount from this blend with wet ingredients like olive oil, soy sauce, fish sauce, balsamic vinegar, or honey.
These applications create amazingly flavorful and aromatic marinades or wet rubs that can take your grilled, roasted, baked, or fried animal proteins to a whole new level!
04- It Spices Up Creamy Dishes.
Have you ever tried a bit of curry flavor with creamy dishes? If you haven't, Thai curry powder is a wonderful ingredient to start with. Its mild flavors can give a dynamic taste to a variety of cream-based dishes, such as:
Mac and cheese
Grilled cheese
Creamy sauces
Creamy dips
Scrambled eggs
Creamy mushroom recipes
Grilled cheese
Creamy casseroles, lasagna, risotto, etc
Creamy vegan dishes
Baked potatoes with bacon and cheese
Moreover, try incorporating this with fillings and stuffings that go in your baked goods, such as savory pies, pastries, and buns. If your family loves pasta and spaghetti, then our topic leader can be a fabulous compliment to back up the rich taste of most of them. Just sprinkle a dash of Thai curry powder with your family classics, and let us know how they came out!
05- Adds Depth To Thai-Style Rice And Noodle Dishes.
A complete Thai meal can make it all up to your family as the perfect weeknight dinner. So, pair some Thai curry powder with your spicy Thai rice or noodles to upgrade and enhance the authenticity of the recipes. 
You can try this blend with coconut rice, pineapple rice, regular Thai fried rice, to make a milder version of yellow curry noodles, etc. Since the spices used in this mixture team up with a variety of other ingredients, you can virtually put together the recipes with the things you already have in your kitchen!
We thought you'd be interested in learning more about Thai curry powder and what ingredients make it taste so special Click here to read the information we have shared for you!
06- It Can Be Mixed Into Ground Meat Or Fish Recipes.
Are you someone who often makes recipes using ground seafood, fish, or meat? Then, here's some good news- Thai curry powder can add depth with an incredible Asian zing to whatever you make! 
This blend's spiciness is ideal for making sausages, burger patties, fish cakes, fritters, meatballs, etc. You can even combine a bit of this with chili seasoning to make a terrific taste tweak in your classic chili recipe. 
As you understand, the versatility of this curry powder is the main reason why you could use it as a buildable base for any dish you make! Can't you flavor tacos or fajitas with Thai curry powder? Why not-  try some!
07- Adds Extra Flavor To Salads And Chutneys.
Too bored with ordinary salads and chutneys? Worry not- this flavorful blend can be the perfect game-changer! In many cooked and fresh salads, Thai curry powder can be used in pinches (without going overboard).
The exotic 'curry" flavor must not be what you expect in your salad, but it can still give a shocking taste boost, especially when paired with proteins like chicken, kidney beans, tofu, beef, etc. Chutneys are habitually so appetizing that you might think about what else you need to put on them. 
But still, our topic leader is a top-notch ingredient to try on with Asian-style chutneys! Try to pair this blend with ingredients such as coconut, tomatoes, mangoes, lentils, etc.
So, Would You Make A Place In Your Spice Rack For Thai Curry Powder, Too?
Thai curry powder is actually a great starting point if you need to experiment with Asian curries, but still when you need to keep things simple and not so overpowering. Our topic leader can add a different flavor dimension to a plethora of dishes apart from curries. In fact, this could be the perfect flavor booster when you need a tailored kick to your classic family recipes and bust the boredom of ordinary meals!
Related Topics