Different types of curries are an essential part of the meal of typical Japanese households. Thus, they often use Japanese curry powder in their kitchens, giving us a reason to talk about this aromatic blend in this episode!
Japanese curry powder is an oriental-style curry powder type that comes together with many flavorful and aromatic roasted spices and herbs. This blend usually includes ingredients such as:
Turmeric

Fenugreek seeds

Coriander seeds

Cumin seeds

Ground ginger

Cloves

Cinnamon

Black pepper

Cayenne pepper powder

Cardamom

Star anise

Nutmeg

Fennel seeds

Bay leaves

Thyme

Sage

Dried mandarin/ orange peel
Depending on the recipe, this may also contain allspice, garlic powder, dill, salt, etc. So, let's learn about this wonderful ingredient that defines traditional Japanese foods!
What Is Japanese Curry Powder?
Japanese curry powder is a spice blend combining roasted herbs, spices, and other aromatic ingredients. This blend contains common ingredients and some exotic elements inherent to Japanese cuisine.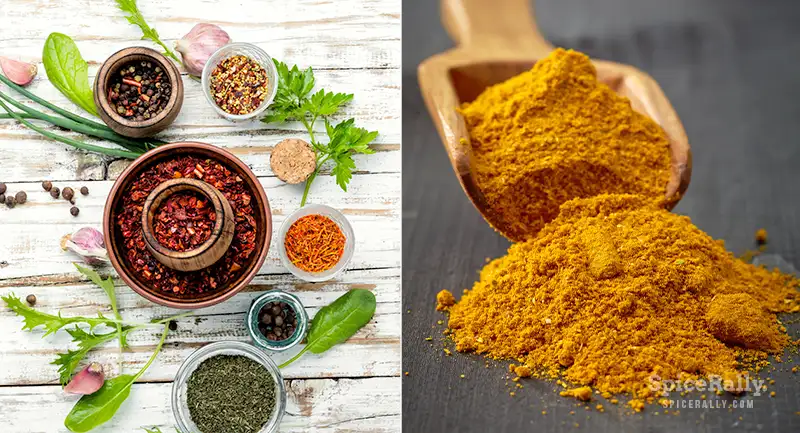 This spice mixture has a strong "curry" vibe and is often used as a staple to flavor Japanese-style curry rice and curry noodles (curry udon). Japanese curry powder usually has a long list of ingredients that can go up to 30 different spices and herbs, and these ingredients can vary depending on the recipe made by the chef or production.
Curry has a history of running back in Japan for at least 160 years. And history says the British Navy first introduced it in the 1860s. The first commercially produced curry powder called Hachi Curry appeared around 1905. In 1926 Urakami Shoten initiated mass-producing Home Curry, which was renamed House Curry two years later.
It wasn't until 1954 that S&B began making solid curry roux blocks, similar to what you can buy at Japanese markets today. Accordingly, now you can buy this spice blend under several brands while homemade versions are also widely available.
What Does Japanese Curry Powder Taste Like?
This spice blend has a robust curry taste with earthy, warm, and sweetly-spicy undertones. It can be salty if dried seaweed or salt is included and has a distinctive citrusy touch with the addition of dried mandarin or orange peel. 
Japanese curry powder is not a very strong blend in terms of heat compared to Indian or Sri Lankan curry powder mixtures. This usually gives an instant curry flavor boost to anything it is added to.
What Ingredients Are Used In Japanese Curry Powder?
This spice blend can contain up to 30 different ingredients, depending on the recipe. But, a set of common elements often come out in almost every variant to define the flavor profile of Japanese curry powder.
Spices and Herbs
Turmeric- This spice works as the base of this spice blend, giving an incredible earthiness and a beautiful color. Ground turmeric is neutral in flavor but has a distinctive warmth that defines the overall flavor profile of this mixture. Turmeric usually gets along well with the majority of ingredients used here.,
Fenugreek seeds- Ground fenugreek seeds are another staple in this spice blend. The slightly bitter and tangy taste of this spice brings the perfect flavor balance to this mixture, working as an excellent mild flavoring to complement other ingredients.
Coriander seeds- Citrusy, warm, nutty, and slightly sweet coriander seed is generally very gentle in terms of flavor and aroma. It pairs well with cumin, fenugreek, cinnamon, turmeric, etc. This spice works with other staples to build up the base flavor of this spice mixture.
Cumin seeds- Aromatic, nutty, warm, and bitter-sweet cumin seeds are an ideal addition to Japanese curry powder. It pairs with turmeric, fenugreek, and coriander to make the base taste for this spice blend. Cumin is as vital as any other fundamental ingredient in our topic leader.
Ground ginger- Warmly spicy ginger is layered with a citrusy undertone and mild sweetness. Ground ginger is robust and gives a strong punch to this spice blend, teaming up with the rest of the ingredients. This spice balances out the different flavors here, working side-by-side with dried mandarin peel, cayenne pepper powder, fenugreek seeds, etc.
Cloves- Robust cloves have an astringent mouthfeel with an incredibly strong aroma. It is very warm and spicy, so most often used moderately not to overpower the mixture with its powerful taste. Cloves get along well with cardamom, cinnamon, cumin, ginger, and star anise.
Cinnamon- This spice offers a distinctive flavor to Japanese curry powder, featuring as a staple ingredient in the mix. Its warm, spicy, slightly peppery, and sweet overtones help complete this blend's quality flavor profile. Cinnamon often pairs with cumin, coriander, star anise, cloves, etc.
Black pepper- Being the ultimate peppery agent, black pepper is an excellent addition to fulfill the peppery warmth of this spice mixture. Piney and woodsy black pepper gives a smoky aroma and incorporates other warm ingredients to meet the overall flavor profile.
Cayenne pepper powder- Cayenne pepper is another fundamental spice used in Japanese curry powder, accountable for its mild heat. This also gives vibrancy to this spice blend, pairing well with turmeric powder, coriander, cumin, fenugreek seeds, herbs, etc.
Cardamom- Uniquely aromatic cardamom is used hand-in-hand with star anise, cloves, sage, thyme, bay leaves, etc. This spice has a characteristic flavor with hints of spicy, warm, fruity, piney, and almost menthol-like undertones.
Star anise- This spice has an interesting flavor profile that combines the flavor elements of cloves, nutmeg, and cinnamon. It is also spicy and warm at the same time to give this blend its desired depth and richness. Star anise gets along with all the warm ingredients used here.
Nutmeg- Nutmeg is a warm spice with slightly sweet, nutty, and woody flavors. It's aromatic and is generally used in small amounts since a little can go a long way with this spice. This ingredient is paired with cloves, cardamom, cinnamon, star anise, etc. You might not see nutmeg in all Japanese curry powder options, but a majority will have this spice.
Fennel seeds- These seeds have a sweet, licorice-like flavor that can lend an earthy, sweet hint to this spice blend. Fennel seeds are paired with cumin, fenugreek seeds, turmeric, cinnamon, etc., to complement the general flavor profile of Japanese curry powder.
Bay leaves- Dried bay leaves have a mild, warm aroma, and you'll find them much less bitter than their fresh counterparts. This herb has a characteristic flavor with herbal, pungent, and warm touches. Bay leaves are teamed with thyme, sage, black pepper, turmeric, and all the other warm spices included in this spice mixture.
Thyme- Laced with earthy, minty, and slightly lemony flavor, thyme has its own way of adding depth to Japanese curry powder. This herb is not included in every variant of this spice blend. But still, it is used in many recipes to create a distinctive flavor.
Sage- This herb has an earthy, slightly peppery taste with hints of lemon, mint, and eucalyptus. Like thyme, sage is also an ingredient not used in every Japanese curry powder recipe. However, this herb harmonizes well with bay leaves, thyme, and coriander.
Making a fresh batch of Japanese curry powder on your own is not as complicated as you think! Click here as we have shared a flavorful recipe to make a homemade version of this spice blend from scratch!
Other Ingredients In Japanese Curry Powder
While the ingredients mentioned above feature as the main spices and herbs in this mixture, dried mandarin or orange peel plays a significant role in adding flavor to it. 
While the authentic Japanese curry powder recipe uses dried mandarin peel, productions out of Japan use dried orange peel since dried mandarin is hard to find around.
Moreover, some variants may also include the following ingredients:
Allspice

Dill seeds

Dried kombu seaweed

Dried shitake mushroom

Paprika

White pepper

Red chile powder

Onion powder

Soy extracts

Nigella seeds

Mexican oregano

Mace

Szechuan peppercorns
How To Use Japanese Curry Powder?
Japanese curry powder is a versatile spice blend to add a punch of flavor to many dishes. Although its primary purpose is to season Japanese-style curries, curry roux, curry rice, and curry noodle, it can be incorporated into our food in ways such as:
To amp up soups and stews

It can be added to flavor up dips, sauces, and gravies

To season ground meat and fish for various recipes

It spices up savory batters and dough

To toss with roasted vegetables

It jazzes up snacks like popcorn, chips, and fries

As a base for rubs and marinades
Tap on this link and refer to our detailed article to learn more about the amazing ways to use Japanese curry powder and incorporate it into your daily cooking.
What Can I Use As Japanese Curry Powder Substitutes?
Japanese curry powder has its own flavor profile that can introduce a depth of flavor and unique taste dimension into your foods. However, its long list of ingredients, fortunately, allows us to count on several possible alternatives when the original blend is not around.
While the best way to get the exact flavor effect is to use a homemade blend, you can also use the following ready-made spice mixtures to help you out in creating a similar effect:
Japanese curry roux cubes

Indian/ Madras curry powder

Curry powder

used in Western cuisine

Thai curry powder

Sambar Powder

Chinese curry mix

Garam Masala

A mixture of turmeric, coriander, cumin, and fenugreek

Thai yellow curry paste
Follow up on this link and read our post to discover how effectively these substitutes can help in place of Japanese curry powder.
Where To Buy Japanese Curry Powder In The US?
This spice blend can be found in grocery shops and supermarkets around Japan. But you might find it challenging to get outside of Japan, especially if you live in the US. However, you can get it from online shopping sites and check the international spice aisle of leading supermarkets. If not, visit an Asian or Japanese store.
Is Japanese Curry Powder And Curry Roux The Same Thing?
Japanese curry powder and curry roux are confusing unless you can recognize the subtle differences. In fact,  Japanese curry powder is a blend of roasted spices, herbs, and a few other ingredients that give out flavor and aroma.

But Japanese curry roux, on the other hand, is a mixture of many other additional ingredients like thickening agents, fats, and seasonings. While curry powder is used as a primary ingredient to flavor the curry roux or curry roux cubes. However, they tend to have the same purpose when it comes to cooking.
If you want to investigate the difference between Japanese curry powder and curry roux, click here to clarify your confusion.
What Is The Difference Between Indian Curry Powder And Japanese Curry Powder?
When it comes down to the difference between Indian curry powder and Japanese curry powder, we can say that Indian curry powder has a dominant level of heat and spiciness. 

Although there's a long list of ingredients in Japanese curry powder, Indian curry powder can have more red chiles in it. Indian curry powder is generally made with basic ingredients, while Japanese curry powder contains some unexpected elements, such as seaweed and mandarin peel.
We have shared an article explaining the difference between Japanese curry powder and Indian curry in detail. Click here and refer to this article!
How To Store Japanese Curry Powder?
You can store Japanese curry powder in a well-sealed glass container and keep it in a cool, dry, dark place. Refrigeration is not essential, so you can keep it with the rest of your dry ingredients on the spice rack. When stored properly, you can keep this spice blend flavorful and aromatic for about three years.
Is Japanese Curry Powder Vegan?
Like most types of curry powders, Japanese curry powder is also based on plant sources such as spices and herbs. Therefore, most of the time, this spice blend comes out as a vegan-friendly product. But we suggest you check the list of ingredients on the packaging when you buy this from the store just to make sure.
Does Japanese Curry Powder Contain Gluten?
Gluten-related ingredients are not typically included when producing authentic Japanese curry powder. But sometimes, you may get these ingredients in some store-bought options. So, make sure to review the list of ingredients before purchasing if you are sensitive to gluten.
Is Japanese Curry Powder Keto-Friendly?
Since Japanese curry powder contains all the goodness of natural spices and herbs, it comes with very few carbs. Thus, this spice blend is a great option to be included in your diet if you're following a ketogenic plan.
Let The Sensation Of Oriental Flavors Dominate Your Cuisine!
Japanese curry powder is an aromatic and flavor-packed blend of turmeric, cumin, coriander, fenugreek, dried mandarin peel, etc., that lends a distinctive flavor to many curries, rice dishes, noodles, and meat dishes.
It is an essential culinary ingredient in Japanese cuisine and is often associated with richly spiced recipes. So, say Konnichiwa to your favorite Japanese curry dish whenever you need it with the combination of this wonderful spice blend!
Related Topics