This ultimate combination of herbs works like magic to overflow any dish with an incredible flavor. So, in this episode, we will share some smart Herbes de Provence uses that will instantly turn your taste buds on!
You could incorporate Herbes de Provence in the following ways:
So, grab your jar now and get ready to experiment with your cooking skills like you've never done before!
How To Use Herbes de Provence?
This aromatic blend is literally a true winner in your kitchen. The ways to incorporate it into your regular meals are simply endless.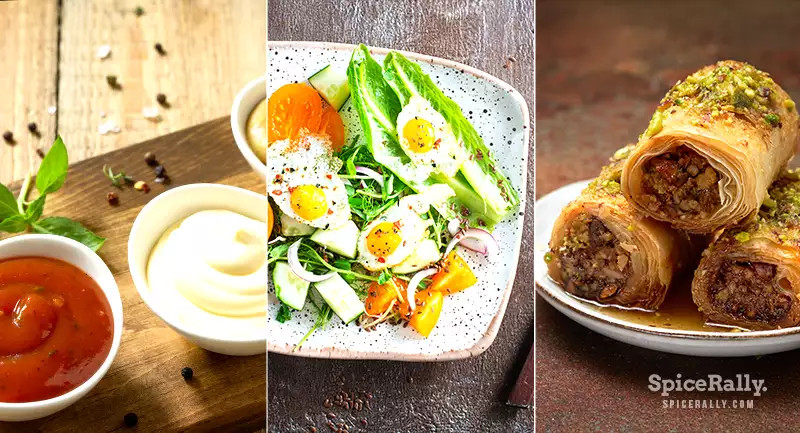 So, if you were ever stuck using this mix only with your roasted meat or the classic ratatouille dish, we're ready to show you something more than that. Just keep reading!
01- To Mix With The Fillings For Finger Food, Sandwiches, And Wraps
Our topic leader could be a perfect taste enhancer for your regular homemade finger food, wraps, or sandwiches. No matter if you're a vegan, vegetarian, or non-veg, this blend can offer its goodness without overpowering the overall taste of any filling.
All you have to do is throw a dash of Herbes de Provence into the fillings that go in your spring rolls, panini sandwiches, tortilla wraps, etc. It will complement pulled pork, minced chicken/beef, tuna, cheese, and even vegetables like tomatoes, onion, zucchini, and lettuce.
02- With Meat, Fish, Poultry, And Other Kinds Of Seafood
Grilled/roasted meat or seafood isn't the only way to use this blend. In fact, you can experiment with this herbal blend when it comes down to other dishes made with fish, meat, and even poultry.
While our subject leader works the best as a seasoning for lamb, steak, chicken, fish, etc., you can also try a pinch with your favorite family recipe. Moreover, lemon-herb chicken, pork tenderloin, grilled flank steak, or pan-fried trout are some flavorful dishes you could prepare using this blend.
By incorporating this mix with olive oil, you can make a beautifully fragrant rub, particularly for chicken and mild fish types. Follow with some vegetables and greens if you roast or bake your meat, fish, or poultry dishes for a real treat!
Like Herbes de Provence can be used in multiple ways in cooking, there are some interesting ways to incorporate pickling spice into your daily meals. For more information, click here.
03- With Vegetables
Herbes de Provence is indeed one of the healthiest ways to upgrade the taste of your ordinary vegetable dishes. Herbs included in the mix like tarragon, thyme, and rosemary essentially complement vegetables such as:
Butternut squash
Brussel sprouts
Potatoes
Red onions
Tomatoes
Carrots
Eggplant
Green beans
Zucchini
While roasting is the most efficient way to use this, you can also mix it with cassoulet, baked, or pan-side veggie dishes. Follow up with fresh greens like kale and lettuce for a real taste tweak!
If you think Herbes de Provence should be a staple in your kitchen, then we are sure you don't want to miss our article. Click here for more information about the content of this delicious blend!
04- In Sauces, Dips, Salad Dressings, And Vinaigrettes
The ultimate flavor combination of Herbes de Provence can offer an incredible taste to many salad dressings, vinaigrettes, sauces, and dips. The best thing with this mix is that you could use it in slow simmering sauces and also in quick preps (which requires a short or no cooking period).
Our subject leader compliments the taste of olive oil and lemon juice. Therefore, it works great with most salad dressings or vinaigrettes made for raw/cooked salads. In addition, you can incorporate this into the classic cream, lemon, or even spaghetti sauce.
You can be creative and try out different ways when it comes to dips, like with Fraiche or white bean dips. How about a dash in your hummus? Try some if you need to be surprised!
05- To Mix With Lasagna, Pasta, And Spaghetti
Go instantly "french-infused Italiano" with a pinch or two of Herbes de Provence with your favorite pasta, spaghetti, or lasagna dish! As you've already realized, the recipes with this blend are endless.
Chicken lasagna roll-ups, Orzo pasta, vegetarian zucchini noodles, and creamy spaghetti are some hearty recipes you can prepare. In addition, this mix also goes well with pasta and noodle salads.
Our topic leader can team up with any base. Thus, it always comes as a bonus point whether it's meaty, creamy, or veggie! So, you can go ahead and incorporate it even with the classics like bolognese or Mac and Cheese.
06- With Egg Dishes
Herbes de Provence-infused deviled egg dish is a top-rated recipe in France. You might not find many fancy ways to integrate our topic leader with eggs. But still, if you are creative enough, you can make your ordinary omelet into a royal treat with this herbal blend!
Flavors included in this mix, like rosemary, thyme, and tarragon, complement eggs so well. Hence, incorporate some with your regular egg mixture when making breakfast omelets, scrambled, baked, or egg salads.
07- As a Sprinkler On The Grill
This is one of the most simple yet unique uses of Herbes de Provence that would effectively provide the goodness of this mix. Just throw a dash or two from our topic leader into the hot coal of your grill. The aroma of the herbs will infuse with the smoke and give an appealing fragrance to the fish, meat, or vegetables on the grill.
Have you ever thought about what replacements you would use if you ran out of your jar of Herbes de Provence? Worry not- we've got you covered with the best substitutes right here!
08- To Be Integrated Into Ground Meat Mixtures
If your family loves the meatballs, sausages, burger patties, or fish cakes you make, it is high time to double their appetite! The cozy taste of this mix can instantly boost the flavor of most of your ground meat mixtures.
Incorporate the blend with burger seasonings, classic sausage mixtures, and beef sliders. These will be perfect for a small family get-together or even a mini party!
09- With Rice, Quinoa, And Couscous Dishes
How about giving a tasty twist to your regular bowl of white rice? Our topic leader can provide a herbal touch and make a savory rice meal when cooked with chicken stock, pepper, and salt.
If you prefer more healthy options over rice like quinoa or couscous, Herbes de Provence can make them equally flavorful. Use complementary ingredients like butter, olive oil, vegetables, meat, etc., for a better taste.
Moreover, quinoa ratatouille, couscous Provencal, vegetable quinoa soup, and herb-butter rice are some traditional dishes you could prepare as complete meals.
Did you know that Herbes de Provence is an excellent substitute for Greek seasoning? So, if you need more information, tap right here and refer to this article.
10- To Enhance The Flavor Of Different Kinds Of Bread
Focaccia or garlic bread will not be the same if you've got a jar of Herbes de Provence with you! 
Not only these two types of bread- but you can also try this mix in olive oil loaves, Fougasse (French flatbread), and even classic white bread. In addition, it will also work well with gluten-free and wholemeal bread types.
You can incorporate the mix with the other ingredients in the dough (during preparation). Or else, use it with butter on top of the bread after it is baked. It will be delicious either way!
Once you understand the foundations of cooking – whatever kind you like, whether it's French or Italian or Japanese – you really don't need a cookbook anymore

Thomas Keller
11- With Stews And Soups
Last but not least, mixing our subject leader with soups and stews is one of the best Herbes de Provence uses. If you have any dinner plans tonight, a herb-infused soup or a dish of stew will be a real mood fixer.
French-style onion soup, roasted carrot soup, and classic beef or lamb stews are recipes that you can easily make. In addition, if you love vegan or vegetarian dishes, you can also go with tofu, potatoes, vegetables, and mushroom stews. 
Recipes like split-pea or lentil soups are also perfect for veggie-lovers. And if you have any family recipes, make sure you share them with us!
So, If You Are Already In Love With The Sophistication Of Herbes de Provence…
Whatever it is, our topic leader can make anything taste heavenly! As you see, this amazingly flavorful and aromatic herbal blend can elevate the taste of the simplest vegetable, meat, or seafood dish. At the same time, it could take your plain rice, quinoa, or couscous bowl to the next level!
Related Topics