Spices are a staple that we can find in almost every vegan kitchen. In fact, plant-based dishes and spices or seasonings share a solid and unbreakable bond. The people who transitioned into vegan or newbie vegans may find it a tad challenging to get adjusted into their diet. But, these spices, herbs, seasonings, or flavorings can help you to get reconnected with your food and align back to the nutrition.
Spices are an essential component in plant-based or vegan cooking. Main spices like cinnamon, turmeric, cayenne pepper, cloves, coriander, cumin do wonders with most favorite and famous recipes of vegans. There are many other flavorful and aromatic spices that contribute to plant-based dishes that we hope to discuss through this article. You'll be sophisticated on many sides about vegan cooking at the end of this post.
Spices For Vegan Cooking – Flavors For Plant-Based Eaters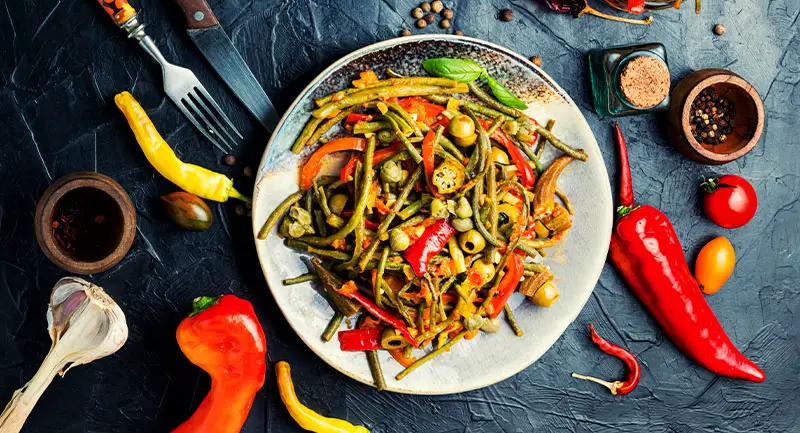 People have been utilizing spices all over the world for over thousands of years. Each distinctive kitchen has a record of corresponding spices depending on centuries of years of food unfolding. Similarly, cooking in a vegan kitchen has different and unique aspects. Before taking a leap to spices used for vegan cooking, let us take a minute to explain what veganism actually means.
How Does Using Spices Go With Veganism?
Veganism is an ethical or philosophical practice beyond the dietary changes a person is willing to make. However, all vegans abstain from consuming animal-based products like meat, fish, eggs, and dairy. Some also go to extremes where they are picky about stuff like clothing and footwear. Moreover, they are even watchful about the most insignificant ingredients used in the packaging of what their goods use to come in.

Thus, when talking in terms of spices, it is no secret that all the spices are technically vegan as all of them derive from plants. Yet, some vegans may consider things like the source of the spices, the mode of their cultivation, and the packaging they come to the market with. That is, sometimes, using pesticides during the farming process could not sit well with the ethics of veganism. And, using adhesives that contain animal-based derivatives like gelatin in packaging might be a factor to consider.
Therefore, people who follow these extreme measures of veganism prefer choosing spices that are cultivated under vegan agriculture procedures or organically. And also, if someone is concerned about the packaging, it is always a better idea to inquire from the manufacturer before purchasing.
How To Spice-Up Food In Vegan Cooking?
As mentioned on top, vegan cooking is different from conventional cooking. The difference we meant here is about the ingredients used. There are some main spices that can be used in most specialties prepared by vegans and a few more seasonings that can be used in various other distinctive plant-based dishes. In fact, spices have the ability to make vegan cooking to a whole new degree. So, let's have a peek at the essential spices that should be there in every vegan pantry.
01 – Turmeric

Turmeric, also recognized as the "Golden Spice, is an elite flavoring, especially in South Asian and Middle Eastern cuisines. When the golden hue of turmeric is blended with food, it gives life to that dish, making it visually more appealing to taste. It has a delightful earthy odor, and raw turmeric has a trace of bitter and spicy taste. Turmeric is often used in its powdered form or as a paste to include in foods. It can be incorporated with vegan curries, stews, soups, rice, quinoa, and snacks. Some use it even in smoothies and include it in tea. Apart from adding turmeric to food, it has several good medicinal values and excellent antimicrobial properties. Some popular vegan dishes that can be made using turmeric are as follows:
Turmeric Rice
Chickpea Turmeric Stew
Maple Turmeric Tofu
Vegan Turmeric Latte
Cauliflower Turmeric Soup
02 – Cumin

Middle Eastern, Indian, North African, and Latin American cuisines use cumin as one of their most common food seasonings. Indians call it "Jeera" and use it as a base in most tempered dishes, thanks to its tempting aroma. Indians even use cumin as an ingredient in their famous spice mixture- Garam Masala. This tiny boat-shaped seed can be used in most curries, baked beans, marinades, soups, and stews. This spice is usually employed whole or in its ground form and has subtle warming, nutty, a sweet taste with a fresh, robust fragrance. It pairs well with chili powder, ginger, garlic, and cinnamon. Additionally, cumin is known for its health benefits like helping to prevent diabetes and lower cholesterol, and people around the world use it for weight loss too. Here are some vegan dishes prepared using cumin:
Vegan Cumin Tofu Noodles
Jeera Rice (Cumin Rice)
Cumin Potatoes
Curry Dhal
Vegan Black Bean Chili
03 – Cinnamon

Cinnamon is a must-have spice in every vegan cupboard. Whatever the food it is- savory or sweet, cinnamon is the winning ingredient that could add the ultimate taste and texture to your recipe. You can readily purchase cinnamon from most supermarkets, and it often comes as sticks or powders. It is a staple spice mostly in Mexican, Vietnamese, Chinese, Indian, and Sri Lankan cuisines. In fact, the best cinnamon comes from Sri Lanka, which is known as Ceylon Cinnamon. This sweet-woody flavored spice sets well with nutmeg, cloves, ginger, and garlic.
 Often, it is added as a flavoring agent into curries, used in spice mixtures, oatmeal, desserts, and used as a sprinkle. Apart from its unique zing, cinnamon is known for its medicinal attributes like lowering blood sugar and the help it provides in promoting weight loss. Here, we have five well-known plant-based dishes made by using cinnamon as a key ingredient:
Vegan Cinnamon Rolls
Vegan Cinnamon Cookies
Cinnamon Sugar Doughnut Muffins
Moroccan Pumpkin and Chickpea Stew
Banana Oatmeal Cookies
Are you interested in learning more about cinnamon? If so, we have a complete guide on types of cinnamon here. 
04 – Cayenne Pepper
This spice has the ability to add that ideal spiciness to your dish by its nature. Cayenne pepper is broadly accepted in Asian, Mexican, Indian, Italian, and Southern cooking. It is absolutely hot, spicy, and flavorful, and is sharp, and has a strong taste. Generally, cayenne pepper sits well with cumin, coriander, cinnamon, and herbs. It is used primarily on rice, soups, marinades, dressings, and sauces in the vegan kitchen. In addition, it is also a great source of Vitamin A and C and is known to be beneficial in increasing the production of digestive fluids. These vegan dishes are prepared using cayenne pepper, and you might be interested in trying them too!
Vegan Roasted Red Pepper Pasta
Indian Tapioca Fritters
Tangy Chili Sauce
Tofu Chili
Spicy Lentil Curry
When cayenne is perfect with vegan dishes, the creole seasoning that contains cayenne could also go so well with plant-based dishes. We have a complete article on creole seasoning for your reference if you believe so.
05 – Coriander
Honestly speaking, the tiny and cute coriander seeds can do miracles with your plant-based recipes! It has a peppery and hearty flavor which gives out a nutty, citrusy, and summery aroma. In most cuisines like Central Asian, Indian, Middle Eastern, and Mexican, coriander is used as an essential spice in flavoring foods. Most people employ all three parts of coriander in dishes-stems, leaves, and seeds. The stalks and the leaves of the coriander plant are popularly known as Cilantro. Most of the time, coriander seeds are used dry-roasted or in their powdered form. This spice goes well with curries, stews, marinades, spice mixtures, and certain soups. Check out these vegan recipes made using coriander:
Vegan Carrot and Coriander Soup
Cilantro Rice
Roasted Vegetables With Cilantro Dressing
Vegan Red Lentils and Coriander Dhal
Vegan Cilantro Pesto
06 – Garlic
Nothing can be compared with garlic with regard to the flavor and fragrance that it gives to your plate. Garlic is an utterly one-off spice leading to its robust seasoning properties and used in almost every pantry all over the world. Generally, this is used raw, either chopped, sliced or minced. It also can be incorporated with dishes as a dry powder or as a paste. Garlic and ginger share an eternal relationship where most chefs use ginger-garlic paste as a tempering base in certain meals. Moreover, this flavorful spice can be used in stir-fries, curries, marinades, soups, stews, rice, noodles, and pasta. Garlic is a rich source of Manganese, selenium, Vitamin B6, and Vitamin C and helps in boosting the immunity system. Here is a list of some popular garlic-infused recipes:
Creamy Vegan Garlic Pasta
Watercress and Garlic Stir-fry
Sri Lankan Garlic Curry
Garlic Tofu Stir-fry
Vegan Garlic Bread
07 – Ginger
Ginger is a well-known flavoring agent and also a renowned spice marked for its medicinal properties. It is spicy, sweet, and warm with a mild, earthy aroma. The ginger root is used raw most of the time, either sliced, minced, or chopped. Dry ginger powder is frequently used in marinades and pairs well with garlic, nutmeg, and cinnamon. Also, this spice is primarily used in Indian, Caribbean, and Asian cuisines for various curries, stews, tea, and desserts. Most importantly, ginger is an excellent source of Vitamin C, Magnesium, and Potassium and is employed in treating conditions like nausea, common cold, migraine, and hypertension. Try these vegan recipes that contain traces of ginger:
Vegan Kimchi Fried Rice
Grilled Tofu and Asparagus
Vegan West African Peanut Stew
Vegan Gingerbread
Asian Zucchini Noodles 
08 – Nutmeg
Nutmeg is a distinctive spice with a tinge of sweetness and a bitter, nutty taste with an earthy, sharp aroma with notes of cloves. This spice is mainly used in Indian, Sri Lankan, Malaysian, and Indonesian kitchens. Nutmeg is put into food as grounded or once it is grated from the whole fruit. Vegans use nutmeg with most of their leafy greens, vegetables, and fruits. This little spice contains Vitamin E, Vitamin C, Phosphorus, Vitamin A and is often used as indigenous medicine for relieving upset stomach and vomiting. These are a few plant-based recipes that include nutmeg:
Vegan Eggnog
Oat and Nutmeg Cookies 
Spinach and Nutmeg Quinoa Bake
Vegan Ginger-Nutmeg Cookies
Vegan Scalloped Potatoes 
09 – Cloves
Cloves are a vital ingredient in authentic spice blends like the Roasted Curry Powder native to Sri Lanka, Garam Masala Powder in India, and the classic 7 Spice Mix native to Thailand. They have a complex spicy-sweet punch and smell amazingly pungent. However, Middle Eastern countries, Sri Lanka and India take the most out of cloves into their traditional recipes. They are little pods often used as whole or slightly roasted and crushed when added to foods. Cloves sit well with cinnamon, cardamoms, garlic, and ginger. And, this spice is included in most vegan curries, soups, stews, desserts, and chutneys. In addition, cloves are marked for their remarkable ability in relieving toothache and easing dental-related issues. Check out these delicious vegan recipes made using clove as a key ingredient: 
Vegan Clove Candies Walnuts
Butternut Squash Pilaf with Whole Spices
Cinnamon and Clove Mixed Nut And Seed Milk
Yellow Rice With Cardamoms and Cloves
Thirty-clove Garlic Soup 
Thai Spices are amazing to be incorporated with most vegan dishes. Here, we have a fully detailed article on Thai spices if you need to take a peep. 
10 – Black Pepper 
The spiciness and warmth that black pepper contributes to a specific course can be pretty appetizing. In fact, black pepper goes well with any plant-based savory dish. This spice is a staple in Vietnamese, Indonesian, Indian, Brazilian, and Sri Lankan cuisines. Black pepper is popularly used in its powdered form, but most people use it in food when coarsely crushed. These tiny pods have a woody, warm fragrance that is fresh and intense.
Apart from its robust taste and aroma, black pepper is often used for its medicinal properties over thousands of years. It is abundant in antioxidants, helps lower cholesterol levels, and has potential benefits in promoting weight loss. Moreover, it acts as a flavor enhancer in most vegan stir-fries, soups, curries, and marinades. Here are a few vegan foods you may need to try that contain black pepper:
Black Pepper Tofu With Bok Choy.
Steamed Vegetables With Salt and Pepper.
Braised Tofu and Mushrooms in Black Pepper Sauce.
Black Pepper Tempered Potatoes With Onion Rings.
Raw Cucumber and Onion Salad With Black Pepper.
Can Vegans Have Paprika?
Paprika is a flavoring obtained from dried and powdered red peppers. It is traditionally made from Capsicum annuum, and the peppers worked for paprika tend to be lighter and have more fragile flesh. So, technically, paprika is derived from plant sources and is necessarily safe to consume by vegans. However, sometimes people get misled with its smokey-bacon savoriness, thinking that paprika might contain hints of animal derivatives. But, in fact, it is the natural taste of that spice and does not originally contain any non-vegan agents. 
If you are interested in discovering more about regular paprika and smoked paprika, we have a fully detailed article here.
Paprika comes as a bright-red powder, and it is not spicy but warm and sweet in flavor. Expressly, Mexican, Moroccan, Hungarian, Spanish, and German cuisines use this spice in most of their authentic and traditional dishes. And also, paprika can be included in vegan curries, stews, goulash, and snacks. In addition to its seasoning properties, capsaicin- a compound found in paprika helps in reducing certain types of cancer and heart diseases.
Check out these plant-based recipes that are made using paprika:
Vegan Smoked Paprika and Black Bean Chili
Vegan Hungarian Goulash
Roasted Paprika Wedges
Vegan Chickpea Paprikash with Spaetzle
Smoked Paprika Veggie Hash 
What Spices Are Not Vegan?
Generally speaking, all spices derive from plants, and therefore all of them are functionally vegan-friendly. As we have discussed throughout the earlier sections of this article, vegans can use spices as a safer option in seasoning and flavoring their foods. However, the extreme-measure followers of veganism should be selective when choosing spices by checking how they were initially cultivated, processed and about the packaging they come in. 

In addition to these facts, some seasonings, spice blends, or pastes made using the spices may contain certain animal derivatives. In short, spice by-products can include animal-based constituents like fish flakes, dried shrimps, and meat-based ingredients. Therefore, make sure you read the table of ingredients well before purchasing any of these spice mixtures, pastes, or seasoning powders. Other than that, whole or unblended spices are vegan-friendly. 
The Final Sprinkle On Your Dish…
Vegan cooking is a versatile art that you should create by being very selective and watchful. And, spices can be the perfect flavor enhancer to your plant-based dish. All spices have their own uniqueness in flavor and aroma. And thus, you just have to know when and where to use them to make the most delectable platter of your choice. Spices originate from plants themselves, and that makes the vegans a favorable option to incorporate them with their recipes. So, we hope that we enlightened you with things that you were longing to know about spices and how to mix and match them with your vegan meals.