Chaat masala is globally recognized as one of the most flavorful spice blends that own an interesting flavor profile. So. Let's bring you some excellent uses of chaat masala to make the best out of it.
The best ways to use chaat masala in your daily dishes include:
Chaat mala doesn't have to limit to one or two dishes- discover the magic it can create in your kitchen!
07 Exciting Uses of Chaat Masala
Popular as one of the most unique spice blends in Indian cuisine, chaat masala is embraced by many spice lovers worldwide. This tongue-tingling spice blend is used across India to be used in a variety of chaats.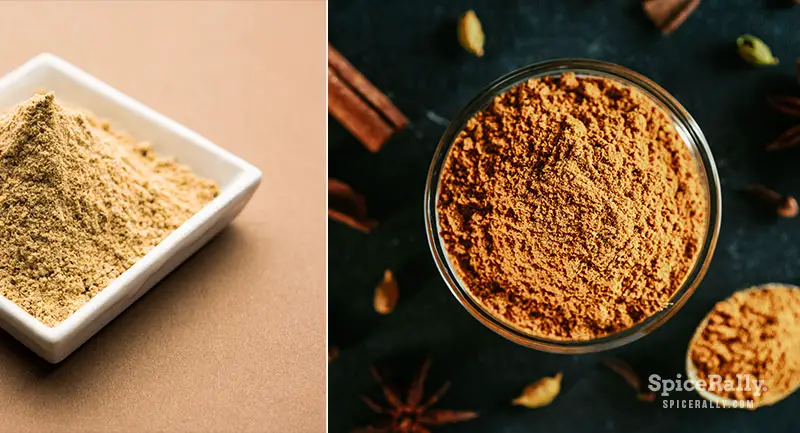 Chaat masala stands out from the rest of the spice blends in Indian cuisine. This is mainly because of its amazing combination of flavorful ingredients such as:
Coriander seeds
Ginger powder
Cumin seeds
Dried mint
Dried mango powder
Asafoetida
Black salt
A hint of red chile powder
Cane sugar
Citric acid, etc.
Although this blend is specially formulated to add zest to chaat recipes, its interesting flavor profile can be utilized in many other ways too. Most commercial chaat masala productions include various other acids, souring agents, and sweeteners and spices. 
Therefore, this results in this spice blend to flavor up dishes belonging to an extensive range of flavors beyond spicy food. So, if you have a jar of chaat masala at home and are thinking of a way to use it in new ways, here's how you can do it!
Is it only spices that make chaat masala special? No, there are many unique ingredients that add up to this spice blend to make it so rich in flavor. Check out everything about chaat masala and its ingredients from this post!
01- Creates A Refreshing Flavor For Drinks
The idea of spice powder in your glass of drink may baffle you. But, the addition ends up giving incredible results! The spices used in chaat masala like cumin, coriander seeds, ginger powder, dried mint, mango powder, etc., are great compliments for many beverages. 
Some chaat masala variations might even contain additional ingredients like citric acid, tamarind powder, and cane sugar. These flavor components can even give a more flavorful character to the drinks. 
This spice blend can flavor up fruit juices like lemon, guava, watermelon, and other beverages like soda, coke, and lassi. Mix this into cocktails and mocktails made with flavored gin, rum, and vodka. 
Fruits like lemons, limes, oranges, pomegranates, and kiwi can be paired with chaat masala. You can combine the flavor with fresh herbs like mint and sweet basil to boost the flavor . A chaat-spiced iced drink can be the perfect summer punch to chill under the hot sun!
02- Adds A Zesty Taste To Salads And Fruit Dishes
Did you know that chaat masala can work wonders with your salads and fruit dishes? You don't have to eat your fruits the same old way if you have a jar of chaat masala in your spice cabinet.
The intriguing spicy, salt, tangy, and sweet flavors of this spice compliments the sweet tartness of most fruits. The best fruits that pair with the flavor profile of our topic leader include:
Citruses (limes, oranges, mandarins, lemons, pomelo, etc)
Guava
Watermelon
Mango
Pineapple
Strawberries
Avocado
Pears
Red grapes
Apples
You can make healthy fruit snacks by teaming up chaat masala, freshly chopped mint, and fruits of your choice with honey or maple syrup. This is a great way to give your kids the daily dose of their fruit vitamins. 
When talking in terms of salads, you can use chaat masala to flavor up anything from raw salads to cooked or cold salads. The robustness of this spice blend can instantly upgrade the overall taste quality of your salad, transforming it into a whole new recipe. 
These salads are excellent appetizers or side dishes when paired with rice or noodles. You can also mix this spice powder into salad variations like salsa, raita, or pasta salads. Use onions, cucumbers, tomatoes, bell peppers, chickpeas, cooked chicken, and greens to your liking. 
In addition to mixing chaat masala directly into your salads, you can also stir it into salad dressings and vinaigrettes that can be poured on top of your salads. You can pair olive oil, apple cider vinegar, honey, Worcestershire sauce, and lime juice with our topic leader to make delicious salad dressings or vinaigrettes.
03- Can Be Sprinkled On Hot Snacks And Fried Food
Whenever we set our mood for some crunchy, savory snacks, we crave something special. In such times, chaat masala can definitely create magic for you! This spice blend is the perfect flavor booster for most Inspired snacks and fried food items. 
Chaat masala can amp up Punjabi snacks like onion rings, while it also goes well with Corn Masala Vadai.  You can even make fusion snacks by sprinkling this over hot popcorn, corn fritters, or sweet potato fries. In addition to this, you can also incorporate our topic leader into batters that make Murukku, which is a crunchy, deep-fried snack. 
Have you ever thought of trying chaat masala with fried or roasted nuts? Why not give it a try if you trust SpiceRally? The tanginess and spiciness of this spice blend give a distinctive depth of flavor to mixed nuts and even trail mixtures. While you can sprinkle this over freshly fried fries, you can also mix this with fresh homemade potato fries. 
To do this, you can mix a dash of chaat masala with olive oil, salt, and pepper per choice and toss with the potato stripes. You can either put these in the air fryer or deep fry as you like. Dusting chaat masala over the fish cake, prawn cakes or crackers will also create unexpected snacks to serve over small gatherings or to enjoy as an evening snack.
04- Amps Up Dosas, Sandwiches, Tacos, Wraps, etc
Need to upgrade your Taco Tuesdays? Then, chaat masala can be one of the choices you can make. Adding this spice blend to your tacos will offer a fusion dish with an interesting taste especially when combined with Taco Seasoning. 
Not only in tacos, but our topic leader can also be the game-changer in your dosas, sandwiches, and wrap fillings. Stirring this with the dosa batters or mixing it with coconut chutney or sambar can treat you with the perfect Indian dinner. 
If not, you can also make your regular toast, mash the avocados, spread it on the toast, sprinkle some chaat masala, top it with a sunny side up, and enjoy! Create interesting wraps and sandwich stuffings by marinating the meat, fish, or seafood you use inside them. Or else, you can directly mix the masala with the filling. 
The creaminess and richness of mayonnaise, sour cream, and mustard can be complemented by the spicy, tangy flavor notes of our topic leader. As long as the chaat masala is vegan-friendly, this can be incorporated into vegetarian or vegan sandwiches, wraps, or tacos as well. If you need to use this in burgers, you can mix it with ground meat, seafood, or fish to season the burger patties.
05- Gives An Interesting Flavor To Ice Cream And Other Desserts
Make epic-flavored ice creams, desserts, and popsicles with chaat masala. These refreshing delicacies are ideal warmth-bursters for summer to be enjoyed by adults and kids alike. 
You can try fruit and nut ice cream at home by incorporating dry fruits with a pinch of chaat masala with vanilla ice cream. The ice cream flavors that go well with the flavor of our topic leader include:
Vanilla ice cream
Strawberry ice cream
Mango ice cream
Mixed-berry ice cream
They are also great with dairy-free coconut ice cream and variations made with condensed milk. If you're a sorbet lover, you can also try this spice blend with various sorbet recipes. Try using contrasting flavors like hibiscus and strawberries to make incredibly delicious sorbets to surprise your kids and family! 
Spicing up rejuvenating popsicles is also another interesting use of chaat masala. The salty, spicy, and sour characteristics of this spice blend can essentially complement the fruity, milky richness of the popsicles. Our topic leader also adds uniqueness to kulfis and several other milk-based desserts.
06- Used To Marinate Paneer And Tofu In Vegetarian Dishes
Using this spice blend as a wet rub or a marinade is one of its most effective and easiest uses. If you're a vegetarian who is bored with the same dishes over and over again, chaat masala can be an excellent turning point. 
Our topic leader is typically vegan and vegetarian-friendly. Therefore, you can incorporate this into your wet rubs or marinades to season tofu or paneer. Well-seasoned paneer or tofu can be used to make various types of dishes. 
From the basic paneer chaat to complex dishes like paneer masala and paneer kofta, chaat masala can elevate them all! The wet rubs and marinades made using chaat masala can be paired with liquids like soy sauce, fish sauce, olive oil, maple syrups, vinegar, etc. You can add more spices depending on your choice to suit your palate.
07- Can Be Added To Flavor Various Potato, Lentil, And Other Vegetable Dishes
Indian cuisine is a highly diverse place so it often comes up with all sorts of vegetable and lentil dishes. So, to bring this goodness to your kitchen, you can make the twist by adding chaat masala. 
Starting from simple Aloo Chaat (Potato Chaat), this spice blend can assist several other potato, vegetable, and lentil dishes. You can roast your favorite root veggies like carrots, beets, sweet potatoes, and spring onions with salt, olive oil, and pepper. 
Toss the warm roasted vegetables with chaat masala and enjoy with steak or grilled ribs. This is a perfect recipe for outdoor barbeque parties and even for dinner. Likewise, you can mix this spice powder into chickpeas, mung beans, and even dal dishes. 
Rich and creamy lentil curries can be paired with roti, paratha, or dosa to enjoy a wholesome Indian meal. Create the specialty for your family as a perfect weeknight dinner!
Make A Twist And Transform Your Dishes With An Instant Boost Of Flavor With Chaat Masala!
Overflowing with an exciting blend of flavors, chaat masala is a must-have spice blend in your spice cabinet. As you see, although the main purpose of this spice powder is to flavor chaats, we can have many other uses too.
From creating a striking upgrade to fruit dishes and certain drinks, it can also ramp up many finger foods, fried food items, and even works as a marinade to paneer and tofu. So, what's your favorite way to use chaat masala in your dishes? Let us know by dropping a comment below!
Related Topics