Herbes de Provence is a unique blend of herbs that could simply make a lot of dishes taste better. So, this article will share the five best Herbes de Provence substitutes you could use whenever you run out of it.
Replacements for this mix are not many. But, with thorough research, SpiceRally managed to find the best options, which include:
If you ever had trouble finding what to use instead of this herbal blend, you will definitely find your answers right here. Keep reading!
The 05 Ultimate Herbes De Provence Substitutes
The lack of substitutes emphasizes the uniqueness of this blend. In fact, the flavor of rosemary, thyme, oregano, basil, tarragon, savory, marjoram, etc., could hardly be achieved by an ordinary seasoning.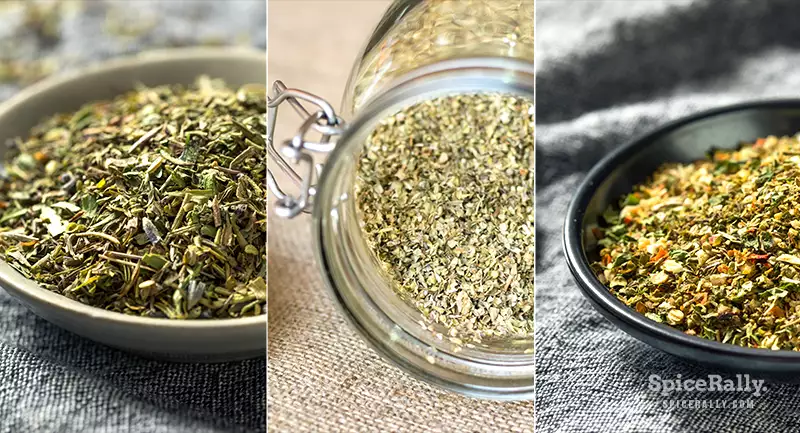 Therefore, we have found the best possibilities that could bring the closest flavor replication to Herbes de Provence. So, refer to the list and check what is best for you!
01- Herbes de la Garrigue
This is another herbal blend originating from French cuisine, which is very comparable to our subject leader. This alternative shares a set of similar herbs like thyme, savory, marjoram, rosemary, etc.
In addition, it also contains some other hearty ingredients like bay leaves, sage, mint, and lavender. You might find this in supermarkets and online shopping sites. Or else, it could be even prepared at home (you should have the herbs in hand, though!).
Herbes de la garrigue can be used in the same amount, just as you would do with our topic leader. It can be substituted in most dishes, such as soups, stews, and grilled meat.
02- Italian Seasoning
This option is one of the most easily found Herbes de Provence substitutes. Italian seasoning shares some similar ingredients with our topic leader, such as oregano, thyme, marjoram, savory, rosemary, and basil. Moreover, some varieties may also include red chili flakes and garlic powder. 
However, the Italian seasoning mix does not typically contain lavender that you would usually find in most American Herbes de Provence versions. Thus, if you need a more flavor approximation, you can follow up with a dash of dried lavender flowers. But, this step is entirely optional.
If you need to know precisely how Italian seasoning would differ from Herbes de Provence, click here and read this article!
Italian seasoning can be used in similar amounts if only the basic ingredients are incorporated. But, if extra elements are included, the best thing would be to start with a small amount and proceed until you get the desired taste.
This option will work wonders with many meat dishes, vegetables, soups, and stews. In addition, it is also good to go with salad dressings and as a sprinkler substitute on the grill.
03- Fines Herbes
Fines Herbes is another French blend of herbs. It is considered one more decent choice that is good enough to replace certain dishes in place of our subject leader.
This blend is a mix of flavorful and aromatic herbs like chives, chervil, tarragon, and parsley. Although it shares some similar components with our topic leader, the flavor could be slightly different. Therefore, using this with balance would be your best bet.
Furthermore, while Herbes de Provence always comes as a dried mix, Fines Herbes often shows up as a fresh blend of herbs. Accordingly, if this alternative is in its fresh form, it might not work very well with dishes that require a longer cooking time.
Hence, you can use this replacement along with salad dressings and other dishes that demand slow or no cooking time at all. Or else, incorporate it with soups (after the simmering process).
Begin with a small amount, and you can increase the quantity as you go. However, Herbes Fines can complement eggs, vegetables, and particular types of mild fish.
Herbes de Provence's ingredients are exceptional and rich in flavors that give this mix its distinctive taste. So, to learn more information, click here to read our fully detailed article.
04- Pizza Seasoning
Pizza seasoning is something that many of us stock in our spice cupboards. And we could usually find a lot of variations of this substitute under several brand names.
Most pizza seasoning recipes could generally contain dried herbs like oregano, basil, thyme, parsley, marjoram, etc. But, they could hold a depth of flavor with additional ingredients like dried vegetables, salt, red chili flakes, garlic powder, etc.
Therefore, pizza seasoning is a good option if you don't have any other Herbes De Provence substitutes in hand. And you should handle it with care if you intend to use it with any dish that originally calls for Herbes de Provence. 
So, begin moderately with a minimal amount, paying attention to other ingredients in your recipe. You can then proceed until the desired taste is achieved. It could complement grilled or roasted meat, fish, and other seafood dishes.
The ingredients in pizza seasoning are the reason for it to become a good substitute for Herbes de Provence. So, if you are interested in learning more about the content of pizza seasoning, click here.
05- Homemade Herbes de Provence
If you have enough herbs grown in your backyard, why not dry them and try to make your own batch of Herbes de Provence! You can also prepare it with store-bought dried herbs, which you usually have in your pantry.
This is literally the most versatile substitute in our list that could be employed anywhere without restrictions. So, we have shared a simple recipe in the section below!
This is my invariable advice to people: Learn how to cook—try new recipes, learn from your mistakes, be fearless, and above all, have fun.

Julia Child
Super Convenient Homemade Herbes de Provence Recipe
You could simply go with whatever basic herbs you have in hand! In fact, the best thing about this homemade recipe is that you can exclude or add the ingredients as you prefer. Also, adjust the amounts upon your flavor preference!
Preparation time- 05 minutes | Cooking time- 0 minutes | Additional time- 05 minutes
No: of servings- 18 tablespoons | Cuisine- French
Herbs Needed (Dried)
Four tablespoons from each- savory and thyme
Two tablespoons from each- basil and rosemary
Six tablespoons of oregano
Method Of Preparation
Put all the ingredients in a medium-sized mixing bowl and whisk together until well combined.
Use immediately or transfer to an air-tight glass bottle.
Store this in a cool, dry, dark place until use.
If you are interested in discovering the best ways to use Herbes de Provence, click here and refer to our fully detailed article.
Concluding With The Best Herbes de Provence Substitutes…
If you were ever worried about not finding a suitable replacement for this flavorful herbal blend, we believe that you are satisfied enough after reading this article. In fact, substitutes like Herbes de la garrigue, Italian seasoning, Fines Herbes, pizza seasoning, and even the homemade Herbes de Provence recipe will give you a close taste replication.
Related Topics