None of us want our food to be bland. Curry powder is a magical ingredient that can instantly twist the most savory items on our daily menu. So, let's check out how to use vindaloo curry powder to introduce a new flavor dimension to our favorites!
Vindaloo curry powder is the key flavoring ingredient in traditional vindaloo curries. In addition to this, you may also incorporate this with your cooking in several interesting ways. They are as follows:
Adds a zesty kick to rice, noodles, and pasta dishes
Can be used as a base for hearty stews and soups
It adds an impressive spiciness to starchy vegetables, lentils, and egg dishes.
Ideal as a flavorful seasoning for meat and seafood
Dig in the rest of our article as we hope to explain everything about using this spice blend!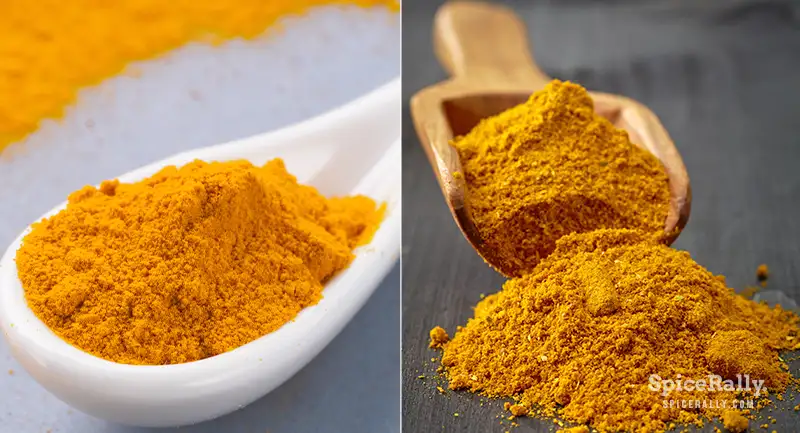 01. In Curries – The Best Way To Use Vindaloo Curry Powder
When it comes to something like curry powder, the best way of using it is mainly based on the cooking method of the specific cook or the likes and dislikes of the person who eats it. 
Still, according to most expert cooks, the best way to incorporate this spice blend is with the curries. Likewise, even though vindaloo curry powder is a bit inclined to the hotter side, it is still the best when used in curries. 
This curry powder was invented to be used in traditional vindaloo curries in the first place. But, you may also use it in other types of curries which are not vindaloo.
Why is it Used?
This spice blend ideally goes with types of meat like lamb and chicken. In addition, its spiciness also complements a variety of seafood and vegetables alike. The composition of spices and herbs in this suits richer curries that call for a depth of spiciness.
How?
Vindaloo curry powder is mostly paired with some ingredients rich in consistency such as coconut cream or cooking cream. 
The amount used is usually decided depending on the main ingredient of the dish. Accordingly, this spice blend is used to season the primary ingredient of the dish or incorporated with the gravy of the curry.
The flavorful outcome!
Vindaloo curry powder gives a signature flavor and results in aromatic curries that go well with plain rice, flatbread, and even noodles. It can make a complete Asian meal ideal for lunch or dinner. The depth of zest and heat of this spice blend is perfect for those who crave spicy food.
Other Best Ways To Incorporate Vindaloo Curry Powder In Your Dishes
02. Adds A Zesty Kick To Rice, Noodles, And Pasta Dishes
Why is it used?
Our topic leader is an excellent addition when you need to try something new and fancy without too much effort.
A little from this curry powder pairs well with savory rice, noodles, and even pasta dishes.
You can get a signature "curry" note to creamy pasta, noodle, or spaghetti recipes as the spiciness of vindaloo curry powder compliments the richness of creamy ingredients.
Rice, noodles, pasta, and spaghetti usually contain a lot of carbohydrates. Thus, it is clinically proven that combining spices with starchy food can degrade the absorption of carbs by our bodies.
How?
The usage depends on the nature of the recipe and cooking method. However, you may mix the curry powder with a source of protein used in rice, noodles, or pasta to season them. 
Or else, you can also use this as a ground flavoring to saute with the base ingredients. If not, this can also be sprinkled as a finishing spice to add a fancy depth to your dishes.
You may have to adjust the amounts used depending on the portion size of your recipe. But a sprinkle can do the job if you're using this as a finishing spice.
The flavorful outcome!
Creates festive recipes ideal for small gatherings, celebrations, or parties without taking too much time.
With a dash of vindaloo curry powder, you don't need many other ingredients to give the desired flavor to your dish and it rounds up the taste perfectly.
03. Can Be Used As A Base For Hearty Stews And Soups
Why is it used?
Vindaloo curry powder is an excellent ingredient for fusion soup and stew dishes. It essentially generates a unique flavor profile pairing with the rich elements of the dish.
Spices have healing properties. Since many spices with health benefits are included in this curry powder you can improve the herbal quality of your soup or stew.
How?
Using this spice blend as the base of your soup or stew is the most effective method in these recipes.
However, you can also infuse this spice mixture in liquids like broth, stock, or coconut milk for a more concentrated flavor.
The amount used is always based on the batch quantity you make. Nevertheless, it is important to remember that a small amount of vindaloo curry powder can go a long way.
The flavorful outcome!
The ingredients used in vindaloo powder can complement the richness of creamy ingredients, starchy vegetables, and animal proteins. Therefore, it will result in a more flavorful outcome no matter what recipe you put this in.
04. It Adds An Impressive Spiciness To Starchy Vegetables, Lentils And Egg Dishes
Why is it used?
The robust spicy note and subtle heat in this curry powder ideally complement starchy vegetable and savory egg dishes. You can try this with mixed vegetables, curries, and stews. Vegetables and lentils that go well with the flavor of vindaloo include the following:
Potatoes
Quash
Pumpkin
Cauliflower
Beans
Eggplant
Sweet potatoes\Chickpeas
Dhal
You may also upgrade ordinary egg recipes using our topic leader. This could be an excellent addition to various egg dishes when paired with other complementary ingredients like onions, tomatoes, scallions, etc.
How?
You can use this spice mixture according to the recipe details, when making vegetable or egg vindaloo. But, if you're trying this for the first time, you may always start with a smaller amount since this curry powder is a bit more spicy than regular curry powder.
If your vindaloo curry powder contains ingredients like tomato powder and salt, this will also work excellently to season your roasted veggies.
In addition, you can also add a small pinch of vindaloo curry powder to your scrambled eggs or omelet mixture. Adding this to shakshuka or devilled eggs can give scrumptious treats!
The flavorful outcome!
This curry powder allows you to try out easy egg and vegetable fusion recipes without too much effort.
Also, adding this spice blend can be a tasty twist to your ordinary breakfast eggs.
If you're someone who follows eggs and a veggie-based low-carb or keto diet, vindaloo curry powder will boost the nutritional value of your diet without adding extra carbs.
05. Ideal As A Flavorful Seasoning For Meat And Seafood
Why is it used?
The special zesty and hot touch of vindaloo curry powder can instantly cut out the blandness of any type of meat, fish, and seafood.
When combined with sauces, other spices, and herbs, this curry powder acts wonderfully to give a full-bodied seasoning to lamb, chicken, salmon, shrimp, and even thick meat like pork and beef.
How?
If you use vindaloo powder with seasonings like salt and umami ingredients like tomato powder, garlic powder, etc., you may effectively combine this with a liquid like a sauce or vinegar. This way, you can use the seasoning as a wet rub or a marinade.
You can also use this spice mixture with marinades that incorporate Greek yogurt or hung curd, if you make curries.
In addition to this, you can also sprinkle this over roasted, fried, or baked proteins just to get an instant boost of flavor of seasoned stuff.
Not only animal proteins, you can also try this with tofu and paneer especially when making Indian dishes.
The flavorful outcome!
Ideal for making a tasty difference in backyard or barbeque parties.
Gives your meat, seafood, and fish an iconic "curry" tone that stands apart from ordinary preparations.
Cuts down any unpleasant baldness of meat or seafood, deeply seasons that hit the right points in our taste buds.
Can I Sprinkle Vindaloo Curry Powder On Food?
Why not! You can use this curry powder as a finishing spice or a seasoning on many of your favorite foods. It would be best if your vindaloo powder contains salt and other flavorings like tomato powder, garlic, and ginger powder because they can balance out too much spiciness in the mixture.
Even if it does not contain these ingredients and comes with the basics, you may use it in your:
Baked potatoes
Potato or sweet potato fries
Chips
Roasted nuts
Glazed chicken
Toss with popcorn
Chicken nuggets
Freshly-made samosa
Fried chickpeas
If you like to learn everything about this curry powder along with an easy recipe to make your own vindaloo powder at home, go to this link and refer to our comprehensive article.
Can Vindaloo Curry Powder Overpower Your Dishes Easily?
Well, vindaloo curry powder is spicier and hotter than your regular curry powder. Therefore, you should be always considerate when using this spice mixture especially if you're substituting this with any other type of curry powder.
Long story short, vindaloo powder tends to overpower your dish if used. Therefore, we always recommend you start with a small amount initially and then adjust the quantity as desired.
Some Potential Health Benefits Of Using This Curry Powder
Vindaloo curry powder is a combination of some of nature's precious ingredients. So, by including this spice powder in regular dishes, you can get the following health benefits:
Aids digestion
Has potential cancer-fighting properties
Reduces inflammation
Gives your body enough strength to fight against bacterial and fungal infections
Provides substantial support to fight against heart and respiratory diseases
You Will Never Regret A Jar Of Vindaloo Curry Powder In Your Spice Rack!
Vindaloo spice powder is a powerfully fragrant and flavorful type of curry powder that deserves a special in your spice rack for many reasons. Using it regularly in your dishes can help you make a significant difference in your menu. It also has many health benefits to help you lead a healthy lifestyle.
Related Topics