The spicy, pungent, and aromatic Tikka masala blend is one of the most favored ingredients in Indian cuisine. So, let's look into some of the best uses of tikka masala blend that will help you come up with tasty meals.
The main purpose of the tikka masala spice blend is to flavor various tikka masala curries. But, in addition, this can also function in your cooking in the following ways:
Are you ready to check out how good tikka masala blend will incorporate with your daily dishes? Let's see!
07 Unmissable Uses Of Tikka Masala Blend
Indian spice blends are generally known for their potency, robustness, fragrance, and flavorfulness. It is tough to find a spice mixture in Indian cuisine that only comes with 1-3 ingredients. Tikka masala is one such spice powder that incorporates several different spices.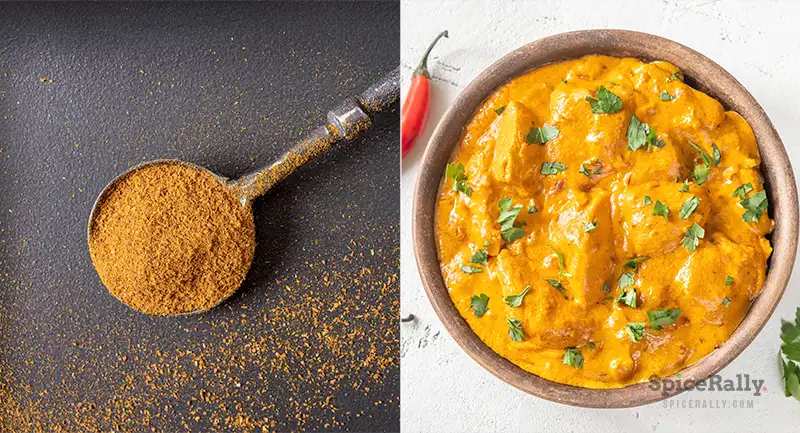 It is powdered to perfection to give you the ultimate satisfaction of a comfort meal. As you know, the tikka masala spice blend is commonly used as the main flavoring component of tikka masala dishes. 
The flavorful spices featured in this blend create an incredible flavor combination. These flavors help spice up many other recipes you make. Hence, this will result in unique, delicious Asian curry-touched recipes. Thus, you don't have to use this spice mix only in tikka masala recipes. So, let's discuss some of the most interesting ways to use tikka masala and how to treat your family with the best Asian-inspired treats.
Need to learn more about the tikka masala blend and know what ingredients make it so special in taste? Click here and follow up on this link to be educated on everything about this zesty spice mixture!
01- To Flavor Fusion Indian Sandwiches And Wraps
Sandwiches, wraps, and toast are the go-to meals of many who have less time to prepare a complex meal. So, if you're bored of the same old fillings, you can try to make a twist by adding just a small pinch of tikka masala spice powder. 
The robust spiciness of this spice blend will complement meat, fish, and seafood well. Therefore, you can season these ingredients before adding them to the filling. Or else, mix the tikka masala blend directly with the filling. 
You don't have to create new recipes, a dash of this spice mixture in your classic fillings can make delicious fusion fillings. In addition to these fillings, you can try to make burgers with tikka masala blend-infused patties. To make these patties, you can take minced meat, fish, seafood, ground soya, tofu, mushroom, etc. Since the tikka masala blend is vegetarian-friendly, it is ideal for veg and non-veg communities.
02- Gives A Spicy Kick To Pasta And Spaghetti Dishes
Make amazing curried pasta and spaghetti recipes by using our topic leader! Combining warm spices, red chiles, and dry mango powder will make a real tweak to your classic recipes. You can use anything like penne, fettuccine, linguine, and spaghetti, to pair them with various ingredients to suit your palate. 
One of the best recipes most Indians make is the Chicken Tikka Masala Pasta. Here, they infuse pasta with chicken tikka masala. If you're reluctant to try this, mix a dash of this spice blend with your regular creamy pasta or spaghetti. 
It doesn't have to be cream-based. But, you can even try it with a basic curried pasta or spaghetti recipe mixed with vegetables and meat into the dish. Also, making the pasta the regular way and spicing it up with tikka-infused sauce is a great way to enjoy a wholesome meal. 
If you like making fusion recipes, you can pair the spice powder with:
Heavy cream
Cheese
Milk
Tomato sauce
Red wine, etc.
But, if you love it completely Indian, you can team your tikka masala spice blend with coconut milk, red chile powder, yogurt, etc. Vegetables and proteins can be chosen upon your -preference.
03- Spices Up Certain Drinks And Cocktails
The idea might sound a bit odd, but tikka-spiced cocktails can be a real game-changer in your gatherings and cocktail parties. A little zesty tikka masala can go a long way in your drinks. 
Thus, a pinch of this spice powder incorporated into a simple syrup or sprinkled directly into the drink will boost an instant shot. You can pair tikka masala blend with hard liquors like vodka, rum, whiskey, and gin. 
Orange juice, lime juice, guava juice, and other citrus juices can be complemented by the spiciness of our topic leader. Upgrade your cocktail by teaming up fresh herbs like basil and mint. A spiced, spiked drink will be the absolute crowd-pleaser at your party when served with heavily flavorful snacks to go with it.
04- Works As A Seasoning For Meat, Fish, And Seafood
Get your daily dose of protein by enjoying them in an innovative way! Say goodbye to your ordinary chicken, beef, pork, fish, or shrimp, and introduce the impressive spiciness of tikka masala blend to your favorite source of protein. 
Most types of meat, fish, and seafood hold a considerable richness, so you can do wonders with them to make them flavorful. Therefore, seasoning them with the tikka masala blend will allow you to create layers and layers of flavor on them. 
Grill, fry, roast, or bake to your heart's content by seasoning your favorite meat, fish, or seafood with tikka masala infusing it into rubs or marinades. Tikka masala spice blend can work as a dry rub when incorporated with other ingredients like salt, garlic powder, brown sugar, etc. 
Wet rubs can be made by mixing our topic leader with oils and sauces. The intense spiciness of the tikka masala blend is well-complemented when paired with chicken, prawns, beef, pork, and white fish types.
05- Can Be Mixed Into Salads, Pickles, And Chutneys
The tikka masala blend is undoubtedly one of the best spice blends that you'll find in Indian cuisine to have an amazing balance of flavors. The spiciness of the pungent spices, blended with the heat of red chiles and the tanginess of dried mango powder can be the perfect compliment for your chutneys, pickles, and salads. 
Since this spice already contains a souring agent, you can balance out its flavor further by mixing a sweetener and salt. This will essentially make a heavenly combination to make the best pickles, chutneys, or salads for you. 
These are ideal side dishes or appetizers for bread, rice, or roti. You can make Indian-inspired pickles using deep-fried chicken or fish. Season or marinate your meat or fish using the tikka masala blend to treat your family with incredible delicious pickles. 
You can sprinkle a dash of tikka masala spice blend on your salad dressings or vinaigrettes to give them a spicy punch of flavor. If not, you can also stir directly with cooked or raw salads in a pinch of our tropic leader. A dash of tikka masala spice powder with red or green chutney will also give you an unexpected taste upgrade. All these recipes are excellent to serve at your lunch or dinner table to surprise your family!
06- Upgrades Egg Dishes
Eggs are typically the number one choice for those keenly adding to their daily protein. Recent research even says that eggs are perfect for those who are overweight or obese and need to lose weight. 
On that note, if you add eggs to your diet regularly and search for new ways to flavor them, your jar of tikka masala spice blend can surely help you! From the very basic Egg Tikka to simple and complex dishes like scrambled eggs, omelets, and egg masala, this spice blend can add enormous flavor to any of them. 
You can even make healthy baked eggs in the oven by breaking the eggs into the muffin tray, seasoning them with salt and pepper, and adding an extra boost of flavor with a dash of tikka masala powder. 
If not, you can also incorporate our topic leader with beaten eggs to make scrambled eggs for omelets. If you make omelets, you can pair onions, bell peppers, tomatoes, and even a dash of coconut milk to go with the spiciness of tikka masala powder.
07- Adds Spiciness To Savory Batters And Doughs
If you have kids around who love homemade savory buns, pancakes, pastries, etc., you can make them happier by upgrading your dishes with the tikka masala blend. Stirring a sprinkle of this spice blend into your savory batters and doughs is one of the most effective and easiest ways to use it. 
All you have to do is to flavor your regular batters and dough with the tikka masala powder and use them to make various savory buns, bread, pastries, pies, pancakes, etc. 
The pungent, robust flavor of this spice powder will perfectly blend with the flour, milk, water, and other ingredients you use in your doughs or batters. You can also come up with delicious and healthy breakfast pancakes using the tikka masala blend. 
Here's a small recipe you can try:
You will need a type of flour of your choice- it could be wheat flour, whole wheat flour, Atta flour, or oats flour.
Get ready with chopped vegetables like onions, carrots, tomatoes, bell peppers, etc.
Mix the veggies with the flour, along with an egg, some milk, or water.
Mix in salt to taste, some red chile fakes if preferred, along with a dash of tikka masala blend to create the magic!
Stir everything together to make a thick batter to make the pancakes.
Heat a pan, drizzle oil or butter. Pour the batter to make the savory veggie pancakes of your choice!
Adjust the ingredients depending on how many pancakes you make.
Add The Distinctive Tikka Masala Flavor To Your Favorite Recipes And Watch How They Disappear In Seconds!
The irresistibly flavorful tikka masala spice blend typically has a not-so-overwhelming flavor profile to give your food the right amount of spiciness. The warmth and earthiness of Indian spices, blended with subtle heat and tanginess can simply upgrade any recipe.
You can go completely Indian or prepare fusion dishes with the tikka masala spice blend. From basic marinating and seasoning, you can even come up with surprisingly delicious beverages like cocktails.
Related Topics