Have you ever wondered how to use jerk seasoning powder beyond the ordinary ways? If you got a jar from this flavorful blend in your spice rack or are hoping to buy or make some, we will be sharing ten savvy ways to use this seasoning blend.
You can be innovative with your cooking skills and use jerk seasoning powder in ways you have never tried before. Such as:
So, are you ready to discover how you could make the best from your jerk seasoning? Let's get started!
01- As A Sprinkle In Popcorn 
How fabulous would it be to give your ordinary fries and popcorn a zingy taste tweak when your friends are coming over? Yes- your jerk seasoning will help you do that! All you have to do is sprinkle some of this powder on top and toss your bowl of popcorn.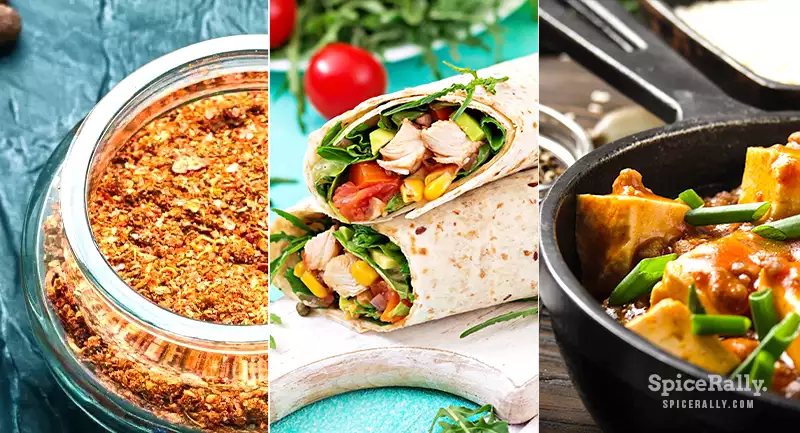 You can use it more or less according to your taste preferences. And the result will be incredibly spicy-sweet, salty, earthy, and a bold snack on your table! However, be careful when you add extra salt to your popcorn since the blend already contains a decent amount.
02- With Eggs
Are you on a keto or low-carb diet and eating scrambled eggs on a daily basis? Then here's the good news- try a pinch or two of this seasoning to turn your scrambled eggs from bland to super tasty. 
It is indeed a healthy option, although it could contain a little sugar. If you are a vegan, scrambled tofu could also be made the same way. In addition, jerk seasoning would be necessarily great with devilled eggs and any other method you follow to make savory egg dishes.
03- In Sandwich Spreads/ Fillings
This seasoning powder could give your ordinary sandwich spreads/fillings a flavorful, zesty punch. Just try some with chicken, guacamole, shredded jerk tuna steaks, or pulled jerk pork sandwiches. This also complements vegetables like tomatoes, onions, and lettuce. You can even try a pinch or two with salmon or shrimp sandwich fillings.
What do you really know about the content of the traditional jerk seasoning? Thus, to educate you with the facts, we have a complete article about the ingredients in jerk seasoning. Just tap here and read now!
04- To Incorporate In Wrap Fillings
Tortilla wraps, shawarma, or cabbage rolls? Your jerk seasoning powder could make any of them super delicious! You can either incorporate a little from this powder with the fillings that require cooking or sprinkle some on raw vegetable fillings. 
Jerk chicken, beef, tuna, and lettuce wraps, or even the fillings of spring rolls and Indian-style finger food like samosas could be flavored with this.
05- As A Dry Rub
This method is apparently the most obvious way to make use of your jar of jerk seasoning. Thus, particularly, chicken, steak, pork ribs/chops, salmon, and other white fish can be dry-rubbed with this. 
Using some olive oil as the base, rub these proteins with the jerk seasoning and put them on the grill, pan-roast, or bake until juicy and flavorsome. If you wish to grill vegetables like onions, zucchini, asparagus, etc., you can also try a pinch from this mix to season them.
06- In Marinades
A sugar-infused seasoning powder as a marinade? Well, this could sound a bit surprising to you. But still, it could be good enough to go for a ridiculously better taste!
Jerk seasoning could be mixed with lime juice, soy sauce, balsamic vinegar, or any other acidic-based marinade. It will particularly complement the chicken, and you can also use it to marinade steak, pork, lamb, shrimp, etc. These marinated proteins can be grilled, baked, roasted or fried upon your preference.
What would you do when you run out of jerk seasoning or couldn't get it from the store? Click this link and refer to our article that has covered the best jerk seasoning substitutes, which will give you a better flavor approximation.
07- To Mix In With Dipping Sauces
We believe that dips are most of your all-time favorites to enjoy with tortilla chips, nachos, raw vegetables, batter-fried prawns, or calamari, etc. So here's to the fun part- try throwing in a pinch or two from the jerk seasoning powder to your ordinary dipping sauce.
Mayonnaise, sour cream, cream cheese, yogurt-based, and even already-flavored dips like hummus, guacamole, or salsa can be enhanced with this seasoning. So, what will be your pick next time?
08- With Fried Or Baked Vegetables
The traditional jerk seasoning powder does not contain any animal traces. Therefore, if you are a vegetarian or following a vegan diet, this blend is a safer choice. 
Hence, if you are a frequent lover of baked/roasted vegetables, sprinkle some from this mix with olive oil before popping them inside the oven. Or else, you can also make a delicious bowl of deep-fried cauliflower or mushrooms by tossing it with a pinch of jerk seasoning as soon as you get them down from the oil.
Suppose you use the air-fryer to make eggplant, mushroom, cauliflower, or whatever vegetable you want. In that case, you can either season the veggies prior to the preparation or sprinkle some after they are made. Just be creative!
09- With Tofu
Remember we said you were mistaken if you thought that jerk seasoning is only for chicken? So, here's another point to prove we are right! In fact, you can give your dish of tofu an incredible taste with this blend.
Marinated, fried, grilled, scrambled, stir-fried- you can make tofu either way. And all you have to do is incorporate jerk seasoning at the proper time. For example, you can add it in the marination, dry rub it when grilling, or add a pinch while scrambling.
Delicious food and good things are always complicated to prepare. But they give more pleasure afterward, so be patient and just do better

SpiceRally.
10- To Integrate With Homemade Ground Meat Mixtures
Last but not least, jerk seasoning is an excellent addition to mix with ground meat mixtures. If you are a loving mom who is always willing to give your kids homemade goodness, this blend will make a WOW taste twist to your regular meatballs, burgers, or sausages.
You can use this with minced chicken, ground beef, pork, or even with minced TVP, fish, salmon, shrimp, etc. And in fact, your dish of spaghetti with meatballs does not have to be typical anymore!
Did you know that jerk seasoning is a good substitute for the pickling spice mix? For more information, tap the link here and check out this article.
How To Use Jerk Seasoning Powder In A Nutshell…
The little changes you make while cooking can be a life-changing experience. Thus, we hope that this episode on using jerk seasoning powder enlightened you with something more to your cookbook.
As you see, jerk seasoning powder works well in many different and unexpected ways. In fact, all you have to do is to be creative and know the right time to add the right amount of suitable ingredients!
Related Topics