One best thing about summer days is putting your favorite meats on the grill! So, with this episode, we will share the best seasonings for steak on the grill that you'll love big time!
Marinades, dry rubs, and wet rubs are the most effective and apparently the most obvious ways of seasoning your steak before throwing them onto the grill. So, these steak seasonings include:
Detailed facts that explain how these rubs and marinades take your steak dish to the next level await below. Read further!
The 07 Best Seasonings For Steak On The Grill
Depending on the time you've got to season your meat and the occasion, you are always free to choose a pre-packaged or a homemade seasoning of your choice.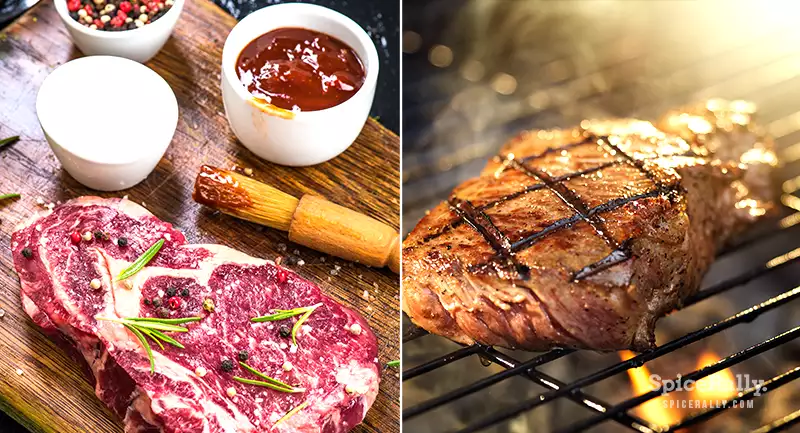 However, marinades, dry rubs, and wet rubs are excellent ways to season the steak when put on the grill. And these seasonings are often made with a number of pungent, aromatic, powerfully flavored spices, herbs, and other flavorings.
01- Montreal Steak Seasoning Powder
Just as the name suggests, Montreal Steak Seasoning Powder is ideal for steak. It is packed with flavorful ingredients, and you can readily use the powder as a dry rub. 
Sometimes, you may also come across ready-made versions of Montreal steak seasoning marinade in the store. If not, you can mix the powder into any homemade marinade you wish to use and incorporate it with an acidic base or oil.
The Montreal steak seasoning powder usually includes:
Red chili flakes
Garlic powder
Paprika 
Onion powder
All these spices and other flavorings in this seasoning powder and marinade have the ability to well-complement the meat. The rub would make a crispy and crunchy coating around the piece of steak.
Moreover, you can have much tender and juicy meat if you use store-bought marinade or else by mixing the seasoning powder with a marinade you make at home.
Did you know what spices would work better for a steak rub? To be enlightened with the facts, click here for our exclusive article.
02- Jerk Seasoning Powder/ Marinade Sauce
Jerk seasoning is a rich blend of spices that comes with the versatility for you to buy as a powder and a marinade seasoning sauce. And you can even easily make these two at home.
The seasoning powder typically consists of ingredients such as:
Allspice
Red Pepper Flakes
Cayenne Pepper
Black Pepper
Cumin Seeds
Onion Powder
Garlic Powder
Nutmeg
Cinnamon
Paprika
Dried Thyme
Dried Oregano
Brown sugar
Salt
While store-bought jerk marinade seasoning usually comes together with:
Scotch bonnet peppers
Black pepper
Allspice
Nutmeg
Thyme
Scallions
Salt
Cane sugar
Water
Citric acid
You can directly use this marinade sauce before grilling the steak. And if you have seasoning powder in hand, you can either use it as a direct wet rub or integrate it into a homemade marinade.
03- Barbeque Rubs
Oh yes! The racks of the supermarket's spice aisle are regularly loaded with plenty of barbeque rubs under different brands. 
In fact, you might already have one or two of them in your spice cabinet. Barbeque rubs are absolutely universal, and they can be one of the best seasonings when grilling your steak.
Generally, almost all barbeque rubs are based on two primary flavors- sweet and salty (sugar and salt). However, most store-bought and homemade options could include many other ingredients like red pepper powder, chili powder, garlic powder, etc. 
These powders can be used as dry or wet rubs, depending on your preference. Plus, they are also great to mix with homemade marinades. And in fact, barbeque rubs would be your best bet if you are in haste.
04- Cajun Seasoning Powder
This is another flavorful seasoning for steak on the grill, coming together with many ingredients that could complement the meat. If you love wet rubbing your steak, we could say that Cajun seasoning would be a serious winner.
This seasoning usually consists of herbs, spices, and other flavorings such as:
Cayenne pepper
Garlic powder
Black pepper
Dried oregano
Dried thyme
Salt
Moreover, Cajun seasoning powder will also be super good to go with marinades you make at home. And sometimes, you might also find Cajun sauce/marinade from the store. Hence, you can use it as a marinade for the steak before grilling if you find one.
Did you know that Cajun seasoning can also be a great substitute for Sazon seasoning? So, if you need more information and more alternatives for this spice blend, click on this link and refer to this article.
05- Creole Seasoning Blend
The Creole seasoning blend is a piece of splendid news, especially for backyard grilling gurus! One could say that this mix is so much similar to Cajun seasoning, which is true. 
But still, they are not the same. In fact, Creole is a bit less spicy and has a more herbal undertone with an array of dried herbs.
This made including flavorings such as:
Red peppers
Paprika
Garlic powder
Onion powder
Bay leaves
Dried herbs (rosemary, thyme, oregano, parsley, basil)
Salt
Consequently, if you crave a more zesty and herbal touch on your grilled steak, we bet that Creole seasoning will do better than anything else.
 Like Cajun, you can also use this seasoning blend as a wet rub, dry rub, or blend it with quickly-made marinades for a more concentrated flavor.
If you are curious to learn the real difference between Cajun and Creole seasonings, click here and refer to our detailed article.
06- Red Harissa Paste
This may sound a little strange, but in reality, Harissa paste is something that could do wonders with your steak on the grill! You can either buy this paste in pre-packaged containers or make it at home. 
Or else, you could also get Harissa seasoning powder from the store and incorporate it with homemade marinades.
Red Harissa paste contains a lot of steak-complementing ingredients like:
Red chili pepper
Paprika
Garlic
Coriander
Cumin
Caraway
Salt
Black pepper
Red chili flakes
Olive oil (not included in Harissa seasoning powder)
This could give a more distinctive flavor than ordinary seasonings. You can go ahead and mix some brown sugar with harissa paste to give your meat a more spicy-sweet undertone when grilling.
Harissa rubbed grilled steak will be great with vegetables, quinoa, couscous, and even rice if you need some accompaniment!
07- Homemade Rubs and Marinades
So, above all, we know that homemade rubs and marinades always have a very special place in your hearts. 
In fact, we would say that they are the most versatile seasonings you could ever use since you have control over every ingredient that goes in your marinade or rub.
You can choose the best spices, herbs, and other flavorings that complement steak when grilling and make your own at home. You can put together marinades by mixing ingredients like:
Soy sauce, olive oil, Worcestershire sauce, lemon juice, dried parsley flakes, dried basil, white pepper, garlic, powder, hot pepper sauce, and minced garlic.
Balsamic vinegar, soy sauce, Worcestershire sauce, honey, minced garlic, black pepper, rosemary, olive oil, and dijon mustard.
Red wine, olive oil, lemon juice, salt, rosemary, minced garlic, and ground black pepper.
In addition, you can also give a try to make rubs by incorporating ingredients such as:
Smoked paprika, black pepper, garlic powder, onion powder, cumin, brown sugar, dried oregano, and salt.
Chili powder, paprika, garlic powder, onion powder, brown sugar, salt, cornstarch, turmeric, and black pepper.
Minced garlic, fresh rosemary, fresh thyme, cracked black pepper, and olive oil
Wrapping Up With The Best Seasonings For Steak On The Grill…
As you see, Montreal steak seasoning powder, jerk seasoning powder/marinade sauce, barbeque rubs, Cajun seasoning, Creole seasoning, red Harissa paste, homemade rubs, and marinades can rock your steak when they need to be seasoned before grilling.
So, make sure to try some of these when you have a backyard BBQ party next time!
Related Topics