If you ever wanted to try spicy and zestful harissa at home, we are here to fulfill your wishes! Once you make this amazing homestyle harissa paste recipe all by yourself, we assure you that you will never want to go back to the store-bought ones again.
This North African condiment is incredibly flavorful packed with spices so let's get started right away!
Homestyle Harissa Paste Recipe
You can technically use any type of red chili peppers to make this paste. But in our recipe, we will be using an assortment. Everything comes together so smoothly, and you will be surprised by the end results!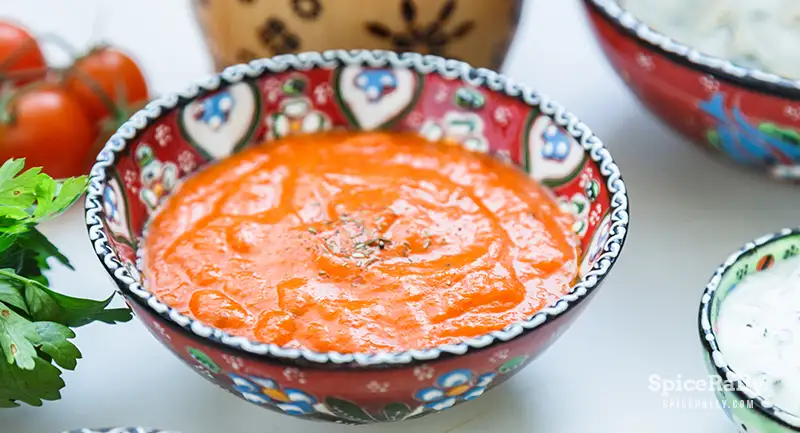 Preparation time- 25 minutes | Cook time- 10 minutes | Additional time- 10 minutes
No: of servings- 12 ounces (24 tablespoons) | No: of calories per tablespoon- 30
Dry Spices Needed
One tablespoon from each:
Cumin seeds
Coriander seeds
Caraway seeds
Do not miss our exclusive article about the spices used in harissa paste. Click here and learn everything you need to know.
Required Red Chili Peppers And Other Spices
Eight Guajillo chilies 
Two Ancho chilies 
Two Arbol chilies
One roasted red bell pepper
Four cloves of garlic
Other Required Ingredients
Half a cup of olive oil
Two tablespoons of tomato paste (optional)
Salt to taste
Two tablespoons of lemon juice
Step By Step Process
To make the dry spice mix:
In a small pan, dry-roast coriander seeds, cumin, and caraway. 
Let them toast until fragrant but do not let them burn.
Transfer the roasted spices from the pan to a mortar and pestle and grind them to a fine powder. (You can also use the spice grinder for a quicker option)
Set the mix aside.
If you enjoyed our homestyle harissa paste recipe, we are sure that you would be thrilled to try out our epic homemade green harissa paste too. Get the recipe from here.
To prepare the chilies:
Start by cleaning the Guajillo and Ancho chilies. You can split them into halves by using your fingers. Remove the seeds and pull the membranes. Rinse the Arbol chilies also.
Now, bring a small pot of water to a boil. Once the water is heated, turn off the flame and put the rinsed Arbol chilies and cleaned guajillo chilies and Ancho chilies into the pot of water.
Let them sit in hot water for about 15- 20 minutes.
Start making harissa:
First, coarsely smash the garlic. Then, puree garlic and the roasted bell pepper in a food processor.
Drain the steeped red chilies well with the help of tongs and add them to the same mixture in the food processor.
Now, add the ground spices, salt, and lemon juice. Close the lid of the processor and start pulsing.
While the mixture is being pulsed, add the olive oil from the top and process the harissa to a perfectly smooth blend.
Turn off the processor, do a taste check and add some more lemon juice and salt if needed.
Tasty Notes From SpiceRally
You can use your harissa paste immediately or store it in an air-tight glass container. Make sure you keep it in the refrigerator, and you can keep this there for up to four days.
If you need to keep it for longer, put it in an ice-cube tray (probably a silicone ice cube tray) and top it with some extra olive oil. Once frozen, transfer them into a freezer bag. In this way, your homemade harissa paste will stay for about two months.
You can go ahead and remove the seeds from Arbol chilies also. But we kept them as our harissa paste recipe needed spiciness.
If you need an extra smoky kick to your recipe, you can add about half a teaspoon of hot smoked paprika.
What will you do if you ever run out of harissa or find that it is unavailable in the store? Well, in that case, we have a list of ten best harissa paste substitutes that you can check out right now!
Related Topics
Did you know that rose harissa paste is even more flavorful than this classic harissa we brought you? If you need to try making rose harissa at home, click here for a simple recipe.