If you ever got a chance to visit a Sri Lankan restaurant and enjoy their authentic food, you might remember their unique and characteristic taste! So, let's bring you their staple- Sri Lankan curry powder.
Sri Lankan curry powder is a robust, aromatic blend of roasted or unroasted spices, herbs, and other ingredients. Coriander, cumin, and fennel seeds make the base of this spice blend along with other elements such as:
Cloves
Green cardamom
Cinnamon
Mustard seeds
Fenugreeks seeds
Black pepper
Curry leaves
Pandan leaves
In addition to these spices and herbs, some variations include roasted, uncooked rice, turmeric, nutmeg, dried red chiles, garlic, etc.
Let us take you on this flavorful escape and show the absolute joy of this essential Sri Lankan spice blend!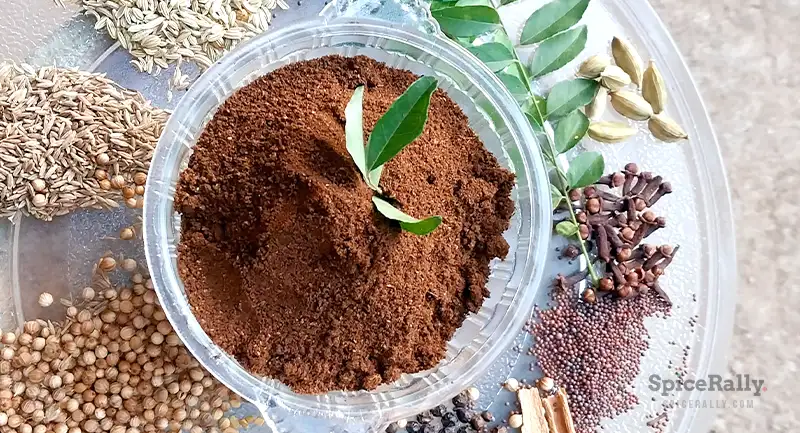 What Is Sri Lankan Curry Powder?
Frankly, curry powder means everything to the Sri Lankans! This is one of the most robust spice blends in the world, made with a long list of piquant spices and fragrant herbs. If you ever get a chance to visit the kitchen of a Sri Lankan home, the first thing you'll notice is one or several jars of curry powder. 
There are a few types of curry powder inherent to Ceylon cuisine. Roasted and unroasted curry powder holds prominence. And you'll also see Jaffna curry powder and chicken curry powder featured in their households. Each of these variants goes in terms of ingredients and proportions used. However, each Sri Lankan chef has their own way of making curry powder. 
Thus, the flavor and robustness broadly vary depending on each recipe. You can buy it from most Asian stores or supermarkets under a few Sri Lankan brands. In the meantime, making your own fresh batch of curry powder is also possible.
Curry Powder's Association With Sri Lankan Households.
As implied before, the flavor and robustness broadly vary depending on each recipe. This spice blend is associated with ancient Sri Lankan culture. Roasted curry powder is known as "Badapu Thuna Paha" (බැදපු තුන පහ), and unroasted curry powder is called "Amu Thuna Paha" (අමු තුන පහ). 
Generally, the term "Thuna Paha" is used to define curry powder in Sri lankan households, which translates to "three-five." "Three" denominates the three main ingredients you'll find in any variety of curry powder: coriander, fennel, and cumin. 
At the same time, "Five" refers to five typical aromatics featured in this spice blend, such as cloves, cardamom, cinnamon, fenugreek seeds, and curry leaves. Sri Lankans also refer to this spice blend as "Sarakku Kudu" (සරක්කු කුඩු). The meaning of this term is unknown, but it is believed that it could have been derived from a south Indian word. 
Ancient Sri Lankans believed that the medicinal properties of the spices and herbs used in this spice blend had a powerful healing effect for many ailments. However, curry powder is a staple in authentic Sri Lankan foods, significant as a flavor and aroma-boosting ingredient and sometimes as a finishing spice.
Ingredients In Sri Lankan Curry Powder
As aforementioned, the spice trio of coriander, cumin, and fennel feature as the foundation of this spice blend. Generally, Sri Lankan curry powder uses a ratio of 3:2:1 of these three spices. 
That is, three parts of coriander seeds, two parts of cumin seeds, and about 1 or 0.5 parts of fennel seeds are included. Other spices and herbs are usually incorporated according to the recipes developed by each person or household once this base is created.
Spices
Coriander seeds– This is the base of any Sri Lankan curry powder variety. Coriander seeds provide the spice blend with a gentle, warm, and citrusy undertone. This spice covers about 65% of the flavor of curry powder. Coriander seeds usually balance out the overall flavor profile of this spice blend and perfectly back up the rest of the piquant ingredients.
Cumin seeds- Tiny, fragrant cumin seeds pack a punch and are considered the next must-have in Sri Lankan curry powder. Warm, nutty, and slightly bitter-sweet elements of cumin seeds give this blend its characteristic flavor, pairing well with coriander and fennel seeds.
Fennel seeds- Fennel seeds look like cumin but are larger and greener in color. This spice lends a warm, earthy, sweeter overtone to curry powder with licorice-like undertones. Fennel seeds are included moderately since they are less spicy and prominent in sweetness. It could easily overpower a dish if overused, but it helps to balance the intense flavors in this spice mixture.
Cloves- Known for their signature aroma and piquancy, cloves are another flavor-packed spice used in traditional Sri Lankan roasted curry powder. We don't usually see cloves in unroasted curry powder since it is a spice that well-complements meat and seafood. Only a few cloves are used in this blend due to their concentrated flavor.
Green cardamom- Featuring another signature spice, green cardamoms are also only included in Sri Lankan roasted curry powder. Green cardamom offers a herbal, warm, citrusy, spicy, and even a bit minty flavor. This is another robust spice we find in Ceylon cuisine, so it is used moderately due to its overpowering nature.
Cinnamon- Ubiquitous cinnamon is another staple in any variety of Sri Lankan curry powder. Sri Lankan cuisine is no short of high-quality Ceylon cinnamon! Hence, this spice lends a warm, sweet, and iconic spicy undertone to curry powder. A small portion of a Ceylon cinnamon quill is usually roasted with the rest of the spices when making this spice blend.
Mustard seeds- Bitter and slightly spicy black mustard seeds provide a distinctive flavor to curry powder. Due to its strong taste, this spice does not typically feature in unroasted curry powder. Mustard seeds pair well with ingredients like curry leaves, pandan leaves, black pepper, and fenugreek to build the perfect curry base for any dish!
Fenugreeks seeds- Used as staples in Sri Lankan and Indian cooking, fenugreek possess an iconic flavor profile with bitter, tangy, and nutty flavor notes. This spice is not typically used in unroasted Sri Lankan curry powder but features in a more considerable proportion in Jaffna curry powder (a variety of Sri Lankan curry powder).
Black pepper– Tiny black pepper seeds are woodsy, earthy, and piney, offering the right amount of pepperiness and heat to this spice mixture. It is mainly featured in roasted curry powder, which we hardly see in the unroasted version. The robustness of black peppercorns intensifies when roasting, completing the overall piquant flavor profile of our topic leader.
Tap on this link and read our detailed article on essential spices of Sri Lanka, which makes their dishes so unique in flavor and aroma!
Herbs
Curry leaves– This unique herb is a staple in Sri Lankan cooking. The herbal, complex citrus flavor of curry leaves is often described as reminiscent of lemongrass, anise, and asafoetida. This herb is included in almost every type of Sri Lankan curry powder but is used a little more in the unroasted version. Curry leaves are usually used with pandan leaves, mustard seeds, fenugreek seeds, etc.
Pandan leaves- This herb holds a pleasant, gentle aroma with sweet, grassy, coconut-like, and vanilla-like flavor notes. Pandan leaves are paired with curry leaves and most other spices used in this blend, and this is another ingredient that makes this spice blend stand out from the rest.
Other Ingredients  In Sri Lankan Curry Powder
In addition to the primary ingredients used in this spice blend, these are some of the other elements that we can often see in variations of Sri Lankan curry powder:
Dried red chiles
Turmeric
Nutmeg
Mace
Garlic
Ginger
Lemongrass
Coconut
Uncooked, roasted rice
Sesame seeds
Lentils like Masoor dal, chana dal, etc.
However, unlike most spice blends, salt or any other flavor additive is not included in the traditional Sri Lankan curry powder.
Popular Varieties Of Sri Lankan Curry Powder
As we already mentioned, curry powder usually varies depending on the household, person, production, or province of Sri Lanka. But four main varieties are widespread across the country, and they are as follows:
Roasted curry powder- This is the primarily used curry powder version in Ceylon cuisine. Roasted curry powder is specifically used to complement meat and seafood dishes. This is also incorporated into richly spiced vegetable recipes like Baby Jackfruit Curry and Bittergourd Curry.
Unroasted curry powder– This version is milder than the roasted variety and it comes with fewer ingredients. Unroasted curry powder is mainly used with yellow vegetable curries and is often incorporated into lentil recipes.
Jaffna curry powder- This is another particular type of curry powder from Sri Lankan cuisine. It features more red chiles, fenugreek seeds, and black pepper, emphasizing the heaty note in this version. Jaffna curry powder is intrinsic to the northern cuisine of Sri Lanka.
Chicken curry powder– The next widely-used curry powder type is the Chicken curry powder mix. It does not contain any traces of chicken, as the name suggests. But it is made to flavor the signature Sri Lankan meat curries, including chicken, beef, pork, etc. Chicken curry powder mix often more robust than regular roasted curry powder.
If you need more information on these four types of Sri Lankan curry powder and their ingredients, click this link and refer to our informative article.
How To Use Sri Lankan Curry Powder?
Sri Lankans use their curry powder with almost everything! They are a nation that has a sincere love for spicy foods. However, this spice blend can be used with dishes like:
Meat, fish, and seafood dishes
Jazzes up soups, broths, and stews
Adds robustness to marinades and rubs
Works as a finishing spice for many dishes
Seasons ground meat and fish recipes
Used in snacks and traditional Sri Lankan street food like Kottu
It can be incorporated into some vegetable dishes
Click on this link and follow up on this post to discover more unconventional ways to use Sri Lankan curry powder to ramp up your dishes.
Sri Lankan Curry Powder Substitutes
The elaborate list of ingredients makes a complex flavor profile for this spice blend. Although this is a staple in Sri Lankan cuisine, you might have trouble finding it in the western market. In such instances, you can use a few alternatives that can replicate the taste and texture of our topic leader. They are:
Indian or Madras curry powder\
Garam Masala
Curry powder used in Western cuisine
Tandoori masala
Thai curry powder
Ras el Hanout
Baharat
Chinese five-spice powder
How can you use these substitutes in place of Sri Lankan curry powder? With what type of dishes are they replaceable, and in what quantities? Here we have covered everything on the best Sri Lankan curry powder alternatives.
FAQs
Where To Buy Sri Lankan Curry Powder?
This spice blend is readily available across Sri Lanka in any store, from the small grocery store to the largest supermarket. However, when it comes to the international market, you might find it a bit challenging to find this. But still, you should be able to purchase  Sri Lankan curry powder in Asian grocery stores, the international aisle of the supermarket, or online shopping sites.
What Is The Difference Between Indian And Sri Lankan Curry Powder?
The main difference between Sri Lankan curry powder and Indian curry powder comes down to the ingredients and quantities of those ingredients used. Indian curry powder is milder and less robust than traditional Sri Lankan curry powder. 

Turmeric powder is an integral element in Indian curry powder. And we don't usually see the inclusion of pandan leaves, coconut, uncooked rice, or lentils. However, the usage is pretty similar in both spice blends since the primary purpose of both is making curries.
Is Ras el Hanout The Same As Sri Lankan Curry Powder?
The simple answer is No. Ras el Hanout comes from Mediterranean cuisine, while Sri Lankan curry powder belongs to Southeast Asian cuisine. They come from different cultural backgrounds, and the list of ingredients also largely deviates across the variations. 

We don't usually see fennel seeds in Ras el Hanout which can be spicier depending on the variety of exotic spices used. At the same time, Sri Lankan curry powder may also hold more heat than Ras el Hanout, depending on the number of red chiles used.
You can click this link and follow up on this post to discover more about the difference between Ras el Hanout and Sri Lankan curry powder.
Is Sri Lankan Curry Powder Vegan?
Sri Lankan curry powder is typically made with plant sources such as spices, herbs, and grains. Therefore, this spice mixture could be one hundred percent safe to include in your diet if you're following a vegan or vegetarian diet.
Is Sri Lankan Curry Powder Keto-Friendly?
Like many spice blends, Sri Lankan curry powder is the perfect blend to enhance the taste of keto food. A small amount of uncooked rice will not add a lot of carbs to the mixture. Thus, it is good to go even with your strict ketogenic diet plan!
Does Sri Lankan Curry Powder Contain Gluten?
Gluten-related ingredients are not typically included in Sri Lankan curry powder. But you can always check the list of ingredients if you are concerned when purchasing any store-bought item.
Bring The Real Asian Twist To Your Dinner Table With Sri Lankan Curry Powder!
Variety is the first thing that comes to our minds when talking about Sri lankan food. Ceylonese are so passionate about spicy foods that they use their traditional curry powder mixture simply with anything and everything! 
This spice blend is one of their fundamental culinary ingredients that usually comes together with piquant, flavorful, and aromatic spices, herbs, and sometimes grains. Coriander, cumin, and fennel are the base for this curry powder, and you would find several varieties of this mixture on the island.
Related Topics