Curry powder is the most versatile culinary ingredient used in Sri Lankan cuisine, and this spice blend has many variations. But here're the most common Sri Lankan curry powder types and their uses in cooking.
Out of the wide variety of Sri lankan curry powder, the most used and popular types include the following:
Let us bring you everything you are curious to learn about these types, along with their differences and similarities.
The Most Common And Popular Varieties Of Sri Lankan Curry Powder
A Ceylon household, especially a Sinhalese kitchen, is always full of spices. This is one of the most famous southeast Asian countries that use a lot of spices in daily cooking. For this reason, every household in Sri Lanka has its way of making curry powder.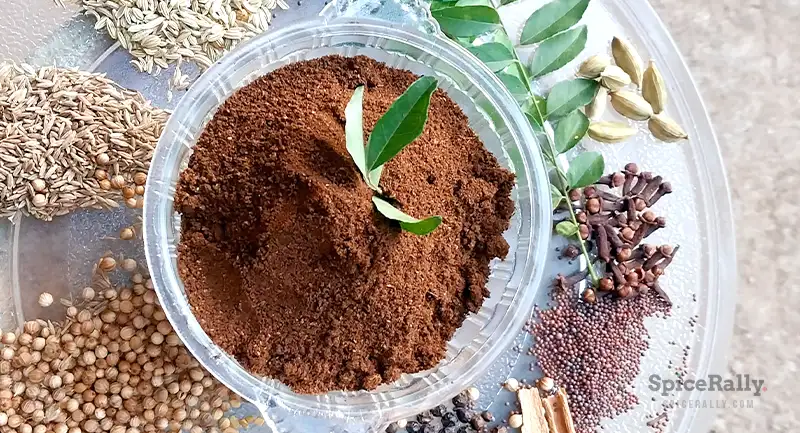 A countless number of variations exist. But the entire country utilizes four main types of curry powder specifically to spice up their traditional dishes. Of these four curry powder varieties, roasted and unroasted curry powder hold prominence in almost every household. 
The other two types are specially formulated and only used in some specific dishes. However, the base of every kind is the same, a combination of coriander, cumin, and fennel. But each differs in terms of ingredients, the proportion of the content, and the mode of preparation.
01- Roasted Curry Powder
This is the most common and widely used type in Sri Lankan cooking. As mentioned earlier, you'll find many variations of roasted curry powder, varying depending on the household, production, or province. 
Several flavorful and aromatic herbs, spices, and grains are well-roasted and pulverized to make this curry powder. The base is the same: coriander, cumin, and fennel. And the rest of the ingredients typically include:
Fenugreek seeds
Black mustard seeds
Cinnamon
Green cardamom
Cloves
Black peppercorns
Curry leaves
Pandan leaves
Uncooked rice
Lentils such as Mysore dal and chana dal
Sesame seeds
Coconut
Uses In Cooking
While the spices and herbs give the desired robustness and piquancy to roasted curry powder, grains and coconut defines the vibrant color of this blend. Therefore, this curry powder type complements rich meat, fish, and seafood curries more than anything. 
But this is also used in some vegetable and lentil curries. Roasted curry powder also works well as a finishing spice for heart soups, stews, and broths. Some cooks use this blend as a base for rubs and marinade for meat and seafood. The spices give a kick of deep spiciness, while other ingredients provide depth.
You must be interested in making your batch of Sri Lankan roasted curry powder at home. On that note, we have shared an unmistakable, step-by-step authentic recipe in this article. Check it out!
02- Unroasted Curry Powder
This is the next most consumed and used type of Sri Lankan curry powder in their cooking. The spices and herbs in unroasted curry powder are not typically roasted as its name suggests; instead, they are cleaned and sun-dried before being ground. 
The base of this curry powder revolves around a bulk of coriander and cumin seeds, while fennel and curry leaves also mainly contribute to the flavor. 
With fewer ingredients, unroasted curry powder is the mildest among all the curry powder variations in Sri Lankan cuisine. But still, it has an earthier and warmer undertone with other ingredients such as:
Pandan leaves
Cinnamon
Black peppercorns
Cardamom
Uses In Cooking
Unroasted curry powder is a super versatile spice blend for those who prefer less spiciness yet a rich taste in their dishes. It holds a more herbal, warm overtone that can be used simply with anything that calls for a "curry" vibe. 
But, in Sri lankan cuisine, the unroasted curry powder is primarily used in yellow coconut milk-based recipes such as:
Yellow coconut milk gravy (Kiri Hodi)
White dal curry
Yellow potato curry
Yellow egg curry
Green beans curry
Coconut milk-based white fish curry
Moreover, this is also used as a base for Sri Lankan-style vegetable-lentil soup and is even added to certain stews, rice dishes, and savory fillings. In essence, unroasted curry powder is known to complement vegetables more than meat and fish.
Follow up on this link and refer to this post as we have shared a simple, authentic unroasted Sri Lankan curry powder recipe you can easily make at home.
03- Chicken Curry Powder
This curry powder variety is one of the most piquant curry powder variants you'll find in Ceylon cuisine. The ingredients used in this type are as roasted as in roasted curry powder. 
But still, chicken curry powder generally calls for more ingredients than roasted curry powder. Including dried red chile pepper is the main feature we see in this type. It typically comes together with other spices, herbs, and grains, such as:
Green cardamom
Cinnamon
Coriander
Fennel
Cumin
Black mustard seeds
Black peppercorns
Fenugreek seeds
Ginger
Garlic
Onion
Curry leaves
Pandan leaves
Lemongrass
Uncooked rice
Coconut
Uses In Cooking
This curry powder variant is commonly used when making traditional Sri Lankan chicken curry. In addition, this is also used to make other extra spicy meat recipes like beef curry, pork curry, and mutton curry. 
Baby jackfruit curry is another traditional vegetable dish made in Ceylon cuisine that resembles the flavor notes of their meat curries. Therefore, chicken curry powder is sometimes used in this dish as well. Accordingly, this spice blend primarily complements very spicy dishes that call for more piquancy.
If you need to try this flavorsome spice blend at home, we have brought a traditional Sri Lankan chicken curry powder recipe in this post. Click here now!
04- Jaffna Curry Powder
Jaffna curry powder is a regional variation of Sri Lankan curry powder, which is famous nationwide. This type of curry powder is made in Tamil households in the northern province of Sri Lanka. 
This spice blend also resembles the flavor notes of the curry powder made in most parts of South India. It usually comes together with roasted ingredients such as:
Dried red chiles
Coriander
Cumin
Fennel
Black peppercorns
Fenugreek seeds
Green cardamom
Cloves
Cinnamon
Mace
Nutmeg
Curry leaves
Uses In Cooking
As mentioned earlier, Jaffna curry powder is quintessential for the dishes made in northern cuisine. It is less intense than chicken curry powder but way spicier than regular roasted curry powder. 
Consequently, this spice blend is widely used in vegetarian dishes inherent to Jaffna, such as the spicy dal or chickpea curry. 
Moreover, it is used in seafood curries like Jaffna Spicy Fish, Prawn, or Crab Curry. However, this robust curry powder type is excellent with dishes that call for advanced spiciness and heat, And it doesn't go well with gentle recipes.
If you like to add the zing of this spice blend to your dishes, you can find a simple recipe to make an authentic blend of Sri lankan Jaffna curry powder by clicking on this link.
What Is The Difference Between Roasted Curry Powder And Unroasted Curry Powder?
The main difference between roasted and unroasted curry powder is that the ingredients used in roasted curry powder undergo roasting before grinding. But on the contrary, the spices and herbs used in unroasted curry powder are mostly sun-dried until they are ready to be pulverized. 
Moreover, unroasted curry powder calls for fewer ingredients than the roasted type. And we don't usually see the inclusion of uncooked rice, lentils, and sesame seeds in unroasted curry powder. 
Thus, unroasted curry powder becomes less spicy, less piquant, and lighter in depth of flavor. Roasted curry powder goes well with more decadent recipes, while unroasted curry powder is excellent with milder vegetable or lentil curries.
What Is The Spiciest Type of Sri Lankan Curry Powder?
When considering the ingredients and their amounts, Sri lankan Chicken curry powder is the most piquant and the spiciest blend.
 This spice powder calls for a generous quantity of red chiles, black pepper and other savory ingredients like garlic and ginger. 
Hence, this combination results in a very spicy curry powder variant that will undoubtedly stand out from the rest of the curry powder used in Sri lankan cuisine. 
Chicken curry powder undoubtedly packs a punch more than roasted or Jaffna curry powder types. However, it is essential to remember that even though this variant is habitually more potent than the rest, its ingredients could still control it.
In The Bottom Line…
Sri Lankan homemakers and cooks are obsessed with having more than one type of curry powder in their kitchens. Most follow the formulas that have been passed down from their family cookbooks, while the rest count on the shop-bought options. 
However, this way, you'll find many variations of curry powder within this little island. But the four main types we discussed throughout our article are the most popular and common varieties used in many homes. While roasted and unroasted curry powder types hold dominance, Jaffna curry powder and chicken curry powder also feature in many dishes, more or less.
Related Topics