With a significant source of inherent spices within the country and the reputed antiquity of the spice trade with their fundamental characteristics throughout the world, Sri Lanka is known for its flavorful authentic dishes. If you are someone who fancies a diversity of gustations and essences, the Ceylon cuisine is a must-experienced place at least once in a lifetime. Ceylon spices are sweet-smelling, luscious, and add the ultimate texture, color, and punch to most of their signature recipes. 
Top essential Ceylon spices consist of plenty of rich-flavored seasonings, including:
In fact, Sri Lanka is one of the best Asian cuisines you can come across in your life. So, we welcome you to join us with the sweet escapade that we hope to take you on, sharing the 11 essential and the best Ceylon spices. If you ever thought about why Sri Lankan food was so palatable, you will get the answer right in this article.
Top 11 Essential Ceylon Spices
Sri Lankan cuisine has conquered many hearts across the world by providing distinctive and flavorful foods in their own way. Spices represent a significant part of Sri Lankan relishes, particularly when it comes to curries or savory dishes. In fact, their popular curry spice blend, "Roasted/ Unroasted Curry Powder (Thuna-Paha)", consists of many spices made to use in a lot of spicy dishes. If you visit a house in Sri Lanka, you will discover how a special place in their kitchens is dedicated to various Ceylon spices.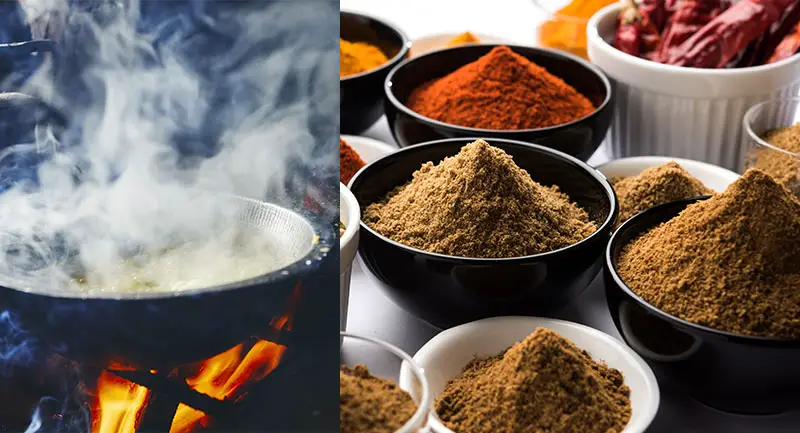 Apart from incorporating them with food, those spices are used as multiple household medicines since they possess some remarkable curative properties. On a happier note, let us present you with the 11 essential Ceylon spices that contribute to the uniqueness of Sri Lankan foods. 
01 – Cinnamon (Kurundu – කුරුඳු)
A Sri Lankan curry without a hint of cinnamon is literally regarded as an empty recipe. In fact, Sri Lanka is the world's most comprehensive raiser and exporter of cinnamon to the world. And Ceylon Cinnamon (True Cinnamon) is acknowledged to be the best variety among all four types. It has acquired its honor for its unparalleled zest, hue, and fragrance compared to Cassia Cinnamon.
Sri Lankans use this spice as an ingredient to their main curry powder mix and include it in meat, fish, seafood, dal, and even in certain vegetable curries and sweetmeats. Cinnamon is available as quills in the local Sri Lankan market but can also be added to the dishes in its powdered form.

This spice (Ceylon Cinnamon) is rich in antioxidants that will help fight against cancer, diabetes, and heart disease. Cinnamon tea is another herbal beverage that is gaining popularity in Sri Lanka, marked for its blood sugar lowering and weight-loss promoting qualities. Here are a few traditional Sri Lankan dishes made using cinnamon:
Sri Lankan Chicken Curry
Baby Jackfruit Curry (Polos Ambula)
Sri Lankan Style Fish Curry
Coconut Cake (Bibikkan)
Kottu
Did you know that all these 11 essential Ceylon spices are used in curry powder? For more information on this unique blend of spices, click here!
02 – Red Chili (Rathu Miris – රතු මිරිස්)
Red chili is another essential flavoring agent and a colorant in the spice rack of all kitchens in Sri Lanka. This spice is the crucial element in most hot and spicy curries and other savory dishes made by Ceylon cooks. In a conventional Sri Lankan kitchen, they use dried red chili, chili powder, and crushed chili flakes. Habitually, dried red chilies are utilized for tempering. And, red chili powder (unroasted/roasted) is for curries, and chili flakes are for stir-fries. They taste hot, spicy, and intense and have a subtle odor.

In addition to red chili, Sri Lankans are loyal consumers in other varieties of chili, like green chili (amu miris), bird's eye chili (kochchi miris), and "Nai Miris", which is another variety of bird's eye chili. Many of their traditional dishes, including pastes, chutneys, curries, and assembles, contain other types as well as red chili.
According to our research data, we found that dried red chilies are even used in an ancient, village-based Sri Lankan custom. They burn them in front of a particular person to chase away the evil or sinister eyes that has fallen upon them. So, check out these authentic recipes made in Sri Lanka using red chili:
Red Coconut Sambol (Pol Sambol)
Lunu Miris
Sri Lankan Style Red Chicken Curry
Jaffna Crab Curry
Sri Lankan Egg Curry
03 – Black Pepper (Gammiris – ගම්මිරිස්)
Black pepper is another must-have spice they include in their foods, making its own position in Sri Lankan cuisine. Black peppercorns from Ceylon offer a robust floral zing, culminating in meat and sautéed and roasted vegetables. This spice pairs well with salt and makes a lovely connection as a seasoning agent in many foods, including marinades.
Moreover, black pepper is employed essentially as a finishing touch on courses to add the spiciness and aroma to meat, fish, or vegetables.
This spice is readily available in any local store in Sri Lanka. It basically comes in its grounded form or as peppercorns. Our research statistics discovered that many village-based Sri Lankan communities use black pepper as a household medicine to relieve stomach-related problems, cough, common cold, and vomiting. Following are five black pepper-infused dishes made in Sri Lanka:
Fish Ambulthiyal
Sri Lankan Black Pepper Pork Curry
Beef Pepper Fry
Sri Lankan Black Pepper Chicken Curry
Fish Bistake
Interested in knowing about the spices you can use in vegan cooking? If so, we have a complete article here.
04 – Cloves (Karambu Nati – කරාබු නැටි)
Cloves are another spice a Sri Lankan dish would hardly miss. Whole Sri Lankan cloves are rich, flavorful, and aromatic. They give an ultimate touch to the food when added. Cloves and clove oil were used for oral-related health issues like toothache and gum problems from the olden days. This spice is essential for traditional meat and fish curries made in Sri Lankan cuisine.

Basically, most Sri Lankans add this to food as a whole pod by slightly crushing using a pestle. In addition, they also use cloves in certain vegetables, curry powder, and sweetmeats. Check out these Ceylon recipes with cloves in them:
Sri Lankan Yellow Rice
Chicken/Pork/Beef/Mutton/Fish Curries
Tempered Potatoes
Watalappam
Sweet and Spicy Onion Condiment (Seeni Sambol)
05 – Cardamoms (Enasaal/Karandamungu – එනසාල් / කරදමුංගු)
This is one of the most used and one of the most expensive spices you can find in Sri Lankan kitchens. In fact, Sri Lanka is one of the leading suppliers of both the white and green types of Cardamom pods. Green cardamoms are the mainly employed variety in their dishes. They have a pleasant and intense aroma and a citrus and mint-like, fresh flavor. 

Most of the time, cardamoms are used as a whole, slightly pressed just like cloves. Many authentic Sri Lankan curries, sauces, gravies, and many sweetmeats are flavored by this spice. And it pairs well with cloves, cinnamon, curry leaves, and pandan leaves.
This spice is rich in Vitamin C, Vitamin A, Thiamine, and Calcium. And possess properties in relieving urinary tract diseases and improving blood circulation. Here are five Ceylon recipes that include cardamoms:
Sri Lankan Milk Toffees
Slow-Cooked Sri Lankan Beef Curry
Sri Lankan Style Pork Curry
Jaffna Fish Curry
Cashew Curry
06 – Coriander (Kottamalli – කොත්තමල්ලි)
Coriander is another firm staple that you can taste in most Sri Lankan foods. It is a vital ingredient used in their fundamental curry powder blend. Coriander seeds are tiny, but they taste great when added to food. They have a mild fragrance and are gentle and earthy in flavor. However, we cannot see that Sri Lankans include coriander seeds in their dishes as a whole. 
Generally, they mix it with other spices by dry roasting and grinding it to a fine powder. In addition, just like in India, Sri Lankans too use cilantro leaves as garnishing in food. Plus, our research shows coriander has been used as a whole as a household medicine to treat the common cold. They usually boil pan-roast coriander seeds with slices of ginger and water. Then, use this herbal tea to ease runny- nose and cold symptoms. It is also a spice that can fight infections, promote gut health and digestion, and plentiful immunity-boosting antioxidants. Check out these traditional dishes made using coriander:
Sri Lankan Pumpkin Curry
Baby Jackfruit Malluma (Polos Malluma)
Sri Lankan Spiced Vegetable Curry
Eggplant Curry
Coriander Rice
07 – Turmeric (Kaha – කහ)
Turmeric is admired in every kitchen on this Island for its complex flavor, sharp yellow color, and robust aroma. Many yellow curries made by Sri Lankan home cooks or chefs are flavored with this spice. In fact, you will rarely find any dish without turmeric. Most people in Ceylon are interested in growing a turmeric plant in their garden, thanks to its incredibly precious medicinal value. 

Apart from using it as a flavor enhancer and a colorant in food, they use turmeric to treat various skin-related conditions. It contains antimicrobial properties and is considered a healthy spice among all the spices used in a recipe. In Sri Lanka, turmeric comes to the market often as a powder and can also be seen in fresh, raw rhizomes. However, when added to food, it is included in its powdered form. Here is a list of five dishes that Sri Lankans make using turmeric:
Yellow Coconut Gravy (Kiri Hodi)
Sri Lankan Potato Curry
Green Beans Curry
Cabbage Curry
Fish Curry With Coconut Milk
Not only in Sri Lankan cuisine, but turmeric is also a staple in Indian Cuisine. Click here to discover more info about the top 10 Indian spices.
08 – Fenugreek (Uluhaal – උලුහාල්)
Fenugreek is a tiny, yellow seed that is bitter, earthy, and subtle in flavor. Usually, Sri Lankans add this spice into their curries in moderate amounts as they are way too intense compared with other additives. Fenugreek actually counterbalances the flavors of other spices in a particular dish. Moreover, this spice combines well with curry leaves, pandan leaves, and lemongrass. 

However, whole fenugreek seeds give out a more bitter taste when included in the food. Therefore, most Sri Lankans have a habit of using powdered fenugreek in their dishes in place of whole seeds. This spice is well-known for lowering blood sugar levels and regulating bad cholesterol. Some fenugreek-infused Sri Lankan recipes are as follows:
Ash-plantain Curry
Dal Curry
Sri Lankan Drumstick Curry
Ladies Fingers Yellow Curry
Red Onion Curry
09 – Nutmeg (Saadikka – සාදික්කා)
Nutmeg is one of the most intensely flavored spices in Sri Lankan cuisine. Sri Lankans use this spice with curries and also with sweets. Moreover, most village-based Lankans use grated nutmeg with lime juice to relieve stomach aches and digestion issues. Grated nutmeg is how it goes into foods, and we cannot see they use this spice as a whole.

However, nutmeg gives a great touch to savories, sweets, and curry powder and tastes so good when blended with other spices. Check out these dishes in Ceylon made using this flavoring: 
Watalappam
Sri Lankan Love Cake
Rich Cake
Sri Lankan Red Fish Curry
10 – Mustard Seeds (Aba – අබ ඇට)
Mustard seeds are very tiny in size but do wonders with many tempered dishes made. They can be brown, black, or white, depending on the mustard plant they come from. However, Sri Lankans mainly use brown mustard seeds. They usually put them in hot oil and let them pop before adding any other tempering ingredient. 

The seed itself has a sharp, spicy, and somewhat bitter tang. In addition to this, mustard is also blended with white coconut vinegar as a mixture used in Sri Lankan pickles. In addition, mustard is a spice with many health advantages like relief from muscular pains, ringworm, and respiratory dysfunctions. Here are some famous Sri Lankan dishes made using mustard:
Sri Lankan Pickle (Sinhala Achcharu)
Kohila Curry
Tempered Cabbage
Tempered Dal
Ambarella Curry
11 – Cumin (Sooduru – සූදුරු)
Since ancient days in Sri Lanka, Cumin has served as one of the main spices used for its soothing, earthy, and fresh flavor and medicinal properties. Sri Lankans consume boiled cumin water in order to relieve urine infections. This spice is also a part of the curry powder blend they make. When incorporated with curries and certain sweets, they slightly crush the seeds between their fingers to obtain a better aroma and flavor. 

Cumin resembles caraway seeds but has a different taste and fragrance. However, this spice is used in its grounded form too. And, it often pairs well with mustard seeds as a tempering spice. Let us now look at a few cumin-infused dishes prepared in Sri Lankan cuisine:
Jack Fruit Curry (Kiri Kos)
Green Cabbage Leaf Malluma
Sri Lankan Oil Cake (kewum)
Aluva
Cumin Candies (Seeni Bola)
What Are Ceylon Spices?
This tiny teardrop-shaped Island Sri Lanka, is well-known for its unique ethnic culinary heritage. They use their spices as a primary ingredient in their kitchens. When we talk in terms of Ceylon spices, they cultivate these, and it mainly includes:
Cinnamon
Cardamom
Pepper
Cloves
Nutmeg
Out of all these spices, Ceylon Cinnamon owns a prominent place in the world of spices. In addition to these, Sri Lanka is also well-renowned for growing Vanilla and Mace, which are also used to flavor and aromatize foods. Ceylon Spices are more than merely flavoring agents. Most of them offer essential therapeutic attributes and are extensively used in alternative pharmacology. Furthermore, Ceylon Cinnamon and cloves are employed in the perfume and cosmetic industries essentially because of their distinctive fragrance.
Ceylon curry powder is a flavorful blend of spices. If you are interested in learning more about the difference between spice and seasoning, you are just a snap away from here.
What Are The Famous Spices In Sri Lanka?
In addition to the 11 essential spices we have listed in the above section, we thought you would be interested in knowing a few other flavorings used in Sri Lankan cooking. Thus, here is a list of some famous spices that will accompany their dishes.
Fennel Seeds
Mace
Curry Leaves
Ginger
Garlic
Pandan Leaves
Lemongrass
Ceylon Cinnamon
Ceylon or "True" cinnamon is a wonderful creation that has been gifted to this Island by nature. In fact, Sri Lanka, the exclusive supplier of true cinnamon to the world, has been a global port of call for the most exquisite quality spices since ancient times.

This variety of cinnamon is distinctive in its flavor, texture, color, and aroma. And, it is relatively high in price when compared with other types like Cassia Cinnamon. So, if you are interested in learning more about Ceylon Cinnamon, we have a fully detailed article, here, that you can refer to. 
What Spices Are Unique To Sri Lanka?
Sri Lanka is a nation that has a plethora of unique recipes. And, to prepare those dishes, they mainly use a range of spices. Indian cuisine and Sri Lankan cooking use somewhat similar spices, and the spiciness of their recipes is quite comparable. However, Ceylon Cinnamon (True Cinnamon) is considered the only native spice to Sri Lanka out of all the flavorings they use in their foods. Here are some Ceylon signature dishes and their condiments made using spices as key ingredients:
Kottu
String Hoppers with Sambol 
Hoppers with Lunu Miris (Appa)
Fish Ambulthiyal
Dry Fish Curry
Lavariya
Pittu 
Sri Lankan Lamprais
These dishes include main spices like red chili, cinnamon, cardamom, turmeric, cloves, etc., which can be pretty unique but not native to the Sri Lankan cuisine except Ceylon Cinnamon. 
The Spicy Conclusion…
As you see, Sri Lanka is a land with flavorful and aromatic spices that comes right into their dishes from their spice rack. Flavorings like Ceylon Cinnamon have a remarkable place in the world of spices known for its high quality and standard. So, we hope you got enlightened by the facts we have discussed throughout this article. And see what Ceylon Spices you could use with the next dish you make!
Sources