Tangy, zesty, and slightly spicy chaat masala is a famous Indian spice blend that is also extensively used by many South Asian countries. The majority of chaat masala ingredients are distinctively flavorful, which makes it unique among the other spice blends. 
This spice mix can be bought from the store and made at home. Each recipe could have slight variations in its content. But typically, it could contain spices and herbs such as:
Cumin Seeds
Ginger Powder
Black Peppercorns
Asafoetida (Hing)
Dried Mango Powder (Amchoor)
Coriander Seeds
Red Chili Powder
Dried Mint
In addition to these spices, some recipes may also employ cloves, paprika, garam masala, caraway seeds, fennel seeds, and cinnamon. Few kinds of salt usually accompany these herbs and spices. And other preservatives are used in many commercially made mixtures.
So, let's check out how these Chaat masala ingredients give soul to the mixture and the dishes it calls for.
Chaat Masala And Its Ingredients
The mix has actually got its name from a traditional Indian savory street snack known as "chaat". Apart from being used in various chaat dishes, this spice blend also works as a condiment and an ingredient. And this is something you could rarely see in an Indian spice mix.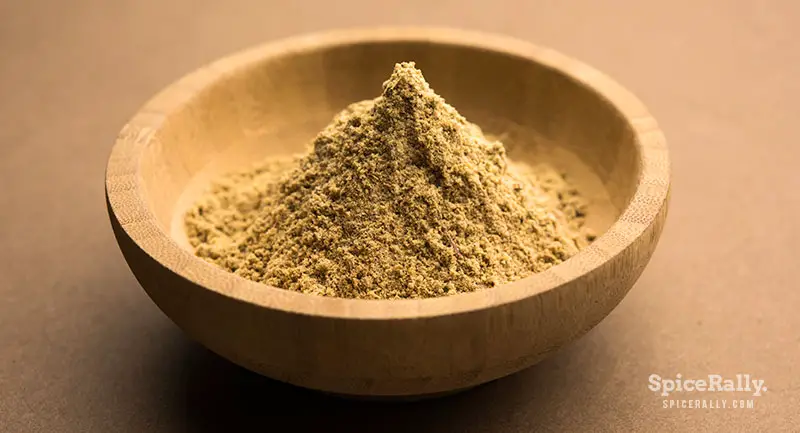 Chaat masala ingredients generally include dry mango powder (amchoor), black salt, and asafoetida (hing), which can be exotic to Western cuisine. The mix itself has a robust, zesty, sour, and slightly spicy flavor with a musty aroma.
Pre-packaged and homemade recipes can have slightly different ingredients. However, we have listed down basic spices and the one herb that is typically used in this mix. So let's check out the facts.
Spices
01- Cumin Seeds
Cumin seeds are a staple in Chaat masala used as a base flavor. Its nutty, slightly sweet, and warm flavor elements pair well with all the other ingredients used in the mix. Whole cumin seeds are often dry roasted so that their flavor and aroma intensifies.
Making your own homemade, fresh batch of chaat masala is very easy when you have the required ingredients. Click here and follow up on your instructions to make delicious chaat masala.
02- Ginger Powder
This spice is pungent, peppery, warm, and sweet and adds a distinctive punch to the masala mix. Ginger powder is also among the standard ground spices in the blend that pairs well with sour elements, particularly with mint, cumin, coriander, and black pepper.
03- Black Peppercorns
Woody, sharp, earthy, and peppery black peppercorns have an unequivocal flavor profile that simply gets along with every other ingredient used in this mix. Whole peppercorns are often dry roasted and then pulverized with other whole spices for a better flavor.
04- Asafoetida (Hing)
Even though this spice is a bit alien to Western cooking, it is extensively used in Indian cuisine. In fact, this is one of the best undercover flavor enhancements in Chaat masala. It has a sulfur-like aroma and a unique savory punch with garlic and leek-like flavor notes. Its taste improves when cooked and mixed with other ingredients.
Garam Masala is sometimes an ingredient in Chaat Masala, thanks to its versatility. So, are you interested in knowing what spices are used in Garam Masala? Click here and refer to this article to learn about India's most popular spice blend.
05- Dried Mango Powder (Amchoor)
Like asafoetida, dried mango powder can also be unfamiliar to Western cuisine. This spice is actually one of the most iconic chaat masala ingredients, which imparts a robust sour flavor with citrusy and fruity notes. 
This spice gives the perfect flavor tweak to the mix without any overpowering effects. Interestingly, the tartness that Amchoor gives becomes a blessing when chaat masala is used as a condiment.
06- Coriander Seeds
Coriander seeds can be found in many store-bought and homemade recipes. This spice has a gentle flavor profile with a slight sweetness with citrus and floral hints. The taste of whole coriander seeds intensifies when dry-roasted and ground with other ingredients. And it teams up specifically well with cumin in the mix.
You may find many store-bought chaat masala options in the shop, but a homemade blend is always better than anything! Click on this link and refer to this post, as we have shared a simple homemade chaat masala recipe just for you!
07- Red Chili Powder
Red chili powder is one of the most special chaat masala ingredients, which provides an appealing color and a hot, fiery, spicy kick. Most of the time, Kashmiri red chili powder is used. Or else, any hot red chili powder can obviously be a part of this blend. Chili powder holds a depth of flavor that could give chaat masala its deep flavor, giving many dishes the desired punch.
Herbs Used In Chaat Masala
01- Dried Mint
Apparently, dried mint leaves are the only known herb employed in this blend. This herb bestows its subtle herbal, fresh, and cooling flavor elements to the mix, pairing well with other ingredients such as cumin and ginger.
Other Chaat Masala Ingredients
Meanwhile, the flavorings mentioned above add so much life to this blend, there are some other must-have, exotic, and remarkable ingredients in chaat masala that gives its incredible taste. 
Commercially made mixtures would include preservatives, and many homemade and commercially made ones would contain other spices, kinds of salts, and types of acids. They are:
Cloves
Paprika
Tamarind powder
Garam Masala
Caraway seeds
Fennel seeds
Cinnamon
Black salt
Pink Himalayan salt/ Kosher salt/ sea salt
Citric acid
Tartaric acid
Cane sugar
Other preservatives
What will you do if you run out of chaat masala? Not to make the dish that it calls for? No, you shouldn't be doing that when you have substitutes for chaat masala. Click here to enlighten you with the five best chaat masala alternatives.
What Are The Uses Of Chaat Masala?
This flavorsome spice mix is widely used in street snacks and is a special savory ingredient and a condiment in many cooked dishes and uncooked recipes. Here are some interesting ways that you can use chaat masala if you wish to buy one from your next visit to the store!
It can be sprinkled on many finger foods and traditional Indian street foods (Alu Tikki, papri chaat, puff rice, chutneys, samosas, etc.)
Used in vegetable, legume, and lentil curries (pumpkin, carrot, beans, potato curries)
It is great when sprinkled on fruit salads, raw vegetable salads, cheese, sauces, and eggs.
Use a dash or two in deep-fried dishes or stir-fries (patties, pakora, vegetable stir-fries)
You can also upgrade your glass of lemonade or buttermilk by sprinkling chaat masala.
Sandwiches made with tomatoes, avocados, and cucumber can also have a zesty kick when sprinkled.
If you are interested in discovering more methods to use chaat masala in your kitchen, we have shared a comprehensive article right here!
Are Amchur Powder And Chaat Masala The Same?
Amchur/ Amchoor powder or dried mango powder and chaat masala are NOT the same. Amchur is made by pulverizing dried unripe mangoes. While on the contrary, chaat masala is a combination of many spices, herbs, and other flavorings. However, amchur powder is a staple in chaat masala used for its unique sour and citrusy notes.
Does Chaat Masala Contain Salt?
Salt is a standard and must-have flavoring agent in this mix. Black rock salt is a staple, and other varieties such as sea salt, kosher salt, and pink Himalayan salt are also used in a majority of recipes.
Tikka Masala is a flavorful blend of spices just like Chaat masala. We have a complete article here about the spices used in Tikka Masala that you might be interested in learning.
Does Chaat Masala Have Msg?
Chaat masala usually contains many ingredients that give the natural flavor characteristics of MSG. Consequently, we do not generally find MSG in most reputed chaat masala brands that we can purchase from the store. And, it is not even a part of any of the homemade recipes too.
Is Chaat Masala Gluten-Free?
Generally, the authentic chaat masala recipe does not contain any gluten-related ingredients. And, when we checked with the most reputable brands and popular homemade recipes, we did not find any gluten element in them either. 
However, we recommend you to read the list of ingredients or check with the manufacturer before purchasing if you are concerned.
Life tastes like Aloo Chaat- sweet, tangy, sour, tart, and sometimes very hot and spicy. Such a marvelous combination life is!

Anonymous
Is Chaat Masala Vegan?
Chaat masala typically does not contain any non-veg ingredients. All the spices, herbs, and other flavorings used in the blend are usually vegan-friendly. Therefore, chaat masala can be a congenial flavor additive to any vegan around the globe.
Did you know that chaat masala also makes an excellent substitute for sambar powder? Follow up on this link and read our article for more information and find more alternatives for sambar powder.
Add Chaat Masala For A Tart, Tangy, And A Zesty Flavor Experience!
If you love to discover and experiment with new tastes, we bet that this spice blend would be one of your best bets. All chaat masala ingredients are packed with a profundity of flavor. And some of them are even exotic, bringing out the significance of this mix. 
Content could have slight variations depending on the recipe. Nevertheless, cumin seeds, ginger powder, black peppercorns, asafoetida (Hing), dried mango powder (amchoor), coriander seeds, red chili powder, and dried mind are considered staples.
So, how do you wish to use this with your next dish? We would love to know, so throw a comment down below in our comment section!
Related Topics