Indian spice blends have the ability to replace each other in most instances. But, chaat masala is a tough one with an intricate flavor profile that is very hard to resemble. However, we managed to get the best chaat masala substitutes that could give a very close taste replication.
This spice blend is tangy, zesty, and slightly spicy with salty flavor notes. Thus, the best chaat masala substitutes can include:
So, let's share with you how these alternatives would help you out with a closer taste of chaat masala if you ever run out of it.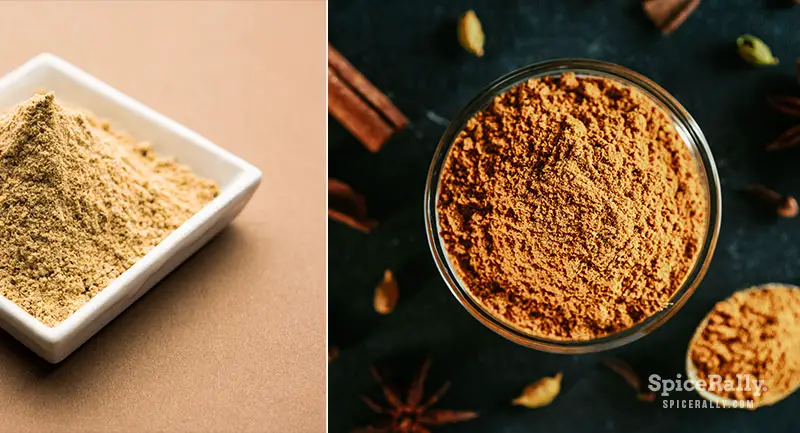 The Best 5 Chaat Masala Substitutes
Chaat masala is usually a combination of ingredients like:
Cumin Seeds
Ginger Powder
Black Peppercorns
Red Chili Powder
Asafoetida (Hing)
Dried Mango Powder (Amchoor)
Dried Mint
Several types of salts (including black rock salt)
Citric acid/ tartaric acid
So, as you see, it could contain some exotic spices and flavorings. Therefore, its taste could have distinctive elements, which is pretty challenging to replicate. It is used as a cooking ingredient and also a condiment in many dishes.
However, the list below includes some of the best chaat masala substitutes we picked with extensive research. They will not obviously give the exact flavor, but they will do their best to provide a close taste similarity.
01- Garam Masala
Garam Masala is the most popular spice mix used in Indian cooking in an array of dishes. The spices used in this mix can vary from region to region and home to home, but it shares common ingredients with chaat masala, such as:
In addition to these ingredients, it could contain many other flavorful spices depending on the recipe. However, Garam Masala does not typically have salt and dried mango powder which are major flavor elements of Chaat masala. 
Therefore, you may have to add some salt and mango powder in pinches if you substitute Garam Masala in place of our subject leader.
Plus, use it moderately specifically in cooked dishes until you build up the desired flavor, as it can be overwhelming if used in larger amounts. However, Garam Masala will not be good enough to replace as a condiment.
If you are interested in learning more about the spices used in Garam Masala, click here for our detailed feature about this spice blend.
02- Tikka Masala
Tikka Masala, like Garam Masala, comprises many pungent and powerfully flavored and aromatic spices. This spice blend also shares some common ingredients with Chaat masala, like coriander seeds, black pepper, cumin seeds, and red chili powder. Most recipes also include dried mango powder or amchoor.
So, it is better if you can use a Tikka Masala with mango powder in it. In addition, use a bit of salt when replacing for a better flavor approximation. However, as you did with Garam Masala, you will have to use Tikka Masala in smaller amounts initially until the flavor is developed.
Since it could contain some strong spices and colorants like turmeric, 1:1 will not be a good idea. Moreover, use it only with dishes that require cooking, and Tikka Masala will not work well as a condiment.
03- Curry Powder
If you don't have anything but curry powder at home, you can still use it as a secondary option for substituting chaat masala. There are many curry powder blends in the market, and some even put it together at home.
You don't have to cook fancy or complicated masterpieces- just good food from fresh ingredients

Julia Child
Curry powder can include similar ingredients as in our subject leader, like coriander seeds, cumin seeds, ginger, and sometimes even chili powder and asafoetida. But, its base could be the colorant spice turmeric. Therefore, you will have to be generous with the amounts when replacing.
Apart from that, curry powder does not typically contain mango powder or salt. So, like with Garam Masala and Tikka Masala, you will have to use those flavorings additionally. However, curry powder is not a good option to substitute as a condiment, so it is better to alternate it only with cooked dishes.
04- Baharat
Baharat can be one of the decent chaat masala substitutes due to its quality to serve both as an ingredient and a condiment. Moreover, it generally shares some similar flavors like coriander seeds and black pepper. 
Some recipes even include dried mint, and the spiciness can be attained by paprika. However, like many alternatives in our list, Baharat too does not typically contain any salt or a sour flavor agent.
Therefore, use salt and mango powder in pinches when you use Baharat in place of the original product. You can incorporate this spice blend as a condiment on top of salads and an ingredient in many dishes where chaat masala is called for. As it can contain other robust aromatics, use it little by little until you get the desired taste.
Would you like to learn more about Baharat? We have a fully detailed article right here. Click this space and refer to our Baharat article, which explains everything you want to know.
05- Homemade Chaat Masala
If you could not lay your hands in any of the above-mentioned chaat masala substitutes on our list, you can try to make your own batch at home. You can simply use the ingredients that are readily available in your kitchen to put homemade chaat masala blend together.
So, if you want to try this homemade goodness, refer to the simple recipe that we have shared with you down below.
Simple Homemade Chaat Masala Recipe
This recipe will become an excellent chaat masala substitute that you can quickly assemble within a few minutes. You can use this with any dish that calls for chaat masala either as an ingredient or a condiment.
Preparation time- 5 minutes | Cooking time- 5 minutes | Additional time- 5 minutes
No: of calories per serving- 32 | Cuisine – Indian | Author- SpiceRally
Spices and Herbs Required
2 teaspoons of black peppercorns
6 tablespoons of cumin seeds
2 tablespoons of coriander seeds
8 tablespoons of mango powder (amchoor powder)
2 teaspoons of carom seeds (optional)
2 teaspoons of dried ginger powder
1/2 teaspoon of asafoetida (hing)
2 teaspoons of dried mint leaves
Other Ingredients Needed
4 tablespoons of black salt
1/2 a teaspoon of salt
Instructions For Preparation
In a cast-iron skillet, dry-roast cumin seeds, coriander seeds, and black peppercorns for about 1-2 minutes over medium heat.
Take them out once they start to emit their fragrances and transfer them to the place to cool completely.
Next, put the roasted spices into a grinder jar along with all the other remaining ingredients and grind them until they turn to a fine powder.
Use immediately or store in an air-tight container until use. (You can use this up to 3-4 months)
Can I Substitute Chaat Masala For Garam Masala?
Garam Masala can be a possible substitute for chaat masala since both of them share some similar flavor elements. However, Garam Masala can be stronger than chaat masala due to the many ingredients that it could contain.
Besides, Garam Masala is usually a salt-free spice blend and does not include mango powder, which is considered the primary flavoring agent in Chaat masala.
 Despite these differences, it can be used in place of chaat masala, specifically in dishes that require a cooking process. But, Garam Masala is not a good choice to be replaced as a condiment. 
Chaat masala is an ultimate spice blend with a unique flavor. To discover more about this spice blend and learn what spices are used in it, click here and read our feature.
Is Jaljeera And Chaat Masala Same?
To begin with, Jaljeera and chaat masala are NOT the same. Jaljeera is basically a lemonade infused with spices popular as a summer drink in North India. While on the contrary, chaat masala is a dry blend of tangy, zesty, and flavorful spices used as an ingredient and a condiment in many dishes.
However, some Jaljeera recipes could contain chaat masala as it contains a majority of the ingredients which is used to make this healthy and cooling beverage.
Going Down With Chaat Masala Substitutes
Finding an alternative for chaat masala can be somewhat challenging due to its distinctive flavor profile. But, in our article, we tackled the five best chaat masala substitutes that could bring a proximate flavor resemblance.
The replacements mentioned in our list include Garam Masala, Tikka Masala, curry powder, Baharat, and a homemade chaat masala recipe. You can choose the best and the easiest you can find and use them in place of chaat masala with many dishes it calls for. 
Related Topics