We at SpiceRally know that you, home chefs, are very keen at cooking and willing to give the best for your beloved family. In that case, you may be inquisitive regarding learning about Garam Masala substitutes, which is a staple in your family's favorite Indian dish.
These replacements do not come with too much complexity. In fact, they can be found around your kitchen, within the spices you use regularly. Those substitutes include:
So, let us enlighten you on how these Garam Masala substitutes will come to save your dish with their flavor profiles that are close to the original spice mix. Be with us until the last word!
The 11 Best Garam Masala Substitutes
This spice combination is indeed a flavorful addition to many of your meat and vegetable dishes. It is made of a medley of warm spices, but they aren't hot.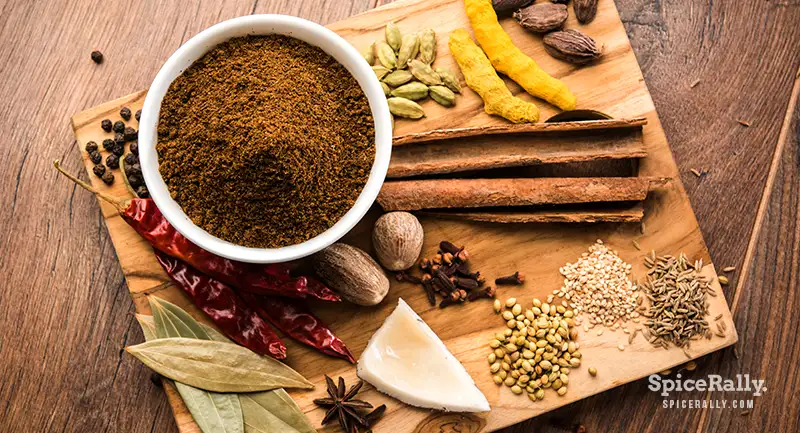 The content of this spice mix can alter and vary from place to place and family to family in India. However, there is a set of traditional spices used no matter in what variation it comes.
In our list today, we chose the 11 best Garam Masala replacements that can be used instead of the original mix. So let's see what they are.
If you are interested in learning about the spices used in Garam Masala, click here; we have an exclusive article for you. 
01- Curry Powder
If there's anything that closely resembles this mix, curry powder will undoubtedly be top on the list! This is actually a blend of spices that specifically flavors curries or savory dishes.
Curry powder, just like Garam Masala, has many variations. However, this blend contains a few common ingredients that can resemble the flavor of this. And, they are coriander, black pepper, and cumin.
However, you have to be careful when using curry powder if it is labeled as "hot" curry powder. Since Garam Masala is a combination of warming spices but not hot, try to go for a mild curry powder version.
Moreover, generic curry powder often includes turmeric as a key ingredient, which the one that is going to be replaced usually does not have. Therefore, you should also expect a change of color when added to a certain dish. 
Nevertheless, the color change would not affect much regarding the flavor. You can use curry powder for the same amount as the original blend in most dishes it calls for.
If you need to know precisely how curry powder differs from Garam Masala, we have shared a fully detailed article here.
02- Chaat Masala Powder
If you are looking for Indian verismo in a particular dish, Chaat Masala will be your next best bet. The reason is apparent because there is no other better option than replacing an Indian spice mix with another Indian spice blend.
Chaat Masala comes with an intricate flavor profile with some similar spices used in Garam Masala like:
Cumin
Coriander seeds
Cloves
Nutmeg
Fennel seeds
But still, this spice mix is tangy and can be sour due to the addition of dry mango powder and sometimes tamarind powder. And, it usually contains salt that cannot be generally seen in the original mix.
Thus, when you replace it with Chaat Masala, and if you are not very familiar with the mix, you will have to use it a little initially. Employing a bit at the beginning and building up the taste will be the best.
03- Tikka Masala Powder
Tikka Masala is another native Indian spice blend that can be used as a substitute. This spice mix contains common ingredients, such as:
Coriander
Cumin
Black cardamom
Green cardamom
Black pepper
Cloves
Cinnamon
Consequently, these ingredients make Tikka Masala a pretty good candidate to replicate the taste. So, you can use this spice mix in the same amount as Garam Masala in a dish it calls for, particularly in meat recipes.
04- Sambar Powder
This spice mix is another popular blend, especially in South India, made with coriander, cumin, and lentils as the base. It also contains black pepper, another standard ingredient found in the original spice mix.
However, Sambar Powder can sometimes be spicy depending on the brand you use. Thus, it is advisable to use it less at the beginning if you are replacing it.
Like Chaat Masala, it will not give the exact flavor, but still worth trying if you have this at home. You can consistently increase or reduce the amount after doing a taste check once you add it to a dish.
If you are interested in making your own sambar powder at home, we have shared a simple, flavorful homemade recipe with complete instructions right in this article.
05 – A Blend Of Allspice And Cumin
Moms who have a firm bond with their spice cabinets literally do not let spices like cumin and allspice run out of stock. And, they know their worth! In fact, a blend of cumin and allspice sounds simple, but it really could mimic the flavor.
Allspice comes with a complex flavor profile of cinnamon, nutmeg, cloves, and black pepper. Thus, all you have to do is to combine 1/4 part of allspice to one portion of cumin. 
You may not be able to get all the flavor aspects of this, but this is considered one of the most uncomplicated and easiest to make whenever you run out of the original mix. You can use the same amount with this in place of Garam Masala in any dish.
06 – The Basic Spice Combination
Sometimes, you might not even be aware that you have most ingredients in your spice rack to make a replacement even though your jar of the mix is empty. For real, turning your hand to mix things up is pretty simple when you have the essential components that go into this spice blend.
Going with a basic mix is very easy, whether you have whole or ground spices. The ratio is important, so make sure you get it right. To make a simple batch of Garam Masala substitute with the spices you have, you will need:
Three tablespoons from each- coriander and cinnamon 
One tablespoon from each- cloves and cumin 
Half a tablespoon from each- nutmeg, cardamom, and black pepper
Dry-roast these in a skillet until fragrant, and then grind them to a fine powder in your spice grinder. Voila! You are ready with your simple alternative made from scratch. Just because you go with the basics, it will not hurt the taste of your dish that it is replaced.
This basic spice combination will give a close flavor resemblance, but what about making your own batch of Garam Masala at home? For a simple and easy recipe, click here!
07 – Baharat
Baharat is actually the Garam Masala of Middle Eastern cuisine. And, this is one of their staple spice blends used in many traditional recipes. 
This blend generally includes many spices that the original mix comprises. They are:
Cloves
Black pepper
Coriander seeds
Cumin seeds
Nutmeg
Cinnamon
Cardamom
The only typical ingredient it additionally has is paprika. But still, this is one of the best alternatives that can replicate the flavor of the original mix whenever you run out of it. 
So, if you have Baharat with you, you clearly win! You can use this spice mix in a similar amount as you would use Garam Masala.
08 – Ras el Hanout
This is typically an intricate blend of spices prominent in Moroccan cuisine. Ras el Hanout actually comes together with many flavorful and aromatic spices, and many of them are common spices used in the one that is going to be replaced too.
The common ingredients are coriander, cardamom, cinnamon, nutmeg, black pepper, mace, and cloves. Some versions can be spicy, and some are not, depending on the brand you have in hand. 
Hence, you will have to be watchful when replacing this. Starting with a small amount at first and then building up the flavor gradually would be the best thing to do.
You aren't actually don't born a good cook. You learn with experience and, most importantly, mistakes. And usage of spices is one of the things you should master in this epic journey

SpiceRally
09 – British Mixed Spice Blend
It might sound a little weird when we say that the British Mixed Spice Blend, too, would be one of the Garam Masala substitutes since this is popular as a baking spice. 
But, this blend of spices includes warming spices like cinnamon, nutmeg, cloves, mace, coriander, and cloves which are essentially standard ingredients in this. Therefore, this also would be an ideal replacement. 
However, for a little bit of flavor adjustment, you will have to use a small amount of black pepper if that is necessary. And, modifying the taste with this is totally up to you!
10- Pumpkin Pie Spice Mix
Reaching the odds, pumpkin spice is another substitute if you do not have anything else that we have discussed in our list so far. 
This is a very simple baking spice that comes together with fewer ingredients than the original blend. But still, since it contains spices like cinnamon, cloves, and nutmeg, you can use it as one of the nominal options.
However, you will have to mix other ground ingredients like coriander, cardamom, cumin, and black pepper to get a close flavor approximation if you use pumpkin spice. Therefore, you better push it to one of the backup plans if you have nothing else to use as a replacement.
Do you really know what spices are used in pumpkin pie spice? Well, we do, and we are ready to share that knowledge with you. Click here right now!
11- Apple Pie Spice Blend
Coming as the last one on our list, the apple pie spice blend becomes another possibility as a replacement. This is very similar to pumpkin pie spice, but this blend contains cardamoms and does not contain cloves.
Therefore, when you need to substitute, you will have to make a few flavor adjustments just as you will have to do with pumpkin spice. By incorporating some other ground spices like coriander, cumin, nutmeg, cloves, and black pepper, you can have a taste resemblance. 
Again, if you think it is too much work but still have no option left, better to keep it as the last substitute, just like we hold in our list.
So, You Just Finished Reading The Ultimate List Of Garam Masala Substitutes!
So, this will be pretty much our feature this time. This list was actually made after checking with the ingredients meticulously. Therefore, remember that the following will not give the exact flavor of the original spice mix but will have a closer taste resemblance.
Since we have listed 11 of the best Garam Masala replacements, we hope we made things much easier for you to decide what is the best thing that should go into your recipe. Let us know your experience with this ultimate substitute list and how it saved your precious dish!
Related Topics