To begin with, you will actually not find any other productive spice than turmeric in your spice rack! This is literally an ordinary ingredient that is loaded with incredible benefits. So, let's bring you the best ways to use turmeric in your daily life.
The effectiveness of turmeric can be useful for you in cooking, baking, beauty-related and health-related practices. Thus, it can be used in ways such as:
So, dig in for more information on how this magical spice is going to help you out at home.
The Best 10 Practical Ways To Use Turmeric
With proven health benefits and its capability to add profundity of flavor with color, turmeric has become a pantry staple in many homes around the world. But, many are not aware of using this miraculous spice smartly, apart from adding it to curries.
In fact, turmeric can be used in its fresh or dried form as the whole rhizome or powdered. So, coming with this versatility, there are a bunch of things you can do with this golden guy in cooking, baking, or health and beauty-related practices. So, let's see what they really are!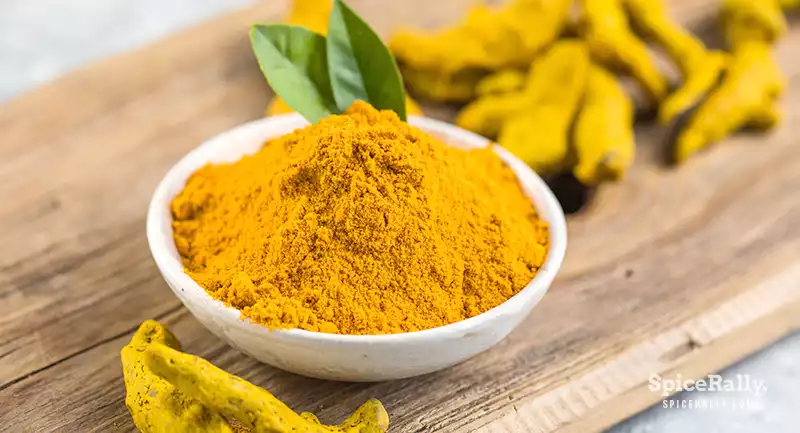 01- To Make Savory Rice, Noodles, Pasta, And Spaghetti Dishes
If you have ever gotten to enjoy Sri Lankan food, Yellow Rice is one of the most traditional dishes they make in many celebrational moments. The key ingredient of this dish is turmeric which gives this rice dish its vibrant color and flavor.
Likewise, a little amount of turmeric (powdered turmeric mostly) can go a long way in many of the savory rice, noodle, pasta, or spaghetti dishes you make. There's actually no special mechanism in adding this to these dishes since it is a mild spice.
In fact, all you have to be concerned with is the color it gives, and remember that pinches can reach a long way. So, try a pinch when you make rice next time and see how appetizing it would be!
02- As An Ingredient In Spice And Seasoning Blends
Since the bold, earthy, and delicate undertones of turmeric can pair well with many other spices and herbs, this is obviously one of the primary ways to use turmeric. The powdered version of this spice is one of the main ingredients in the common spice or seasoning blends. 
Most Asian spice blends and curry pastes like curry powder, Garam Masala, Thai yellow curry paste, Vindaloo curry paste, and sambar powder typically contain turmeric in them.
At the same time, Middle Eastern blends like Ras el Hanout and Moroccan spice blends also have this. In addition, Western cuisine uses this spice in condiments like yellow mustard and types of hot sauce.
Did you know that turmeric and ginger are used together in many soups? Ginger belongs to the same plant group as turmeric, but these spices are way different. So, if you need to check out how they differ, click here for more information.
03- To Be Incorporated Into Dry Rubs, Wet Rubs, And Marinades
Bringing back the fact that turmeric's ability to pair well with other herbs and spices, it also complements many dry rubs, wet rubs, and marinades made for meat or fish. 
When turmeric is matched with other ingredients like ground cumin, coriander, black pepper, paprika, etc., it makes great rubs and marinades, even for vegetarian options like tofu, tempeh, and vegetables.
Moreover, you can incorporate turmeric powder with ginger, oil, garlic, and vinegar to make luscious marinades for grilled chicken, pork ribs, and steak.
04- Add To Scrambled Eggs Or Frittata
You can always count on our topic leader if you need to go for a healthy breakfast option. Turmeric is one of the best spices that go with eggs. 
So, try it with scrambled eggs or even with your regular omelet for an exquisite flavor and colorful twist. You can also try this with frittata, following up with greens like spinach and broccoli.
05- To Use With Sweets, Desserts, And Baked Goods
India is literally obsessed with using turmeric with many of their sweetmeats and desserts. Haldi Laddoo, turmeric ice cream, Sooji Ka Halwa, Jalebi, and Kulfi are some of their popular and traditional sweets.
Not only the Asian community but Western cuisine is also now attracted to the bright golden hue that turmeric gives to most baked goods and desserts. 
Thus, Vegan Turmeric-cardamom Cake, Turmeric Pumpkin Spice Cake, Turmeric sugar cookies, and various bread and buns include our topic leader.
From where and in what forms does turmeric come? If you need answers to these questions and to know many more things about this spice, click on this link and refer to our fully detailed article.
06- Make Tea Or Blend With Juices, Smoothies, Or Lattes
Golden milk is one of the most traditional recipes of India, which has roots in ancient Ayurveda. Hence, inspired by this beverage, many health-conscious people are now incorporating turmeric into their smoothies, juices, and even lattes.
Turmeric tea is another immunity-boosting drink made with ground or fresh turmeric. You can follow up with a pinch of black pepper, some fresh ginger, and bee honey for improved taste and health benefits. 
Lattes and smoothies are best when our subject leader is complemented with plant-based milk like almond or soy. You can also make perfect summer punches by combining a pinch of turmeric with ice, carrots, coconut water, ginger, lemon, or orange.
07- To Mix Into Soups, Stews, Broths, And Stir-Fries
The strong colorant effect of this spice can turn your liquids into beautiful and appealing treats. Turmeric is often combined with healthy and hearty soups, broths, stews, or even tossed with stir-fries.
Thanks to its incredible healing properties, many are interested in incorporating this into coconut milk-based soup, stews, or stir-fries with other ingredients like ginger, carrot, broccoli, chicken, etc. 
Turmeric is, in fact, one of the favorite spices of the vegan community since it has the capability to pair with most vegetables.
Saffron and turmeric give a similar color when added to food, but they are two completely different spices. Need to know how? Click on this link and refer to our detailed article for more information.
08- As A Natural Teeth Whitener And Mouthwash
According to experts and some public figures, turmeric is considered to have teeth whitening properties. To try this easily at home, you must find top-quality turmeric powder. Simply dip your toothbrush in turmeric powder and brush your teeth well at least once a day. 
Then, rinse your mouth thoroughly and brush again with regular toothpaste, toothpowder, or whatever product you use to clean your teeth. Make sure to clean your mouth well to remove any excess turmeric powder.
Studies have proved that our topic leader contains antimicrobial and anti-bacterial properties that might help with oral-related diseases like gingivitis, tooth enamel problems, plaque formation, cavities, and gum pain.
Thus, you can make your own DIY mouthwash by boiling water with turmeric powder, guava leaves, and cloves. Let this cool down, and rinse your mouth well. This mouthwash can naturally reduce pain and inflammation.
09- In DIY Beauty Products
Using turmeric in skincare is an ancient Ayurvedic practice that started in the early Vedic culture in India. And now, owing to the proven skin health benefits of this spice, modern cosmetology uses it in many beauty products.
Consequently, we see that many dermatologists and expert beauty influencers promote turmeric as one of the most effective ingredients that can be incorporated into DIY beauty hacks. 
Combining this spice with ingredients like milk, curd, yogurt, gram flour, lemon juice, and bee honey to make masks and exfoliators evidently result in bright, glowing, youthful skin. It is also used for unwanted facial hair, tightening pores, hyperpigmentation, and acne/pimple marks.
10- Can Be Used In Hair Care
The anti-inflammatory properties of turmeric are considered to boost overall hair health. Therefore, if you have hair-related conditions like dandruff, hair fall, hair thinning, and oily scalp, our subject leader can help prevent and control them.
You can incorporate turmeric essential oil or pureed fresh turmeric with olive oil/coconut oil and lukewarm water to make a hair tonic. Use this solution on damp hair, leave for 20 minutes and rinse with a sulfate-free herbal shampoo for optimized results.
That's the Indian in me – you must put spices on everything. As a kid, whenever we got sick, my mom would take milk and put turmeric in it. That was our medicine. That was the cure-all.

Aasif Mandvi
Conclusion
As you got it all cleared through the facts in our post, turmeric is an ingredient we all should have at home. Its ability to complement a wide variety of dishes is super beneficial for the kitchen and helps with many of our DIY beauty hacks. This spice also works wonders with oral health and health care.
Related Topics