Essentially falling under the "superfood" category, turmeric is one of the most wonderful things to have at home. So, this episode will bring the amazing health benefits of turmeric you will get by using it regularly.
Among the many health advantages, the following are the proven benefits of turmeric:
So, here we abstract the most potential benefits you can get from turmeric. Keep reading!
10 Proven Health Benefits Of Turmeric
This brightly colored, profound spice is indeed a great cooking companion that'll make exotic dishes. But, at the same time, its active compound curcumin gives you innumerable health benefits that will compel you to incorporate this into your daily diet.
In fact, turmeric is a popular medicine that has been used in ancient Ayurvedic practice since the early Vedic culture in India. And since recent studies have proven its effectiveness in treating many common ailments, this spice has been found beneficial to be used regularly and included in modern medicine.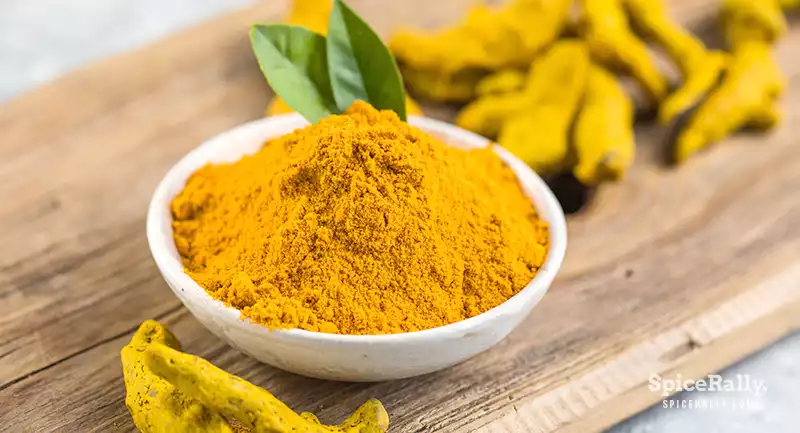 01- Decreases The Inflammation In The Body
Inflammation is multilayered as acute, short-term, and chronic inflammation. However, curcumin in turmeric is known to fight against all these stages of inflammation in our bodies. 
Chronic inflammation can lead to conditions like irritable bowel syndrome, oxidative stress, pancreatitis, asthma, and other gastrointestinal diseases. Thus, studies show that the right amount of turmeric can help to suppress these conditions.
02- Improves Cardiovascular Health
Again, curcumin in turmeric seems to play a protective role in safeguarding us against various cardiovascular diseases. In fact, The cardiovascular protective properties of curcumin have been fully demonstrated in multiple studies.
Accordingly, a recent systematic review published in 2020 claims that curcumin in turmeric can help with heart-related conditions like:
Cardiac hypertrophy
Heart failure
Drug-induced cardiotoxicity
Myocardial infarction
Atherosclerosis
Abdominal aortic aneurysm
Stroke
Other diabetic cardiovascular complications
Did you know that kimchi is another superfood that helps to maintain a healthy heart and promote cardiovascular health? Click on this link to discover more health benefits of kimchi.
03- Helps In Controlling And Preventing Diabetes
If you are suffering from high blood sugar levels or attempting to control diabetes, turmeric has the potential to help you out. A study conducted in 2013 shows that curcumin has captured scientific attention as a possible vital agent in experimental diabetes and for the treatment of the complications of diabetes patients.
This is primarily because it is useful in reducing glycemia and hyperlipidemia. Hence, it is proven that this spice can control blood sugar levels or prevent type 01 and type 02 diabetes conditions in patients. 
Turmeric golden milk is one of the most delicious ways to get the daily dosage of curcumin you need. So, if you need to learn a quick and easy way to make this beverage, click on this link and get our step-by-step guide from this post.
04- Contains Anti-Cancer Properties
Numerous studies have been conducted to prove that turmeric has the ability to prevent and may treat certain types of cancer like:
Colorectal
Pancreatic
Prostate
Breast
Gastric cancers
Clinical research done in 2003 with mice shows that curcumin may help hinder the spread of tumor cells and may even control tumors from developing in the first place. Moreover, this spice could also disrupt the build of cancerous cells at different stages in the cell cycle, inhibiting cell signaling tracks and even provoking those cancerous cells to die.
Furthermore, some studies suggest that curcumin helps with specific cancer symptoms. For example, a recent clinical trial shows that supplementing with turmeric or curcumin may offer perks for prostate cancer patients.
Nevertheless, experts imply that more research is needed to assess the full possible effectiveness of curcumin and turmeric on cancer.
Turmeric is a spice that you should have in your spice cabinet. Reasons are many- if you need to find why this spice is so important, click on this link and refer to our fully-detailed article.
05- Helps To Relieve The Symptoms Of Osteoarthritis
Osteoarthritis is indicated by the deterioration of joint structure over time, resulting in limitation of joint mobility. A systematic clinical review published recently shows that there is rising evidence that curcumin in turmeric could likely have a positive impact on osteoarthritis symptoms.
It also concludes that various types of curcumin compounds may be helpful as alternative or complementary agents for controlling osteoarthritis. Moreover, particular curcumin compounds with higher bioavailability tended to deliver more approving effects.
Another 2010 study shows that patients with osteoarthritis who took 1,000 mg daily of Meriva (a natural curcuminoid mixture) encountered significant progress in stiffness and physical function after eight months.
At the same time, another clinical trial claimed that curcumin supplements potentially affect people with knee osteoarthritis.
Turmeric-ginger-infused tea is a satisfying beverage that'll help to boost immunity. So, if you would like to make it at home, click here to get our step-by-step guide on how to make turmeric tea using a few simple ingredients.
06- It May Work As An Antidepressant
A noteworthy part of the world population is experiencing depression and anxiety. Thus, curcumin in turmeric has been used for centuries in Ayurvedic medicine to treat various conditions, including anxiety and depressive disorders.
A study conducted in 2012 including rats has shown that 50, 100, or 200 mg/kg of curcumin for ten days had a dose-dependent increase in BDNF (brain-derived neurotrophic factor). And, with the higher dose of 200 mg/kg exhibits more significant antidepressant effects.
In addition, another study involving humans proved that curcumin showed similar improvements, directing researchers to claim that curcumin may be a safe and practical treatment for major depressive disorder.
Did you know that ginger is loaded with as many health benefits as turmeric? Click here and refer to our detailed article to learn the advantages of consuming ginger regularly.
07- Boosts Skin Health
Since ancient days, turmeric has been one of the main ingredients used in Ayurveda for skin care. Many commercially and clinically approved beauty care products also have included turmeric, thanks to its skin brightening, acne-fighting, and healing properties.
In addition, this spice is known to treat more complex skin conditions like:
Alopecia
Eczema
Atopic dermatitis
Facial photoaging
Pruritus
Psoriasis
Radiodermatitis
Vitiligo
You can also incorporate regular turmeric or wild turmeric with DIY skin masks, washes, or exfoliators for topical application. They will help to reduce acne/pimples, scars, minimize pores and give glowing, bright, youthful skin.
08- Helps To Prevent Eye Degeneration
The research of many clinical and preclinical investigations suggests that curcumin in turmeric may be a therapeutic agent in treating various eye disorders. Hence, the studies prove that it would be effective in eye conditions such as:
Glaucoma
Cataract
Age-related macular degeneration
Diabetic retinopathy
Corneal neovascularization
Corneal wound healing
Dry eye disease
Conjunctivitis
Pterygium
Anterior uveitis
In another study, researchers used a proprietary curcumin eye drop solution on rats twice daily for three weeks. And by the end of the study, the untreated rats experienced a 23% drop in retinal cells corresponding with the treatment group, implying that loss was controlled by the curcumin treatment.
09- Protects The Liver
The liver is the central filtration system in our body. Curcumin in turmeric can potentially regulate the detoxification or cleansing of the liver by removing toxins from the blood and metabolizing nutrients to ensure our body gets what it requires.
Studies show that turmeric stimulates bile production in the liver and promotes the excretion of bile through the gallbladder, which enhances the body's capacity to digest fats.
Curcumin in turmeric supplements is often combined with piperine, found in black pepper, to increase the bioavailability of curcumin. Consequently, the effectiveness of turmeric supplements improves and potentially treats liver and liver-associated diseases like nonalcoholic fatty liver disease, hepatitis, jaundice, etc.
10- It Has Properties That Would Be Beneficial For Oral Health
Thanks to this spice's anti-inflammatory, antioxidant, antimicrobial, hepatoprotective, immunostimulant, antiseptic, and antimutagenic properties, it significantly contributes to oral health. Studies suggest that turmeric plays a role in treating periodontal diseases and oral cancers.
A comparative evaluation was conducted in 2015 using turmeric gel and chlorhexidine gluconate gel for patients with plaque-induced gingivitis. According to this research, turmeric gel reported better approval due to its pleasant odor and no teeth staining.
Moreover, the experts suggest that mouthwash made of turmeric by boiling turmeric powder, cloves, guava leaves, and water can help with gingivitis and periodontal disease. And this mouthwash could also help reduce inflammation and pain in general.
How Much Turmeric Should You Take A Day?
According to expert opinion, it is safe to take up to 8g of turmeric per day. But, they recommend that 500 to 1000 mg daily would be ideal if you need to stand on the safer side. Moreover, they also suggest that pairing turmeric with healthy fats like nuts, avocados, and oils will optimize its effectiveness
What Are The Negative Effects Of Turmeric?
Balance is vital in life. Therefore, it is obvious that even the best things could adversely affect us if we go overboard. Accordingly, higher or over dosages of turmeric could have potential repercussions such as:
Upset stomach
Acid reflux
Diarrhea
Dizziness
Headaches
Increase the level of urinary oxalate
Increase the risk of kidney stone formation
Its blood thinning properties could worsen your blood disorders.
It could negatively interact with thinning blood medication, antidepressants, antihistamines, antibiotics, chemotherapy treatment, and cardiac medicine.
It could also interfere with diabetes medication causing lower blood sugar levels.
Limits the absorption of iron
Turmeric supplements could stimulate uterus complications in pregnant or breastfeeding women.
Turmeric purifies the blood and brings translucence to your energies.

SadhguruJV
Does Turmeric Reduce Inflammation?
Several studies have proved that curcumin in turmeric helps to alleviate the conditions associated with inflammation in the body. Consequently, current evidence suggests that the anti-inflammatory properties of turmeric help reduce inflammatory disorders like bowel disease, arthritis, psoriasis, depression, and atherosclerosis.
Is Turmeric Bad For Your Kidneys?
Several small research was conducted to check the effectiveness of turmeric in kidney diseases. Thus, a study conducted in 2018 proved that curcumin in turmeric might delay the progression of chronic kidney diseases.
In addition, a placebo-controlled study performed in 2012 proved that oral supplementation of turmeric could decrease proteinuria (excess protein in the blood), hematuria (blood in urine), and systolic blood pressure, reducing kidney disease.
Another review published in 2016 also confirmed that his spice might lower specific inflammatory markers in hemodialysis patients, boost blood lipids and reduce kidney disease risk.
However, although the results from these studies were promising, the experts suggest that more large-scale research is required to assess turmeric's effectiveness for kidney diseases.
Final Reflections On The Health Benefits Of Turmeric…
Curcumin in turmeric is the main active compound accountable for many of its anti-inflammatory, anti-cancer, antimicrobial properties and its effectiveness in enhancing skin health, supporting oral health, or protecting the liver. 
It is safe to consume around 500-1000mg of turmeric daily, and you can enjoy these advantages by incorporating it into your regular diet.
Related Topics