Turmeric is a powerhouse of health benefits and can add flavor to our foods. This superfood is rich in antioxidants and anti-inflammatory, anticarcinogenic, and antimicrobial properties that will help you to prevent and control many holistic diseases. In fact, our turmeric tea recipe is super soothing, calming, and tasty so that you can enjoy it any time of the day. 
You just only need a few simple ingredients to make this magical drink. And you don't need any prior preparation or special equipment. So, without further ado, let's jump to our step-by-step guide on how to make turmeric tea within 10 minutes time!
How to make turmeric tea- Step-by-step Guide
Our version of turmeric tea is not at all ordinary. We have included a few other additional ingredients that will optimize the health properties of turmeric.
You can have this beverage first thing in the morning or right before bed. Or else, have it any time you like, and make sure your entire family enjoys this because this drink is going to be your ultimate immunity-boosting weapon!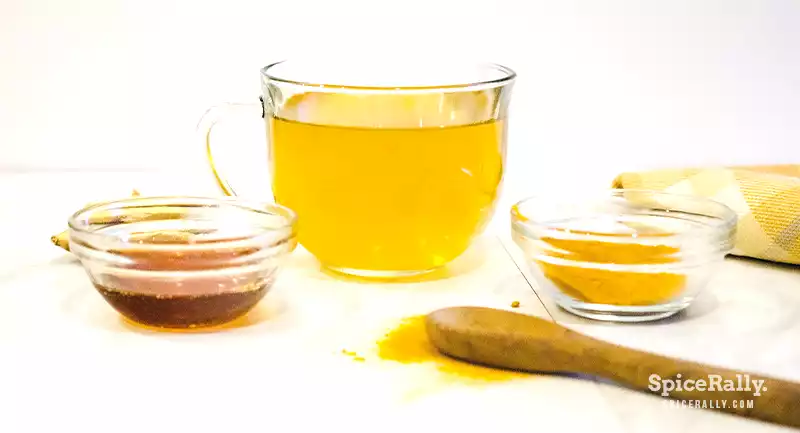 Preparation time- 05 minutes | Cooking time- 05 minutes | Additional time- 05 minutes
Step 01
Grab the required ingredients and get ready with the necessary equipment.
Spiced needed:
One piece of 2-inch of fresh turmeric rhizome
One nub of 2-inch of fresh ginger rhizome
A pinch of black pepper
Other ingredients:
One cup water
Some lemon slices (optional)
⅛ teaspoon of coconut oil or ghee
Bee honey to taste (optional)
Equipment needed:
A cutting board
Knife
A small pot
A strainer
Container to transfer the drink
Step 02
Start off by rinsing the fresh turmeric and ginger rhizomes. Wash them with water and set them aside.
Step 03
Cut the turmeric and ginger rhizomes into thin slices. You can peel the rhizomes if necessary, but it is not compulsory. And, be aware of the stains that fresh turmeric would leave on your hands. So, you can use gloves if needed.
If you are interested in learning a lot of unknown facts about turmeric, click on this link and refer to our comprehensive article about this wonderful golden spice.
Step 04
Add the sliced turmeric and ginger into the pot and pour one cup of water. Mix in the pinch of black pepper along with 1-2 slices of lemon and coconut oil. Bring this to a boil in medium flame, simmering for about 5 minutes.
Step 05
After 05 minutes, switch off the flame and strain the liquid from the pot to another container. Let it cool down for a while, and add honey if needed. Garnish with another 1-2 lemon slices and serve.
Tasty Notes By SpiceRally…
If you can't find fresh turmeric, you can use about one teaspoon of turmeric powder instead.
Bee honey is also packed with nutrients, so try using it instead of any other sweeteners.
If you do not like the taste of ginger, you can skip it. But we recommend you use this ingredient for more beneficial results.
To improve the taste and quality of this drink, you can steep a cinnamon stick and use some fresh mint if that's available to you.
If you have both coconut oil and ghee at home, we suggest you go for ghee. We will explain the reason down below.
Why Do We Use Black Pepper And Coconut Oil/Ghee In Our Recipe?
According to research, turmeric has many components that are good for our health. And the most well-researched and known active ingredient in turmeric is called curcumin. However, sadly for us, our bodies are unable to absorb curcumin entirely just by itself. This is where black pepper comes to our rescue!
In fact, one of the active components in black pepper, piperine, is known to support us in absorbing curcumin when they interact with each other. Particularly, freshly ground black pepper helps our bodies to take in some of the benefits of this magical golden rhizome.
Did you know that turmeric helps to control blood sugar and alleviates arthritis? So, if you need to discover more fascinating health benefits of this spice, click on this link and read our detailed article.
Then why coconut oil or ghee? Actually, if you look back at the ancient Ayurvedic practice, you will see that they make golden turmeric milk with a small amount of clarified butter, also known as ghee. 
The exact reason for this is that curcumin has poor solubility in water. In other words, in order for us to benefit from curcumin's full potential, turmeric needs to come in contact with some form of fat. Therefore, we also choose a source of healthy fat like ghee or coconut in our recipe.
Related Topics