It's not a secret that herbs, spices, and other flavorings, are the best addition to flavor chicken. But spice blends for chicken can make this meat even better. So, here's the best to choose from your pantry.
Spice blends and seasoning mixtures that add a great flavor to chicken include:
Got these blends in your spice cabinet? Then read along to see how they can take your chicken recipes to the next level!
The Best 07 Spice Blends For Chicken.
Chicken is like a blank piece of paper; you can be the article to create a masterpiece! There might be a variety of spice mixtures and seasoning blends in your collection, but it is important to know that while most of them are all-rounders, some can have specific flavors that only go with certain dishes.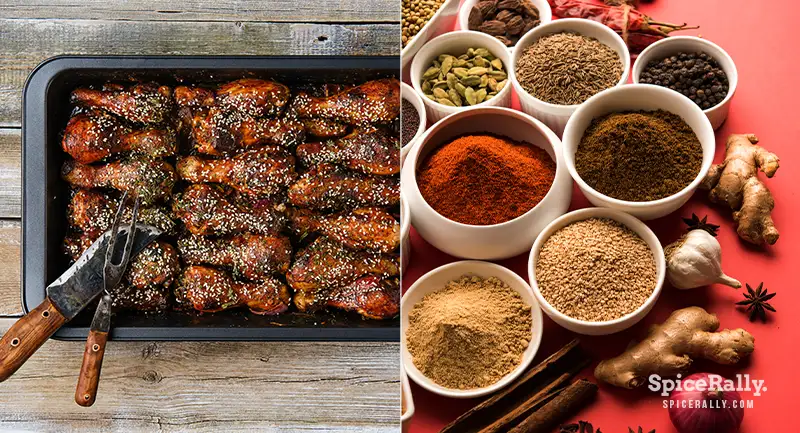 So, in this episode, we will discuss the best spice blends that can complement the taste and richness of the chicken. This meat is a versatile food that can be prepared in endless ways. And mostly warm, earthy, piquant spices, herbs, and other flavorings tend to enhance its taste. 
01- Chili Powder
Super versatile chili powder is a staple spice blend in most households. So, a decent amount of chili powder can make it all up for you, even when you don't have any other fancy ingredient to be included in your chicken dish. 
This spice blend usually comes together with red chile pepper powder, garlic powder, ground cumin, and dried oregano. You can use chili powder as a dry rub or incorporate it with wet ingredients to make marinades or wet rubs. Or else just simply throw in a dash on top of fried chicken for an instant flavor boost.
02- Chicken Seasoning
This blend often comes as an all-purpose chicken seasoning that you can easily purchase many variants from the store or can also be made at home. This is a robust blend of spices and herbs, which generally include garlic powder, paprika, cayenne pepper, black pepper, onion powder, dried oregano, salt, etc. 
The ingredients of chicken seasoning might vary depending on the recipe or the product. Nevertheless, it can be used to season your chicken whenever you need to prepare any dish! A good blend is even worth becoming your last-minute seasoning when you need quick and easy preps.
If you are interested in making your chicken seasoning blend at home, click on this link and follow our simple and flavorful recipe that you can put together in just a few minutes.
03- Cajun And Creole Seasoning Blends
Both Creole and Cajun seasonings are not alien to southern US homes as they are popular as piquant and flavorful blends. Their popularity has made them readily available so you can integrate them with many chicken recipes.
These spice blends are very similar to one another, with ingredients such as paprika, black pepper, garlic powder, dried oregano, etc. But creole seasoning contains more dried herbs, so you can use it if you need a more herbal kick to your chicken recipes.  
Like most seasonings or spice blends, you can incorporate Cajun or Creole seasonings with wet ingredients to get delicious wet rubs or marinades. Chicken breasts, legs, wings, thighs, and even whole chicken can be roasted, grilled, fried, or baked, mixed with butter, oil, fresh herbs, etc.
04- Jamaican Jerk Seasoning
Jerk seasoning is one of the best spice blends for chicken if you need to prepare easy recipes for special occasions. In fact, this seasoning blend is full of flavor, which usually includes spices and herbs such as scotch bonnet pepper, allspice, smoked paprika, brown sugar, ground nutmeg, dried parsley, etc. 
The Jamaican jerk season's rich flavor is ideal for grilled chicken recipes. You can also purchase jerk paste which may include similar spices, and it could make an excellent marinade for chicken legs, thighs, wings, breasts, etc. The distinctive smokiness of jerk seasoning can bring an epic festivity to your dinner table!
Follow this link and refer to our detailed article to learn the best seasonings for the chicken to make divine dishes any time of the day!
05- Berbere
Zesty berbere is the most popular blend from Ethiopian cuisine, made from ingredients like coriander, cumin, allspice, red chile powder, black pepper, cloves, etc. This warm spice blend can make divine chicken dishes when you need a hot and spicy accompaniment to your meals. 
Berbere is a dry mix with a buildable flavor that can be incorporated as a rub or a marinade. Spice up your chicken pieces with this spice blend and make your favorite dishes like stews, curries, stir-fries, etc. Roasting, baking, grilling, or frying are some of the most effortless ways to use berbere with chicken.
06- Ras el Hanout
Bring the taste of authentic Moroccan flavors with Ras el Hanout! This blend typically includes common ingredients such as cumin, coriander, cloves, black pepper, etc., along with exotic spices like orris root, cubeb pepper, and ajwain. 
Thus Ras el Hanout essentially works like any regular spice blend, creating layers and flavors in many recipes. This spice blend can adorn your dinner table with many interesting chicken dishes, often accompanied by couscous, zucchini, rice, etc. Bake, roast, grill, or fry to your heart's content, jazzing up with Ras el Hanout and other complementary ingredients.
07- Herbes de Provence
Delightful Herbes de Provence is indeed a pleasing addition to your chicken recipes whenever you need to create special treats for your family with a profound herbal note. This unique blend of herbs usually includes a variety of savory herbs like thyme, rosemary, dried lavender, tarragon, oregano, basil, etc. 
Herbes de Provence typically needs to be incorporated with other complementary ingredients such as salt, black pepper, or anything that compliments the chicken. This blend virtually creates a delicate layer of flavor. It can be added to chicken soup, salads, baked chicken, soups, stews, etc.
Spice Up Chicken With The Best Blends From Your Pantry!
Seasoning chicken being the key to any flavorful chicken dish, it is essential to know the right spice or seasoning blend that goes well with this meat. So, as you see, out of the many combinations that are piled up inside your spice rack, Cajun/ Creole seasonings, Berbere, chili powder, Herbes de Provence, Ras el Hanout, etc. are the best flavors that complement the subtle, mild taste of chicken.
Related Topics