A well-seasoned bowl of ground beef can be the foundation of many delicious dishes and meals you wish to make for your loved ones. So, let us share the five best seasonings for ground beef that you SHOULD try!
Try out these store-bought and homemade seasoning blends to add tons of flavor to any ground beef dish you make:
On that note, keep scrolling to learn more information about these products and how they upgrade the taste of your portion of ground beef.
05 Ultimate Seasonings For Ground Beef.
Adding single spices and herbs could be a pretty good way to season your ground beef. But, a seasoning blend is much more easy-going and handy that could bring out a whole lot of flavor from just one single product.
Thus, let's see how beef-complementing spices and herbs like paprika, black pepper, garlic, thyme, oregano, etc., get together in these easily accessible blends.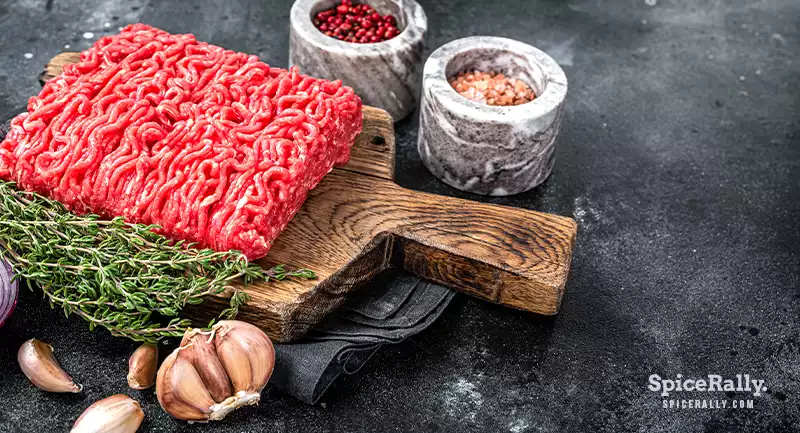 01- Taco Seasoning
Taco seasoning is a blend that you can get from most places where you do your grocery shopping. It is a universal combination of spices and herbs that will essentially supplement the richness of the beef.
In fact, this option is an excellent choice if you expect to give your ground beef a more sophisticated spicy flavor to make dishes like chili, spicy burgers, meatballs, tacos, etc. You can put together taco seasoning at home or go for a store-bought option like McCormick Premium Taco Seasoning Mix. 
This product contains many flavorful ingredients such as:
Chili pepper
Cumin
Garlic
Jalapeno peppers
Red and green bell peppers
Oregano
Onion
Unrefined sugar
Salt
Cocoa powderYellow cornmeal
You can buy this online or from the supermarket in 24-ounce containers.
If you are interested in learning how the spices in these seasoning blends alone could add flavor to beef, click here and refer to this article for more information about the best spices for ground beef.
02- Cajun Seasoning
Cajun is a versatile blend of spices and herbs that could go a long way in your ground beef dish. This option will ideally complement the meat if you intend to prepare dishes like meaty rice, sandwiches, hamburgers, casseroles, etc.
This seasoning also could be made at home. Or else, you can reach for a premium product like Frontier Cajun Seasoning. This product generally comes together with organic ingredients like:
Garlic
Paprika
Fennel seeds
Marjoram
Thyme
Onion
This is a salt-free option; you can effortlessly get it from the supermarket's spice aisle, online shopping sites, or grocery stores in 2.08-ounce jars.
03- Creole Seasoning
Creole seasoning comes with the same southern touch as Cajun seasoning and works as much better as it does with beef. Season your meat with this blend to make deeply-flavored dishes like spaghetti, lasagna, meat pies, etc.
You can try Tony Chachere's More Spice Creole Seasoning if you need to get the flavor of an authentic blend. This option includes ingredients such as:
Red pepper
Dehydrated garlic
Salt
Other spices
Tony Chachere's usually comes in 14-ounce handy containers. You can buy it online, from supermarkets or grocery stores.
Did you know that creole seasoning is also great with chicken? Follow this link and learn what other seasoning and spice blends that go well with the taste of this meat.
04- Italian Seasoning
Herb-rich Italian seasoning can be considered one of the best additions to minced/ground beef. It does not typically contain pungent spices. But still, it is good enough to add so much taste to your meat dishes thanks to its profound content.
Incorporate this seasoning blend with burgers, meatballs, sausages, meatloaves, chili, etc. You can easily make this at home if you have the needed ingredients. Or else, go for a quality product like Simply Organic Italian Seasoning.
This product contains organic herbs such as:
Sage
Rosemary
Basil
Thyme
Marjoram
Oregano
This store-bought option is available in any supermarket and most grocery stores. You can also purchase it from online sellers in 0.95-ounce bottles.
Forget the regrets and enjoy a well-seasoned beef burger once in a while…

SpiceRally
05- Homemade Ground Beef Seasoning Options
Another best way to add the goodness of spices and herbs to your beef is by making your own seasoning blend at home. You can use the readily available ingredients in your pantry and put everything together just the way you want.
So, if you need to try a flavorful homemade ground beef seasoning blend at home, we have shared an easy step-by-step guide that can be prepared in just 5 minutes. Click on this link for more information!
Do Not Miss Out On These Ground Beef Seasonings!
Taco, Cajun, Creole, Italian seasoning blends, and homemade seasoning options give an incredible zest when you cook ground beef. Profoundly-seasoned beef can add great taste to any dish that you make, offering the ultimate satisfaction of a comfort meal.
Related Topics
This post may contain affiliate links. If you use these links and make a purchase, We may earn a small commission. However, there's no extra cost to you. Also, as an Amazon Associate, we earn from qualifying purchases. Thanks!