Mashed potatoes are quintessential comfort food that has been loved by many over centuries. So, let's cover up the best seasonings/spice blends for mashed potatoes that will give an incredible tweak to this classic dish.
The viable spice blend and seasoning options that you can pair with mashed potatoes include:
So, continue reading to discover more information on how these blends will enhance the taste of this dish.
The 5 Best Seasonings/Spice Blends For Mashed Potatoes
A dish of creamy, fluffy, and savory mashed potatoes can undoubtedly be one's ultimate comfort meal when served with other complementary food. In fact, this dish has a delicate taste coming together with a few basic ingredients like potatoes, butter, milk, salt, and pepper.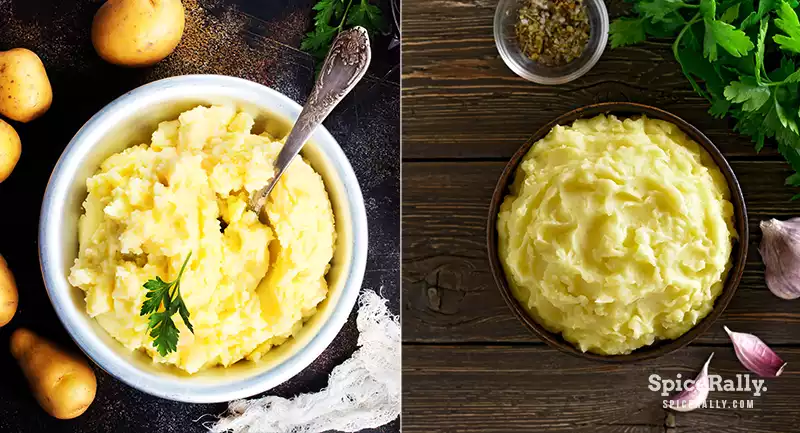 But, we will be showing you how your favorite seasoning mixtures or spice blends could provide an even better taste to your potatoes. So, pick the one you like from our list below and try it out with your next mashed potato diet!
01- Cajun Seasoning
Cajun seasoning is pungent, warm, and full of flavors! This is obviously one of the most easily accessible blends typically coming together with ingredients like:
Paprika
Onion powder
Dried thyme
Dried oregano
Salt
These piquant ingredients will cut the bland taste of the potatoes and complement their creamy texture. However, you can make your own Cajun seasoning or go for a store-bought option like McCormick Culinary Cajun Seasoning.
This product is readily available in supermarkets, grocery stores, and online shopping sites in 18- ounce, 1.12-pound, and 6.5-pound containers. You can use butter, cream cheese, and heavy cream as supplementary ingredients.
Did you know some spices alone can add tons of flavor to your classic mashed potato dish? So, if you need more information, click on this link and read this article.
02- Creole Seasoning
Bringing the same southern touch as the Cajun seasoning, Creole is also a blend that works as much as the first option on our list. But, this seasoning holds a depth of flavor since it usually has more herbs than Cajun seasoning.
Accordingly, this blend contains ingredients like:
Garlic powder
Onion powder
Paprika
Cayenne pepper
Black pepper
Bay leaves
Dried herbs (rosemary, basil, oregano, thyme)
Salt
Pair Creole seasoning with other ingredients like sour cream, milk, butter, and andouille sausages for a better-tasting mashed potato dish. Serve with turkey, steak, or pork chops, depending on how you like it to go!
03- Garam Masala
Garam Masala is the king of spice blends in Indian cuisine that will bring you an authentic Asian-inspired mashed potato dish. This is indeed a rich blend of spices with many potato-complementing elements.
This blend is widely available in the market; thus, you can go for a brand like Rani Garam Masala Indian 11-Spice Blend. This option includes flavorful ingredients such as:
Cumin
Cinnamon
Coriander
Black pepper
Gry ginger
Cloves
Green cardamoms
Bay leaves
Black cardamoms
Nutmeg
Mace
Depending on your requirement, you can purchase this product from leading online stores, supermarkets, and Asian grocery stores in different quantities. 
And, if you need to indulge in a unique savory dish, do not forget to follow up with additional ingredients like green chilies and some lemon juice.
Do you want to find the perfect dinner for a family eve? If so, we are ready to share an extra special mashed potato recipe made with a few secret ingredients. Click here to get our easy and delicious recipe!
04- Adobo Seasoning
This seasoning blend is a great pick if you need a real taste twist in your regular potato dish. Adobo seasoning is an all-purpose, versatile blend that is prevalent in the Caribbean and Latin American cuisines.
This seasoning has many zesty ingredients that could ramp up the delicate taste of potatoes. They are:
Onion powder
Garlic powder
Ground cumin
Paprika
Ground black pepper
Salt
For a well-seasoned dish, use this blend with Yukon or Russet potatoes and other ingredients like olive oil, onions, minced garlic, etc. Mix in some freshly chopped herbs like parsley or thyme for extra flavor.
Good Mashed potato is one of the great luxuries in life.

 Lindsey Bareham.
05- Curry Powder
Curry powder can be considered one of the most versatile add-ons for mashed potatoes. It doesn't only give a great taste but also bestows a striking golden hue to this dish thanks to its turmeric base.
You can find a wide variety of curry powders if you carefully observe the spice aisle. But we suggest you go with a milder version like McCormick Culinary Curry Powder. This option only contains the essential spices like:
Turmeric
Coriander
Cumin
Black pepper
Bay leaves
Celery seeds
Cloves
Nutmeg
Fenugreek
Red pepper
Ginger
Onion
You can pair this spice blend with other elements like butter, minced garlic, a dash of cayenne pepper, and some chopped cilantro for a zesty bowl of mashed potatoes.
While these seasonings and spice blends elevate mashed potatoes, herbs alone can give an unexpected twist to this dish. Click on this link to check out the best herbs you should use with your next batch of mashed potatoes!
Related Topics