The ubiquitous chili powder is a quintessential staple in many American homes thanks to its vibrant flavor. So, let's check out some great ways to use chili powder to spice up your favorite daily dishes.
The rustic, flavor-loaded chili powder can be used in cooking in the following exciting ways:
Keep scrolling to discover the magical taste twist your chili powder can make in your diet!
The Best Ways To Use Chili Powder
Super versatile chili powder bestows its warmth and spiciness with the right amount of heat to tantalize your senses. The aromatic blend of piquant spices like ground chile peppers, ground cumin, garlic powder, etc., will add a depth of flavor to your dishes beyond the conventional ways!
Check out the following tips to incorporate chili powder into your dishes and see what changes you could make with your next family meal!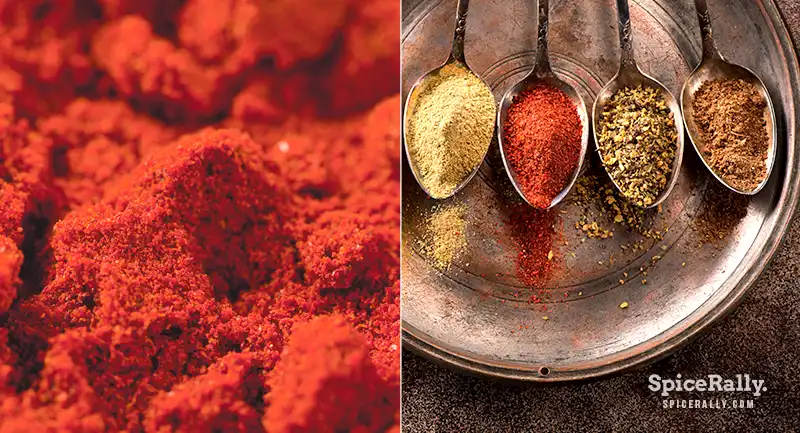 01- To Spice Up Creamy Dishes
If you and your loved ones have a thing for creamy dishes like mac and cheese, mashed potatoes, or scrambled eggs, they don't need to be ordinary anymore if you are equipped with a jar of chili powder! 
The potent and bold flavor notes of ground chiles and savory and earthy hints of garlic, cumin, dried oregano, etc., can make a wonderful twist to your breakfast or dinner meals! 
Just shake some chili powder at the end of the cooking process of your mashed potatoes or mac and cheese. Or else, stir in a dash with the beaten egg mixture of your scrambled eggs. You can adjust the spiciness and add more milk, cream, cheese, etc., to counterbalance the taste.
02- To Toss With Savory Snacks
Who said your snacks need to taste the same every day? Throw in a dash of chili powder to your favorite savory snacks for an instant flavor boost! A little amount from our topic leader can go a long way in your trail mix, fried snacks, chips, fries, popcorn,  roasted nuts, etc. 
If you are making your popcorn at home, mix chili powder with butter, add the corn kernels, and pop to your heart's content! Before frying or baking, you can toss warm fries or chips with this blend or season potatoes/ sweet potatoes. Be experimental- your efforts are worth it all!
If you would like to learn more about the content of chili powder and how this delicious blend came to our household, click on this link and explore our detailed article.
03- To Incorporate Into Wet Rubs Or Marinades
The flavorful ingredients in chili powder perfectly complement the richness of meat, fish, and seafood. Therefore, you can add this blend to your wet rubs or marinades, followed up with other elements like olive oil, soy sauce, vinegar, citrus juice, etc., to create layers and layers of flavor on your chicken, steak, pork, lamb, shrimp, etc.
Not only animal proteins, but you can also try this seasoning with vegan proteins like tofu. It gives the right amount of spiciness and heat to foods that go in your grill, pan, oven, or rotisserie.
04- It Can Be Added To Ramp Up Sauces And Dips
Chili powder could be the ideal addition to savory and hot sauces or dips, regardless of their textures. The vivid flavor profile of this blend will provide depth to regular or cream-based dips and sauces.
You can mix some chili powder with your classic spaghetti sauce or throw it in a pinch to make delicious dips. Pickled garlic, red chili flakes, honey, maple syrup, or creamy ingredients like mayonnaise, cream cheese, and sour cream can be paired with chili powder to create vibrant sauces or dips.
05- To Spice Up Stews, Soups, Or Broths
This is obviously one of the most versatile uses of chili powder. If you make stews, hearty soups, or broths as bases for soups quite often, chili powder can be your ultimate flavoring companion. 
Our topic leader usually comes together with plant-based ingredients so that they will be a suitable addition to a vegan or vegetarian diet as well. And most important, it does not usually contain any thickening agents, so adding this to your lighter soups or broths will not affect their textures.
06- It Can Be Used To Jazz Up Enchiladas, Fajitas, Tacos, Or Mexican/ Tex-Mex Rice Dishes
Chili powder's amazing Tex-Mex flavor profile is perfect for fabricating the ideal environment for a Tex-Mex/ Mexican family meal! It is true that you get to buy Taco seasoning, Fajita seasoning, or Burrito seasoning separately from the store. But still, chili powder can be the one epic blend to replace them all!
So, if you are planning on making a Mexican or Tex-Mex dinner tonight, throw in some chili powder to ramp up your iconic dishes, whether it is tacos, fajitas enchiladas, or a rice dish!
07- To Season Ground Meat Mixtures
You could be a dear Mom who'd love to make homemade sausages, meatballs, or burger patties for your kids. Then there's the good news- flavor up your ground meat mixtures with a pinch of chili powder! 
You might not need anything else to season your meat, but a decent amount of chili powder can make it all up for you with the exact amount of heat and spiciness. You can also try this blend in ground meat with minced fish, shrimp, tofu, or soy chunks.
08- Bonus Tip- Spice Up Cocktails!
This could sound crazy, but chili powder does a great job of spicing up cocktails to a whole new level! Bloody Caesar, Chili-Lime Margarita, Michelada, and Paloma Cocktail are some of the most common and delicious chili pepper-infused beverages. 
Most often, the rim of the cocktail glass is dipped in chili powder to get the punch! So, why not try a chili powder-infused spiked beverage at your next cocktail party?
A Dash Of Chili Powder Can Do Wonders In Your Kitchen!
The bold, fragrant, robust combination of spices and herbs in chili powder can significantly change your daily dishes. Even though the conventional method of using it is to season meat, fish, or seafood, chili powder can perform more decently in your family classics. While it tweaks your scrambled eggs, mac and cheese, or roasted veggies, it could also boost the flavor of your favorite snacks, soups, or stews!
Related Topics