What is your favorite way of making chicken? Whatever the way it is called for, this meat is great when well-seasoned and flavored! So, here are the best seasonings for chicken you can find in your kitchen.
While salt and pepper can be the universal and the most effortless ingredients for seasoning chicken, you can use many seasonings out there. They are:
Read along to pick the most suitable seasoning method to flavor chicken to make your favorite dish.
Best 7 Seasonings For Chicken
Chicken is undoubtedly one of the most consumed meats around the world. There are endless ways to make this meat, but the most famous methods are baking, roasting, frying, cooking, grilling, braising, and poaching. You might have your own recipes for making chicken, but it is essential to learn the best seasoning methods to get the best taste.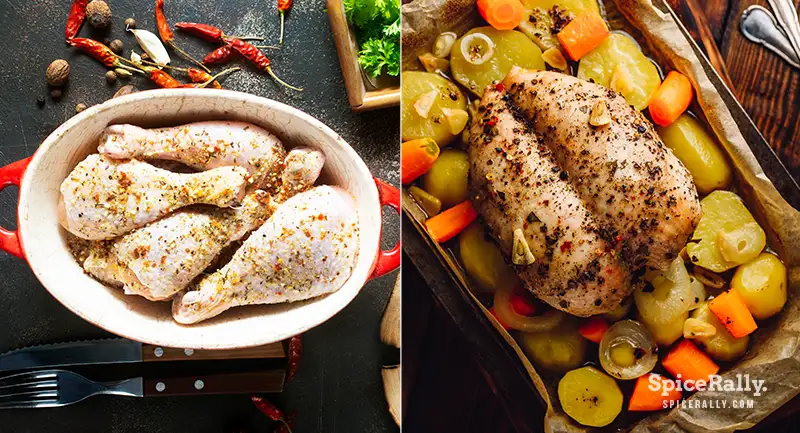 Seasoning methods virtually depend on the recipe you make. However, the most important tip to remember is to match and pair the herbs and spices with other flavorings. If you fail to match the right ingredients, there's a higher probability that you will ruin your dish. So, while mixing and matching, you must also balance the flavors so that one or two ingredients don't overpower the dish.
01- Ginger And Garlic With Soy Sauce And Chili Powder
When a certain seasoning calls for soy sauce, you know it will be a great marinade! Chicken is a type of meat that can often be complemented with piquant spices and savory herbs. Therefore, you can use ginger, garlic along with soy sauce, and a chili powder of your choice to marinate chicken.
These ingredients can be further accompanied by a dash of sugar, honey, olive oil, vinegar, tamarind juice, or even hot chile powder for a more spicy kick. Chicken thighs, breasts, wings, and legs can be marinated in this mixture and put on the grill, fried, baked, or even smoked to make the dishes of your choice.
There are many other versatile ways you can use chili powder with chicken. Click on this link so that you can also discover other best spice blends and seasoning blends to make delicious chicken dishes.
02- All-Purpose Chicken Seasoning Blends
This is one of the best, easiest, and most effective methods to season your chicken thighs, breasts, legs, or even the entire bird! All-purpose chicken seasoning blends can be easily made at home using your pantry staples or can be easily bought from the store for an affordable price.
The best thing about this seasoning is that you have every flavor you want in just one blend, and as the name suggests, it is simply "all-purpose." These seasoning blends usually come together with chicken-complementing ingredients such as garlic powder, paprika, onion powder, chili powder, salt, brown sugar, dried thyme, basil, etc., while these ingredients can vary depending on the recipe.,
Nevertheless, you can use this as a dry rub or incorporate wet ingredients to make wet rubs or marinades. After seasoning your chicken using all-purpose chicken seasoning, you can cook them according to your favorite recipe, either grilling, baking, roasting, or frying them.
03- A Source Of Fat With Spices And Herbs
If you need to keep things simple yet tasty, incorporating the source of fat with a few spices and herbs can be your best bet. 
A type of oil like olive oil, coconut oil, avocado oil, melted butter, or margarine can be combined with spices like garlic powder, black pepper, onion powder, and fresh herbs like chives, sage, parsley, and rosemary.
And if you need a bit more intensity, you can even mix oil or butter with paprika, cayenne pepper, chili powder, or piquant spice and herb blends like Cajun, berbere, Herbes de Provence, Baharat, etc. Chicken seasoned in this way is ideal for baking, while you can also roast or broil them depending on how you like it to be.
04- Spiced Chicken Mince
Another popular way of using chicken is to have it in your recipes ground or minced. Minced chicken is ideal for many recipes, such as meatballs, burger patties, fritters, satay, wraps, sausages, etc. 
Seasoning minced chicken literally varies from cuisine to cuisine. But most often, it is seasoned with a mix of balanced flavors, including dry spices, herbs, blends, sauces, and other flavorings. 
The best flavor pairings are spices like garlic, onion powder, ground cumin, paprika, cayenne pepper, and herbs like oregano, thyme, basil, and rosemary, along with other flavorings like soy sauce, fish sauce, hot sauce, etc. 
As aforementioned, these ingredients actually vary depending on the recipe and cuisine. But minced chicken can be flavored with the least amount of flavorings when matched with the right ingredients.
Click on this link and refer to this post to discover the best spices you can use to season the chicken.
05- A Blend Of Spices And Herbs With Brown Sugar And Salt
If you have some robust spices and herbs in your pantry, you can make a wonderfully delicious seasoning by mixing them with brown sugar and salt. These types of dry rubs are ideal for grilling, baking, roasting, air frying, pan frying, or smoking chicken whenever you need juicy, crispy chicken with a caramelized edge. 
Here, it would be best if you dry spices and herbs that complement each other's flavors. For example, simply mix cayenne pepper, black pepper, white pepper, dried oregano, thyme, and basil with salt and brown sugar. 
Or else, try ubiquitous blends like Creole, Cajun seasoning, Old bay, Chinese five-spice mix, etc., with sugar and salt. Whatever you use, it is crucial that you match the elements so that they don't overpower each other's flavors.
06- Curry Powder And Chile Powder Mixed With Chicken
Cooking chicken or making chicken curry is the most popular method of preparing this meat in Asian cuisine. Southeast Asian countries like India, Sri Lanka, Thailand, Pakistan, Bangladesh, etc., use a lot more spices than herbs to season chicken for curries. 
Consequently, blending Asian curry powder types, curry pastes with Asian red chile powders sling with other flavorings like salt, soy sauce, fish sauce, etc.,  is considered a prominent method that makes divinely seasoned chicken dishes. 
Moreover, chicken curries prepared in these countries are often incorporated with complementary ingredients like coconut milk, tomatoes, potatoes, onions, curry leaves, and pandan leaves.
07- Seasoning Chicken With More Fresh Herbs And A Few Spices
This is one of the best seasonings for chicken whenever you need to come up with hearty, soulful, and aromatic chicken recipes. This versatile meat is well-complemented, mostly with fresh savory herbs like basil, sage, oregano, parsley, thyme, rosemary, etc. 
These herbs give out their best flavors when blended with ingredients like lemon juice, lemon zest, orange juice/zest, olive oil, or butter. To make decadently baked, roasted, broiled, or braised chicken, you can incorporate these herbs with one or two pungent spices like garlic, onion powder, red chili flakes, etc.
Need to learn about the best herbs that go well with chicken? Then, just tap on this link and go to our detailed article!
A Well-Seasoned Chicken Dish Is The Ultimate Key For A Happy Meal!
You might have a cupboard full of spices, herbs, blends, sauces, and other flavorings, but not all of them can equally season the chicken. As you see, ingredients should be mixed, paired, and matched appropriately to make the suitable seasoning for each method that calls for preparing this meat. 
Thus, rubs and marinades for roasting, grilling, frying, or baking can be prepared by combining dry and wet ingredients. At the same time, curries come out with a bit more intensity with curry powders and red chile powders.
Related Topics