A bowl of perfectly seasoned, creamy mashed potatoes is a blessing for a perfect breakfast. So, we are going to show you how to make mashed potatoes using some secret ingredients.
In this episode, we will put together a special recipe that can be made effortlessly. In fact, this will be the best mashed potato recipe you've ever had. So, let's get started!
How To Make Mashed Potatoes- Step-By-Step Guide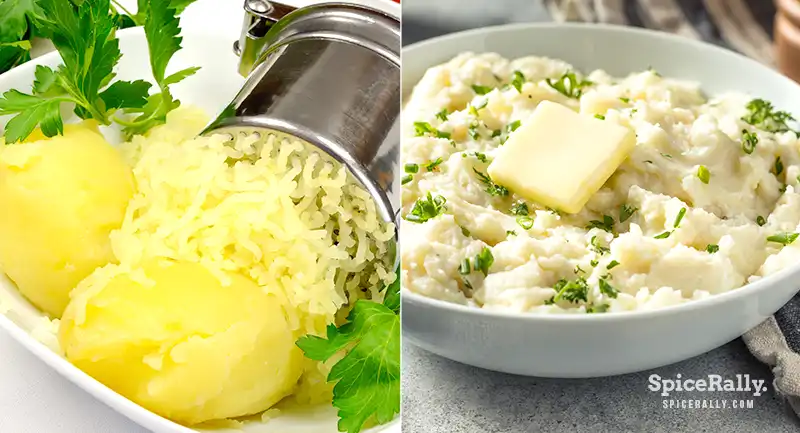 To begin with, this is no ordinary mashed potato recipe at all! We literally use some very simple ingredients, yet we make this extra special with some secret ingredients. We are sure this is going to be one of your favorite Thanksgiving dinners!
Preparation time- 20 minutes | Cooking time- 25 minutes | Additional time- 10 minutes | servings- 10- 12
Step 01
First, get prepared with the required ingredients and equipment.
Spices and herbs needed:
02 large cloves of garlic (minced)
Freshly cracked black pepper to taste
1/2 a teaspoon of red chili flakes
03 teaspoons of Herbes de Provence
Freshly chopped chives for topping
Other ingredients:
2.5 pounds of Yukon Gold potatoes
2.5 pounds of Russet potatoes
06 tablespoons of unsalted butter
04 ounces of cream cheese (room temperature)
01 cup of full-fat milk
01 tablespoon of fine sea salt or kosher salt (and more to season)
Bacon bits (optional)
Cold water enough to cover the potato chunks
Required equipment:
A peeler
A large stockpot
A potato masher
A wooden spoon or a spatula
You can essentially take your mashed potato recipe to the next level with some delectable flavorings. Click on this link to find out the best spices for mashed potatoes to use with your next batch!
Step 02
Clean the potatoes well, peel them, and cut them into evenly sized chunks about an inch or so thick.
Step 03
Then, transfer them into the large stock pot and fill it with cold water until the water line sits about one inch above the potato chunks.
Step 04
Add the minced garlic with one tablespoon of salt to the pot with the potatoes and stir to combine. Now, turn on the flame and cook the potatoes on high flame until the water comes to a boil.
Step 05
While the potatoes are boiling, you can prepare your milk mixture. Get another small saucepan and add butter, two teaspoons of sea salt, and milk to it. Heat this mixture on low flame, stirring, until the butter is melted and the milk is heated. Do not boil the milk; set this aside until ready to use.
Step 06
Next, once the water starts to boil, you should reduce the heat to medium or to a temperature that will maintain the boil. Continue to cook for about another 10-12 minutes or until your potato chunks reach the consistency where a fork is inserted and comes out easily without resistance. Once the potato is boiled enough, drain out the water completely and set them aside. 
Step 07
Put the potato chunks immediately back into the same stockpot, place it on the hot burner and turn the flame to low.
Then hold the handles of the pot carefully and gently shake it on the burner for about 1 minute to drain the remaining moisture within the potato pieces. Do not overdo this step since it could char your potatoes. Remove the pot entirely from the burner and place it on a heatproof surface.
Step 08
Mash the potato using your potato masher to the preferred texture. Mash them while they are warm to avoid them being gummy.
Step 09
Now, mix half of the melted milk-butter mixture, red chili flakes, cracked black pepper, and Herbes de Provence into the mashed potatoes and fold using a wooden spatula or spoon.
Continue with the remaining milk-butter mixture and then again with the cream cheese. Do not overmix or stir this mixture, as it could turn down the texture of your mashed potatoes, making it gluey.
Step 10
Add more warm milk if you think the consistency is too dry. Then do your taste check and season with more salt if needed. Transfer into the serving bowls and top with chopped chives and bacon bits. Make sure to serve warm!
Tasty Tips By SpiceRally…
You can keep your prepared mashed potatoes warm for up to 30 minutes by covering the bowl tightly with plastic wrap and keeping it in a warm place near the stove. Gently fold before serving.
Adjust the seasonings depending on your preference. You can skip red chili flakes if you don't like your mashed potatoes to have an extra spiciness. Moreover, you can also follow up with a pinch of turmeric to get a vibrant color.
Your potatoes should be floury. If you do not have Yukon Gold or Russets, feel free to use Australian or Maris Piper.
Full-fat milk gives an excellent richness to your potatoes, but you can use any milk of your choice.
Drizzle some additional melted butter on top before serving for a more buttery punch. You can also use a topping of your preference, including fresh basil, parsley, green onions, ham, shredded cheddar cheese, jalapenos, etc.
You can maintain the perfect taste of this mashed potato recipe if you boil your potatoes to the right consistency and by not overmixing the paste.
Related Topics