Decadent creamy mashed potatoes are easy and fun to make! You can use additional flavorings other than black pepper to enhance the taste of this dish. And thus, let's share the best 07 spices for mashed potatoes from this episode.
You can incorporate the following spices to rock the classic taste of mashed potatoes:
So, here's all you need to learn about using spices with your favorite potato dish!
The 7 Best Spices For Mashed Potatoes
Mashed potatoes usually come together with basic ingredients like potatoes, milk, butter, salt, and pepper. But adding spices to them can make this dish taste so much better.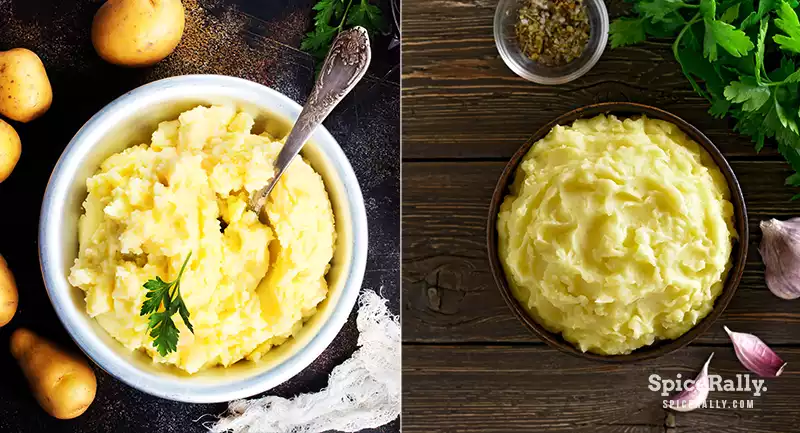 01- Paprika
Mild, hot, sweet, or smoked paprika- any of these types can bring a unique zest to this dish. This spice carries a depth of flavor and a vibrant red color regardless of what variety you use.
You can incorporate paprika with butter and then mix it with the mashed potatoes or mix it directly into the potatoes after they are mashed. And you also can pair this spice with some heavy cream, black pepper, and chives for extra flavor.
02- Onion Powder
Onion powder is a great way to give that oniony flavor to your food whenever you don't use fresh onions. This spice has a sharp, sulfur-like taste, and its flavor easily diffuses to the overall dish thanks to its powder-like consistency.
Onion powder makes a really good pair with garlic powder. In addition, you can use cream cheese, chives, black pepper, and some sweet or smoked paprika as complementary ingredients to your special mashed potato dish.
If these spices add a great flavor to mashed potatoes, imagine what would happen if you used a combo of spices and herbs! So, if you want to discover the best seasonings and spice blends for this dish, click here.
03- Garlic/ Garlic Powder
Both fresh garlic and garlic powder can be great additions to this dish. But they are used in different steps during the cooking process. In fact, this spice is utterly pungent, with powerful flavor notes that offer a distinctive taste and an aroma.
You can add raw, smashed garlic cloves to the water with potato chunks and allow them to boil. In this way, you will enable the robust taste of fresh garlic to infuse into the potato pieces. And if you are planning to go with garlic powder, you can simply mix it directly into the mashed potatoes.
Garlic and herbs are such a match made in heaven! So do not forget to follow up with some freshly chopped or dried herbs like parsley, dill weed, basil, and chives. Onion powder, black pepper, some extra butter, and cream would be excellent supplementary ingredients.
04- Cayenne Pepper
Known for its heat, cayenne pepper provides a profundity of flavor and a great color to this dish. This spice is a powerful addition when you need your dish of mashed potatoes to be piquant and satisfying.
As mentioned earlier, cayenne pepper is a hot spice, so you will have to be careful not to go overboard. Moreover, you can incorporate ingredients like ground cumin, parmesan cheese, onion powder, and garlic powder for a more sophisticated flavor.
Click on this link to get a step-by-step guide to making a delicious batch of homemade mashed potatoes.
05- Chili Powder
There are many varieties of chili powders in the market, but you can use anything that you have in hand. The chili powder type, common to Western cuisine, is actually a combination of several spices, including pulverized red chilies, ground cumin, garlic powder, salt, etc.
Accordingly, this spice can give a rich and deep flavor to your potato dish. Mix a dash of chili powder with the mashed potatoes and pair it with dried herbs (oregano, parsley, thyme), cheddar cheese, green onions, etc.
06- Cumin
Ground cumin is an incredibly flavorful spice that will add a unique nutty, earthy, warm, and slight sweetness to this dish. This spice is prevalent in Northern Indian cooking, and they often pair it with garlic and red pepper flakes when making mashed potatoes.
In addition to these ingredients, you can also use cayenne pepper, fresh herbs like thyme and parsley, olive oil, and rice milk to make your version of this dish extra tasty!
Nothing like mashed potatoes when you're feeling blue. Nothing like getting into bed with a bowl of hot mashed potatoes already loaded with butter, and methodically adding a thin, cold slice of butter to every forkful

Nora Ephron
07- Turmeric Powder
Turmeric is an excellent coloring spice with earthy, woodsy, and slightly peppery undertones. You can get a beautiful golden color to your dish of potatoes with just a pinch of turmeric powder.
This spice gets along with many ingredients, and you can particularly pair it with ground cumin and black pepper. If you need to make a dairy-free mashed potato meal, turmeric powder is a wonderful pairing with coconut milk, coconut oil, and garlic powder.
Did you know that aromatic herbs growing in your backyard can do wonders with your mashed potatoes? They can make a flavorful difference as much as spices can do. Follow up on this link and explore the best herbs for mashed potatoes.
Concluding With The Best Spices For Mashed Potatoes…
Adding spices like paprika, onion powder, garlic, garlic powder, cayenne pepper, etc., to mashed potatoes will give you the feeling you are dining on cloud nine! All these flavorings complement the creamy texture of this dish and enrichen its mild taste.
Related Topics