Most of us follow the classic recipe when mashed potatoes with butter, milk, and salt. But there are more things that you can add to make this dish delicious. So here are some best herbs for mashed potatoes!
Herbs that can pair well with mashed potatoes include:
Parsley
Dill
Basil
Rosemary
Thyme
Sage
Chives
Tarragon
Oregano
Bay leaves
Curry leaves
Let's now get to know how this tasty approach will take your mashed to a whole new level!
The Best 11 Herbs For Mashed Potatoes
Mashed potato is one of the most classic dishes that has become the go-to side dish of many Western homes. You might have your family recipe or stick to the basic recipe with essential ingredients.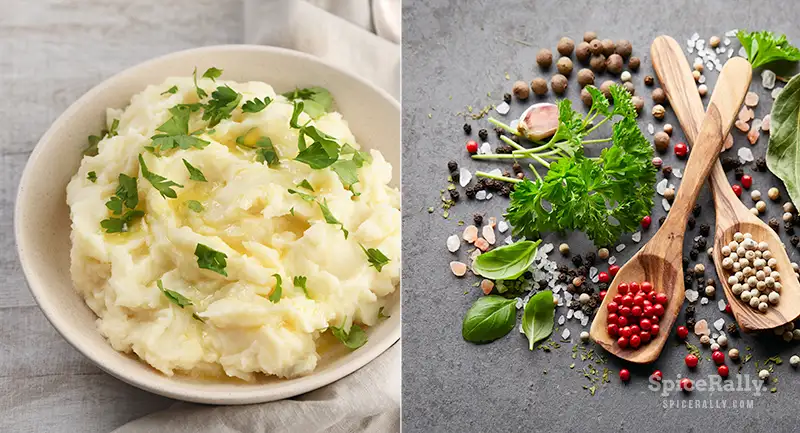 That being said, you don't need to confine yourself to standards when there are ways to explore the deliciousness of this dish. At present, many have fresh herbs grown in their backyards. 
These aromatics are virtually helpful in bringing out the best in your mashed potatoes, transforming this dish from bland to the best! So, refer to our list of herbs and pick your favorite to incorporate into your next batch of mashed potatoes.
01- Parsley
Bright, herbaceous, and slightly peppery parsley is the most versatile herb for mashed potatoes! Fresh or dried, this herb can work wonderfully with this dish. 
A handful of freshly chopped flat-leaf parsley can be incorporated into the milk while it is boiling to be added to the potatoes. Or else, you can sprinkle some dried parsley flakes on top once the dish is done. Curled-leaf parsley can make a beautiful garnish once the dish is served. 
Whatever the way or type it is, parsley has become the quintessential ingredient to go with the richness of this food. This herb can be paired with anything you use in your mashed potato recipe.
02- Dill
You'll realize that dill's application reaches far beyond pickles if you try it once with mashed potatoes! The feathery green leaves have a vivid, sweet flavor—somewhere between celery, anise, and parsley.
Chopping dill is a fun thing to do, which is a bonus you get! Freshly chopped dill weed can be directly incorporated with mashed potatoes. 
It is important to remember that fresh dill is more effective here than dried dill. You can team this up with unsalted butter, parsley, and garlic. Sprinkle some chopped dill on top of the dish before serving to get a fantastic flavor!
While these herbs help to improve your mashed potatoes, spices also play a significant role in elevating this food. Click on this link to discover the best spices for mashed potatoes that you can find in your pantry!
03- Basil
Basil is one of the most versatile herbs with a distinct flavor profile, and it is sweet, savory, and slightly spicy with a pleasant aroma. Fresh basil can be paired with olive oil, butter, and garlic when making this dish. 
In addition, you can also make basil pesto and incorporate it with mashed potatoes to make a twist to your traditional recipe. Basil is best used fresh to get its optimal flavor and aroma. 
You can also let a few basil leaves simmer with milk if you like its taste to be less intense. So, if you have plenty of basil in your backyard, mix it with mashed potatoes to make an elegant difference!
04- Rosemary
Rosemary has a pronounced fragrance with a pine-woody flavor and fresh, bittersweet hints. You can use this herb alone or hand-in-hand with thyme and oregano. You can reach out for fresh or dried rosemary, depending on your choice.
Rosemary-infused mashed potatoes will brighten up your holiday table. At the same time, this will also be a classic year-round side to pair with your favorite main dishes. However, rosemary can be further teamed up with garlic, butter, and black pepper when you make mashed potatoes. 
And also, you can use a small sprig of rosemary to garnish your dish before sending it to the serving table.
05- Thyme
Thyme has a sharp, earthy, and somewhat minty flavor and floral, sweet, and peppery notes. This is another aromatic you can use in combination with oregano and rosemary, and you could even use it alone–best used in its fresh form. 
Thyme is a great addition whenever you need to make a flavorful difference in this dish without much effort. To create a festive dish, pair this herb with garlic, olive oil, butter, and caramelized onions. 
Remember to give the finishing touch to your mashed potatoes with melted butter/ drizzling oil mixed with a handful of freshly chopped thyme!
06- Sage
Bold sage has a noticeable herbal flavor with an earthy, slightly peppery taste with mint, eucalyptus, and lemon touches. 
This herb is known to go well with heavier dishes. But it also can complement the richness of mashed potatoes. Since too much sage can hit you on the head, you should be mindful of using it moderately. 
Dried sage is not recommended if you want to incorporate it into this dish. Thus, fresh sage can be paired with parmesan cheese, butter, chives, or olive oil. You can let this herb infused with butter or oil or let it simmer with milk while it is boiling.
07- Chives
Chive's flavor is similar to onions, with a milder and slightly sweeter taste. It has a gentle grassy aroma, which can add depth and richness to this dish. 
This is one of those herbs you use to your heart's content without the concern of getting overpowered. Chives do not require cooking since they taste better when eaten less cooked. So, you can chop some fresh chives and incorporate them with your mashed potatoes after it is cooked. 
This herb can be paired with parsley, caramelized onions, butter, and garlic. This also makes a beautiful garnish if you call out for some green specks on your mashed potatoes while serving.
08- Tarragon
This herb has a unique taste, used widely in French cuisine. The immediate flavor of tarragon is a mild, far from overwhelming, licorice taste with hints of mint, vanilla, pepper, and eucalyptus. 
You don't need many other herbs to pair with tarragon since it alone can do its job. Fresh tarragon is recommended to use with this dish. 
And it will taste better if you use creams like heavy cream or sour cream. Use garlic, black pepper, and parmesan cheese to go with the rich taste this herb could give your mashed potatoes.
09- Oregano
Oregano is very aromatic with a slightly bitter and pungent flavor. This herb is also composed of musty, herbaceous, and minty notes. 
Unlike most herbs, you can use oregano in its fresh or dried forms. Dried oregano can be directly mixed into mashed potatoes. At the same time, you can allow fresh oregano to release its flavor into hot butter/ oil or let it infuse with warm milk. 
You can get a better taste when oregano is paired with thyme, rosemary, parsley, garlic, and black pepper. Combine this herb with sour cream, mayonnaise, romano cheese, or parmesan to make an extra special version of this dish.
10- Bay Leaves
Bay leaves in mashed potatoes, for real? This might not be a conventional herb to incorporate with this dish. But still, bay leaves can give our topic leader the most unexpected flavor twist! 
Dried bay leaves should be sizzled with hot butter/ oil or simmered with milk while it is boiling. They should not be left in the dish and should be removed once the flavor is released. 
The characteristic bold, pungent, and warm undertones of this herb will add depth and richness to mashed potatoes. You can follow up with other seasonings like garlic and parsley to complement the taste of this herb.
11- Curry Leaves
Curry leaves can be exotic to Western cuisine, but it is the best companion of Indian and Sri Lankan cooks! So, if you live in one of these countries and cannot get hold of the herbs mentioned above, curry leaves can be your best bet to complement mashed potatoes! 
Freshly chopped curry leaves can be incorporated with the potatoes and give their best when paired with chili powder, turmeric, etc. Masala mashed potatoes are a popular dish prepared in South Indian cuisine, often served alongside flatbread. 
The Combination Of Green And Yellow Is Absolute Eye Candy On Your Table!
Life is so much better when you can experiment with food and make a wholesome, refreshing difference each day! Fresh, clean, aromatic, and flavorful herbs like rosemary, thyme, parsley, sage, etc., are certainly some of the best ingredients that can improve your mashed potatoes like never before! 
Hence, do not hesitate to try them out with your classic mashed potatoes and make a healthy, tasty twist that your whole family would love to experience!
Related Topics