The intention of eating is not only to satisfy our hunger. But also, the food we eat must add some nutritional value to our lives too. So, this SpiceRally episode will discuss 07 surprising benefits of curry powder that you will get when incorporated with daily cooking.
This flavorful spice blend will help your health in ways such as:
So, keep reading till the end to discover more about how this spice powder will help you to improve your health while adding tons of flavor to your regular meals!
The 7 Amazing Health Benefits Of Curry Powder
When it comes to curry powder, the well-known fact is that it is a blend of potent and flavorful spices like turmeric, cumin, coriander, black pepper, fenugreek, etc. But, the unknown truth is actually the most interesting!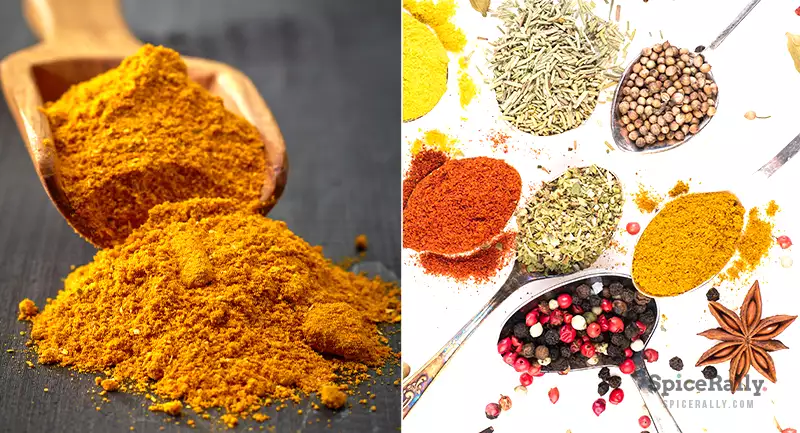 These spices in curry powder are enriched with nutrition. Accordingly, they can collectively become helpful to your health in many ways. 
01- It Can Protect Your Heart
Several studies that have been conducted over the years have proved the benefits that curry powder could give your heart. Particularly, spices like turmeric (which contains curcumin), coriander, cumin, and red chilies (with capsaicin) in this blend are proven helpful in fighting against heart ailments.
Furthermore, some studies also show that active chemical compounds in spices like turmeric, garlic, curry leaves, ginger, black pepper, cinnamon, and coriander are approved to protect your heart against several cardiovascular diseases. 
They can also help decrease blood pressure and bad cholesterol levels, which will directly affect your heart health.
02- May Help To Control Blood Sugar
Key components in curry powder like turmeric, cinnamon, cumin, and ginger contain compounds that could help maintain healthy blood sugar levels. 
Accordingly, studies have revealed that the people who consume curry powder frequently have normal blood sugar levels. Therefore, they are less likely to be at risk of getting diabetes.
03- Helps To Improve Digestive Health
Spices like ginger and cumin are recorded as proven domestic remedies from ancient times for many digestive problems. 
Likewise, when ingredients like turmeric and black pepper are combined with cumin, ginger, and other strong spices in curry powder, it will help with many digestive issues like irritable bowel syndrome, indigestion, abdominal pain, constipation, etc.
What are the ways you can use curry powder in cooking? We have a fully detailed article here to enlighten you with some smart methods to incorporate this nutritious blend of spices into daily cooking.
04- It Contains Antibacterial And Antifungal Properties
Our topic leader is actually loaded with ingredients like coriander, cinnamon, garlic, cumin, turmeric, etc., that have antifungal and antibacterial properties. These properties can be beneficial in dual ways. 
First, it can help with food preservation, preventing them from getting spoiled with bacteria. Second, the compounds in curry powder ingredients can help our body to fight against fungal and bacterial infections like foodborne diseases, urinary tract infections, Sepsis, etc.
05- Helps To Fight Cancer
Research has shown that spices like turmeric, ginger, garlic, red chilies, cinnamon, and black pepper have promising anticancer properties. Thankfully, all these spices are a part of curry powder. Thus, incorporating this spice blend as a part of your healthy meals might help fight against cancer cells.
Out of all these spices in curry powder, turmeric (which is enriched with curcumin) is known to be the most powerful. In fact, the studies show that this compound in turmeric can kill cancer cells when coexisting with chemotherapy.
Turmeric is another wonderful kitchen staple that contains cancer-fighting properties. So, if you need to learn more health benefits about this brightly-colored spice, click here and check out this article.
06- It Reduces Inflammation
If you are suffering from conditions linked with inflammation, frequent consumption of curry powder will help you recover soon. 
The primary ingredients in this spice blend, such as turmeric, fenugreek, garlic, ginger, cumin, cinnamon, etc., contain anti-inflammatory properties that help with many diseases associated with chronic inflammation.
Spices are powerful. They can uplift the quality of your food and the quality of your life at the same time!

SpiceRally
07- Boosts Your Brain Health
Helping with brain-related issues can be considered one of the most unexpected yet remarkable benefits of curry powder. Turmeric is actually the key component here to protect your brain. 
In addition, spices in this mix, such as cinnamon, ginger, and black pepper, are also known to contain properties that could be beneficial for cognitive-related diseases like Alzheimer's, Parkinson's, dementia, and depression.
While curry powder provides amazing health benefits, it also helps to save your dishes by working as a cumin substitute. So, if you need to learn more and discover more replacements for cumin, click here and refer to our post.
Is Curry Powder Gluten-Free?
This blend typically contains only spices and sometimes herbs. Therefore pre-packaged or homemade curry powder usually does not contain gluten-related ingredients.
Isn't Curry Powder Truly Powerful!
As you see, this rich combination of spices actually goes beyond adding flavor to your foods. While it improves the quality of your meals, it also helps your health by protecting your brain health, fighting against cancer, improving digestive health, controlling blood sugar, etc.
Related Topics