Spice blends are an essential part of Indian cooking. And in this article, we will bring you a simple homemade Garam Masala recipe that you can put together with some easily found ingredients in your spice cabinet. 
The best thing about a homemade Garam Masala mix that you'll find is the authenticity and the control of the content that goes in. So, without going further, let's get started with the process!
Simple Homemade Garam Masala Recipe
You can actually find many miscellaneous brands of this spice mix in the spice aisle of every supermarket. You will never know what has been really used in them. But in this homemade version, we have used the most flavorful spices that go best with Garam Masala. 
Preparation time- 5 minutes | Cook time- 10 minutes | Total time-15 minutes
Servings- 200g (About 13-14 tablespoons)
Calories- 616.4
Spices and Herbs Needed
Half a cup of cumin seeds
3/4 cup of coriander seeds
Two tablespoons of black peppercorns
One teaspoon of caraway seeds
Five-star anise
Three-inch cinnamon piece
Two mace
Two chunks of nutmeg (break the seed into four pieces and take two from it)
Five bay leaves
Two teaspoons of fennel seeds
One tablespoon of cloves
Three teaspoons of cardamom
Five black cardamom pods
Three dried red chilies (optional)
One teaspoon of ginger powder (optional)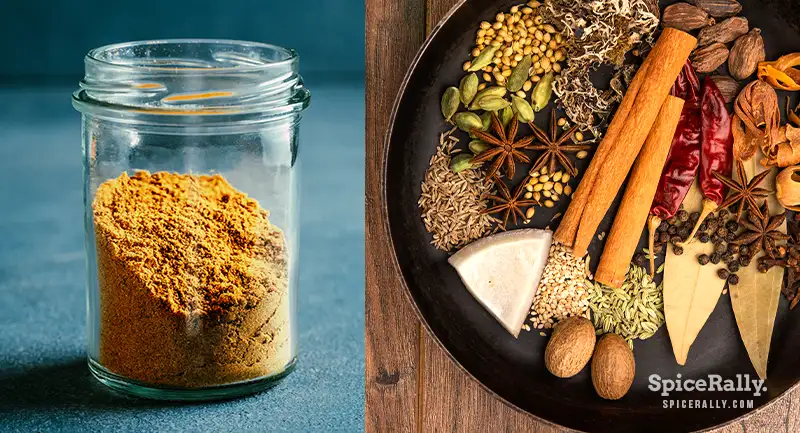 Other Types Of Equipment Needed
Instructions For Preparation
As the first step, roast the coriander seeds in a thick-bottomed pan over low-flame until the seeds start to give out their fragrance. Transfer this to another container and keep it aside.
Now, put cumin, caraway, and roast in the same pan on low flame. Keep roasting these two until they also turn fragrant. Transfer to the container with coriander and set aside.
Next, again put the red chilies and black peppercorn to the same pan and roast until red chili turns crisp. If you do not use red chilies, roast the black pepper until they turn aromatic. Now, put them in the container with the roasted spices.
Lastly, go with roasting the rest of the spices- star anise, mace, nutmeg, cinnamon, fennel seeds, two types of cardamoms, cloves, and bay leaves.
Roast all of them until fragrant, but do not allow them to burn.
Transfer the finally roasted spices to the same roasted spice container and let them cool down to room temperature.
When they are cooled down, put all the ingredients to the spice grinder with ginger powder and grind them until they turn to a fine powder.
Your homemade Garam Masala is now ready! Use immediately or keep in an air-tight glass container for later use.
If you miss our article on spices used in Garam Masala, click here for the best spice explanation that you get on the internet!
Tasty Notes From Spicerally…
When you choose spices for your Masala, try to get new spices as much as possible. You can do this by scanning the manufacturers' dates when you purchase them from the store. Old spices can make your recipe less flavorful.
Clean the spices well before use.
Use a dry spoon to scoop the mix whenever you use it.
Feel free to adjust the amount of spices that go in your recipe. And, you can omit any of them that you do not like.
Garam Masala does not typically include salt. So, do not try to add salt into your recipe. Instead, add it to any of your dishes externally.
Whenever you run out of Garam Masala, it is always worth knowing the substitutes you can use in place of it. You won't believe it if we say that we have the 11 best of them! Just tap here, and we will prove ourselves right!
Related Topics