If you are a home cook, Mom, or chef who frequently gets in touch with Indian food, you might already know the importance of spice mixtures. In fact, these tandoori masala substitutes will be the perfect game-changer that you were looking for!
With a few other traditional spice blends from Indian cuisine, you have collectively seven options here. They are:
So, let's see how these alternatives could give the desired flavor replication.
Substitutes For Tandoori Masala- Flavor Explanation
The authentic tandoori masala mix would be a combination of flavorful spices like:
Kashmiri Red Chilies
Green Cardamom
Black Cardamom
Cloves
Garlic
Nutmeg
Mace
Fenugreek Leaves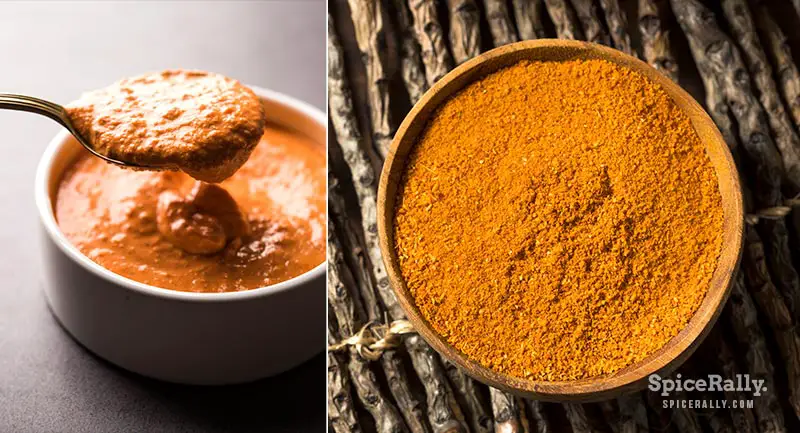 Accordingly, you can find some widely available and simply found tandoori masala substitutes from the nearby store or your kitchen. So, here goes the list!
01 – Garam Masala
The king of Indian spice blends gets to conquer the list of tandoori masala substitutes too! In fact, Garam Masala shares a lot of common spices with our subject leader, such as:
Coriander
Cinnamon
Cloves
Nutmeg
Black Pepper
Kashmiri Red Chilies
Ginger
Mace
Cumin
Green Cardamom
Black Cardamom
However, Tandoori masala can be milder since Garam Masala can contain other warm spices like caraway seeds, bay leaves and fennel seeds. But still, if you intend to use this in place of Tandoori mix, you can use the same amount, especially with your meat dishes.
Garam Masala is a versatile blend of spices that can be used with many dishes. We have a lot of information for you about Garam Masala spices in our article here.
02 – Tikka Masala
If you already got a tikka masala container in your spice cabinet- here comes the savior! This spice blend also comes from Indian cuisine and contain common spices like:
Cumin
Green Cardamom
Black Cardamom
Coriander
Cloves
Kashmiri Red Chilies
Black Pepper
Cinnamon
With the majority of common spices, this becomes another one of the best replacements. But sometimes, Tikka Masala could contain dry mango powder and turmeric which can give a slight taste difference and an added color. Nevertheless, it is indeed great on meat dishes like chicken, and you can use the same amount as the tandoori mix.
03 – Curry Powder
Curry powder- for marinating, seriously? Why not! You know that tandoori masala is marked as a seasoning spice mix, and you might doubt if you could actually replace curry powder with it.
Well, the tandoori mix is a little more intense than curry powder with red chili powder in it. And most curry powder mixtures could contain turmeric. With them being the main differences, most other spices share a pretty similar flavor profile with these two blends.
So, if you have curry powder at home, you can use some with your dish. But we suggest adding some cayenne pepper powder, hot paprika, or whatever hot red chili powder you have at the moment to get a better flavor resemblance.
How about the idea of making your batch of curry powder at home? You are just one click away from a simple homemade curry powder step-by-step guide/ recipe if you are interested.
04 – Ras el Hanout
If you are someone who often tries Mediterranean food, Ras el Hanout cannot be a new thing for you. And luckily, this can also be another possible candidate to replace Tandoori masala when you don't have it. 
They both share a general set of spices such as:
Cinnamon
Cardamom
Cumin
Cloves
Mace
Nutmeg
Ginger
Black pepper
Coriander
Red chilies
However, Ras el Hanout can be more robust and spicier since it could contain additional spices like allspice, turmeric, white pepper, and anise seeds. Therefore, we suggest you add it to your food gradually when you replace tandoori. You can always build up the flavor by adjusting the amounts gently.
Never underestimate the power of good food. Eating delicious food can be a life-changing experience

Shon Mehta
05 – Baharat
Baharat can be another one of the potential tandoori masala substitutes with the common ingredients and the spicy base they carve up.
This blend includes the same spices as in tandoori such as:
Cinnamon 
Coriander
Nutmeg
Black pepper
Cumin
Cardamoms
Ginger
Red chilies
Cloves
In addition to these spices, it can also contain turmeric and saffron, which is known for their colorant qualities. So, when using it as an alternative, you will have to be mindful not to use too much as it can change the color of your dish completely.
If you are interested in excavating more details about Baharat, click here for our exclusive feature about the ingredients used in this flavorful Middle Eastern spice blend.
06 – Berbere
This traditional Ethiopian spice mix is another combination of powerful and pungent spices that will work well as an alternative to our subject leader. They both have common flavorings like:
Black peppercorns
Cumin
Coriander
Green cardamoms
Cloves
Nutmeg
Cinnamon
Ginger
Red chilies
Like Ras el Hanout, berbere also can be a little intense with its additional spices like allspice and paprika. So, if you intend to use this spice blend as a substitute, adding it gradually would be your best bet.
07 – Homemade Tandoori Masala
If you find anything on our list above that wouldn't help, the next best option is to give a chance to the inner chef in you! You can just grab the ingredients you already have in your kitchen and make your own tandoori masala mix.
The simple homemade recipe below will help you, and maybe you will not buy the tandoori mix from the store again!
Is Tikka Masala The Same As Tandoori?
Tikka masala and tandoori masala are two different spice mixtures that come from Indian cuisine, and they are not essentially the same. 
They have many ingredients in common, and as mentioned on our list, Tikka Masala is a good substitute for Tandoori masala. But still, they have different usages in Indian cooking.
Tikka masala usually has dry mango powder, which has the ability to give it a sour kick, and you don't usually get this in the tandoori mix. Moreover, although both these blends are particularly used with chicken, the preparation of Chicken Tikka and Tandoori Chicken is also completely different.
Would you like to discover something more about Tikka Masala? Then, just tap here and read our detailed feature on the authentic spices used in Tikka Masala. 
So, What's Your Pick?
All the tandoori masala substitutes we discussed on top can give a closer flavor resemblance, although they could not give the exact taste. And, you just have to pick the one that you think is best for you.
Garam Masala, Tikka Masala, curry powder, Ras el Hanout, Baharat, Berbere, and the homemade tandoori mix have a lot of spices in common. Thus, you have a pretty good choice and go for the best!
Related Topics