Did you know that you could bring incredible things to your table when you have a jar of red chili paste at home? So, in this episode, we will share some great ways to use Thai red chili paste to make a lot of spicy treats!
Thai red chili paste can be incorporated into your daily cooking in the following ways:
Just scroll down to learn more interesting tips to get the best out of this condiment with your next dish!
The Best 05 Ways To Use Thai Red Chili Paste
Rich and smoky Thai red chili paste (Nam Prik Pao) is absolutely huge in flavor and can be used in a wide variety of foods. It has the ability to rave up the taste of your meals instantly, giving them a distinctive spicy blast.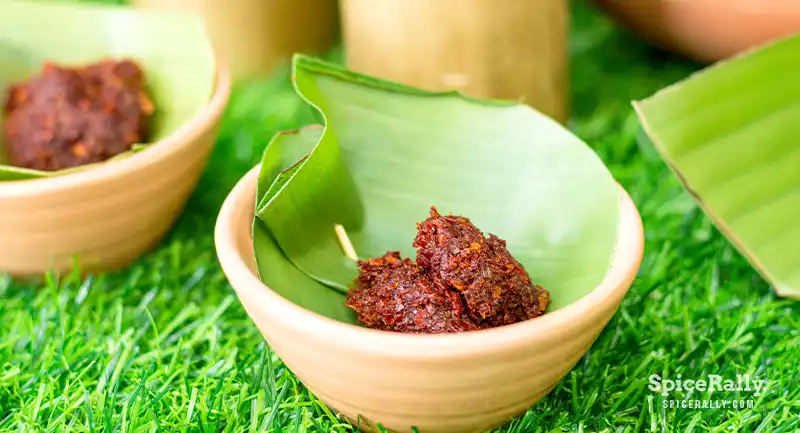 So, here we have discussed the five best ways that you can use this Thai delight in different dishes you cook daily. In fact, the best thing about this is that it could be enjoyed as a condiment while it also punches up food as a cooking ingredient.
01- As A Base For Soups And Stews
The decadent texture and savory, earthy, tangy notes of this chili paste give a unique zest to most soups and stews. Tom Yum Goong soup. Tom Kha Gai and Thai beef stew are popular dishes you can make using our topic leader.
This condiment complements meat and seafood, so you can try this even with your family stew and soup recipes that call for a spicy zing. In addition, you can also try a vegan Thai red chili paste option with your vegetable broths, stews, and soups. Follow up with coconut milk and different types of mushrooms of your choice.
02- With Bread, Toast, And Crackers
This is actually one of the most effortless and tastiest ways to use Thai red chili paste. All you have to do is to top your toasts, fresh bread, or snack-time crackers with this chili paste and enjoy! You can apply a layer of butter/mayonnaise before applying this chili jam and accompany it with some tuna or shredded pork for an extra flavor punch.
Moreover, try this with your grilled cheese sandwich. The spiciness perfectly pairs with the creaminess of the cheese and mayonnaise. And also, most Asians top their favorite Rotis or flatbread with this condiment. So, why not give it a try on a weeknight?
Come up with even more flavorful dishes by making your own batch of Thai red chili paste using fresh ingredients! So, to assist you with that, we have shared a super easy yet delicious recipe in this article. Check out the step-by-step guide now.
03- To Mix Into Sauces, Dips, And Gravies
Nam Prik Pao instantly spices up your classic sauces, dips, and gravies. In fact, there are a lot of ways to combine this with these liquid-based foods.
To make quick dips, you can incorporate this condiment with mayonnaise, sour cream, or cream cheese with herbs like parsley. Or else, you can make thick chili sauces along with soy sauce, oyster sauce, ketchup, corn starch, etc., to make dishes like chili chicken, chili tofu, and sweet and spicy Thai chili cashews.
In addition, mix a spoonful into coconut milk-based chicken or fish curries to boost the flavor of the gravy. You will need nothing- but a lovely bowl of jasmine rice will be enough to enjoy with these Asian curries!
04- With Noodles And Rice Dishes
Another great way to use our topic leader is to mix it with noodles and rice. If your family loves a lunch that accompanies noodles, pasta, spaghetti, or rice, Thai red chili paste is an ideal way to bring joy to your dining room!
Pad Thai, Thai seafood rice, Nasi Goreng, classic shrimp fried rice, spicy clams spaghetti and chili pasta are some dishes you can easily make with this. Follow up with your favorite vegetables and use more flavorings like dark soy sauce, fish sauce, oyster sauce, and rice wine vinegar to add more flavor.
Instead of going out to dinner, buy good food. Cooking at home shows such affection. In a bad economy, it's more important to make yourself feel good.

Ina Garten
05- To Brush On Grilled Meat, Seafood, Or Tofu
Season your fish, meat, tofu, or other seafood just the ordinary way you do, and brush some Thai red chili paste on top of them as soon as they come out of the grill. Or else, you can incorporate a spoonful with the marinades or wet rubs you make to season them. 
You can also mix it with regular butter, garlic butter, or olive oil to make a perfect glaze for grilled meat, fish, or tofu. The smoky, earthy, and zesty flavor of this relish will boost the richness of these proteins and make you crave its taste the entire summer!
Did you know that kimchi is enjoyed in Korea just as much as the Thai red chili paste in Thailand? So, click here to discover some fantastic ways to use kimchi with your regular cooking!
Spice Up Your Favorite Dishes With Thai Red Chili Paste!
The vibrant, profound, tangy, and savory flavor profile of this popular Asian condiment complements most food even beyond your expectations. You can simply enjoy this with your breakfast toast, snack crackers, etc., or incorporate it into noodles, stews, and soups.
Related Topics