Originating from Mexico, nachos have now stolen the hearts of tonnes of people from all around the globe. Initially served as a snack or an appetizer, nachos have recently evolved their nature into many versions that people enjoy, even as dinners. It is indeed a real treat and comes with unbound and endless recipes when it comes to the toppings.
Chili Cheese nachos is another famous version of nachos that comes with a cheesy loaded chili topping. It usually contains spices like:
Garlic
Garlic Powder
Onion Powder
Chili Powder
Black Pepper
Ground Cumin
So, let us see how these spices would spice up the dish of chili cheese nachos and convert it to a real treat for your entire family. 
What Spices Are In Chili Cheese Nachos? 
Chili cheese nachos is a famous version of ordinary Mexican nachos that you would crave over and over again. Loaded with a cheese and cream sauce topped over spicy and flavorful chili is genuinely a game-changer, especially on a family dinner night.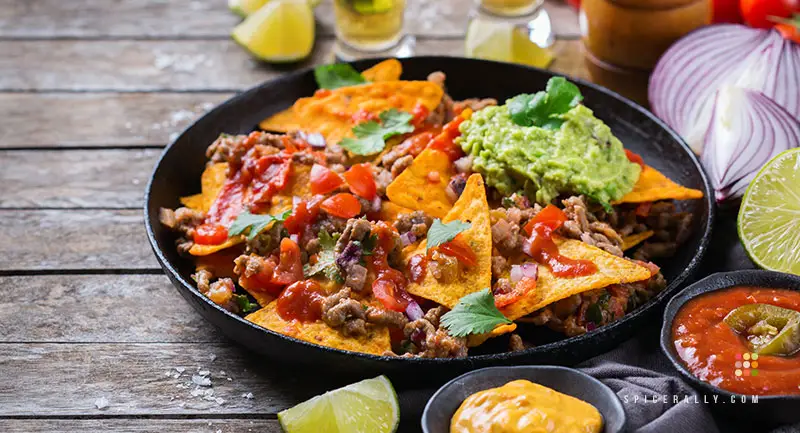 The spices used when making the chili and cheese sauce are key ingredients that will make this dish extra flavorsome with a zingy kick. 
Although the classic chili cheese nachos recipe includes spices like garlic, garlic powder, chili powder, onion powder, black pepper, and ground cumin, there are actually no boundaries or rules for using a specific set of flavors in this. People even use ground coriander and powdered cinnamon according to their taste preferences. 
Some often misconstrued chili cheese nachos with chili cheese fries. However, the only apparent difference between the two is that chili cheese nachos contain nachos as the base while chili cheese fries include fries.
If you love spaghetti as much as you love nachos, here we have a complete article on spices used in spaghetti sauce. Click right now!
Hence, let us share with you the facts about the spices used in the chili cheese fries. Check out these flavors and see what you could include with your next nachos recipe!
01- Garlic
Pungent, warm, and aromatic garlic is a staple when it comes to chili making. And, they give a distinct flavor and aroma to whatever food you add to them that you cannot defy.
In chili cheese nachos, you usually add in fresh garlic cloves by chopping them into bits, and it goes so well with the ground meat you include in chili. Apart from the fantastic flavor and aroma of garlic, it is packed with nutrients like Vitamin C, Manganese, and Vitamin B12. 
02- Garlic Powder
Garlic powder is a versatile condiment that binds so well with any food that it calls for. It is basically fresh garlic cloves dried and pulverized into a fine powder.
This spice makes a real good pair with onion powder when incorporated in chili cheese nachos. Both of them get together and help to bring out the flavor in chili, and some also sprinkle it in the cheese sauce. 
However, its taste is less mild and potent than a fresh clove of garlic and is ideal for creamy recipes like cheese sauce.
03- Onion Powder
Onion powder gives a similar taste to fresh onions with a robust flavor profile and nutrient scope. An integral base profile for piquant recipes, the seasoning should have an intense aroma with a touch of sweetness. The flavor of onion powder is pungent with hints of sulfuric sweetness and a tinge of garlic.
It pairs well with garlic powder and fresh garlic to give a unique flavor to chili, and just like garlic powder, some include this in the cheese sauce too. This spice is known for some significant health benefits like managing diabetes, alleviating heart problems, and treating cough and the common cold. 
04- Chili Powder
Chili powder is another staple used to make chili to give the hot and spicy kick required. Although it is regarded as a single spice, it is actually a blend of spices and herbs and moves more into a seasoning.
This condiment comprises cayenne pepper, cumin, oregano, garlic powder, paprika, and sometimes salt in order to make a savory blend rich in zest and intensity.
While it acts as a staple when making chili, chili powder is also included in the cheese sauce when it comes to chili cheese nachos. The powder itself is packed with a lot of nutrients since it is a blend of a number of spices and herbs.
While chili powder adds flavor to chili cheese nachos, Taco seasoning is another condiment that calls for chili powder. Need to discover more? Then you are just one click away from here.
05- Black Pepper
The king of spices, black pepper, is hardly missed when savory dishes enter the trail. Freshly ground black pepper makes a perfect warm intensity with hints of robust earthy flavors when put into any recipe.
In most chili cheese nachos recipes, black pepper pairs with salt to make the perfect salt pepper seasoning. Moreover, it goes so well with other spices in chili, such as garlic powder, onion powder, and chili powder, to enhance the savor of the recipe. Usually, we cannot see that black pepper is added to the cheese sauce, but that does not mean that you can't!
With the epic flavor and pungency of black pepper, it also gives out the goodness of Vitamin C, Riboflavin, and Vitamin E.
06- Ground Cumin
Cumin is indeed a match made in heaven with chili! Whenever there is chili, you could literally taste cumin. That is how strong their bond is, and it goes right in with chili cheese nachos too.
Freshly ground or powdered cumin makes an adorable couple, especially with chili powder. And, it is earthy, warm, nutty, and has hints of mint-like flavor.
Grilled cheese deserves much better than being bland! So, would you like to learn some of the best spices that are used to spice up grilled cheese? Click here for our complete article on spices for grilled cheese.
Apart from the distinctive taste and aroma it adds to chili cheese nachos, cumin has some essential health benefits like promoting digestion, helping with blood sugar regulation, and promoting weight loss and fat reduction. 
What Are The Other Ingredients Used In Chili Cheese Nachos?
Scrumptious and crunchy chili cheese nachos are an absolute cheesy loaded fantasy that anyone would crave any time of the day. The ingredients used to make this plate are the main reason for having so much taste. 
In addition to the spices used in chili and cheese sauce, what are the other elements used in this delicacy? 
Well, things you can put into your plate of chili cheese nachos are simply endless! Thus, let us bring you a few usually included staples and other ingredients that go well with the recipe. They are:
Tortilla Chips (for sure!)
Ground beef
Onions
Kidney beans
Tomatoes
Tomato paste
Sour cream
Heavy whipping cream
Salt
Sugar
Varieties of cheese (Mozzarella, sharp cheddar, gouda, emmental, pepper jack)
How Do You Spice Up Nachos?
Who wouldn't love to enjoy a more flavorful plate of nachos instead of the ordinary ones? Accordingly, a few add-ons can make your nachos platter go beyond the limits making it extra special. 
Honestly, you can add anything! The only thing is you should match the flavors and see what goes well with each other. Even salsa and guacamole could be incredibly tasty toppings when mixed with cheese sauce. Check out this stuff that would help to spice up your nachos:
Green onions
Green chilies
Jalapenos
Cilantro
Red pepper
Dried oregano
Dried parsley
Bell peppers
White onions
Greek yogurt
Sliced avocado
Did you know that most flavoring elements mentioned above are used to spice up your favorite mac and cheese? For more information, click on this link and refer to this article.
The Flavorful Rounding Off
Nachos have a legendary history that runs back to the days of World War II and comes with a biological nature of making people happy.
Chili cheese nachos is a version of this crunchy treat that is oozing with a cheesy sauce of a number of varieties of cheese and spicy and mouth-watering chili. Spices play a significant role in flavoring and savoring the chili and cheese sauce that is added to this delicious platter.
So, make sure you use these seasonings to flavor your next pile of nachos and see how they involve in tantalizing your taste buds!