Did you have a stressful day with a hectic work or study schedule? Or, do you need to relax for a while and watch a movie but cannot find anything that could accompany you? Well, don't worry, ramen can fix everything! 
In fact, a warm, cozy bowl of ramen noodles will make everything right for you and show that there's a silver lining on every dark cloud. The genuine taste of the ramen is in its broth, and what makes it so delicious? This is the place you need to get everything right.
Ramen seasoning is one main reason for ramen and its broth to be so palatable. Significantly, the ramen spices and other seasonings used in this condiment are packed with flavors that could give life to this food. The seasoning sachet inside a commercially sold noodles packet may include:
Onion powder
Ginger powder
Paprika
Dehydrated vegetables (Green onion, mushroom, carrot)
Red pepper
Sugar
Soy sauce powder
Soybean paste powder
Red pepper seed oil
Corn flour
Salt
Monosodium Glutamate (MSG), plus many ingredients that come in generic chemical terms.
Making ramen seasoning at home is not at all a tough job if you have the right ingredients. Click on this link and get our simple recipe to pick the best-ever homemade ramen seasoning blend.
In addition, people who are enthusiastic about making their own seasoning for ramen at home may include more natural ingredients like:
Onion powder
Garlic powder
Ginger powder
Sugar
Salt
Black pepper
Paprika
Red chili powder
Dried Chives
Nutritional yeast
Chicken bullion powder 
Beef bullion powder
Vegetable bullion powder 
Soup stock powder
So now, let us see how these elements add flavor to your bowl of noodles. If you are hoping to enjoy one for dinner, by the end of this, you will start to savor every ingredient included in your ramen seasoning since you know them all!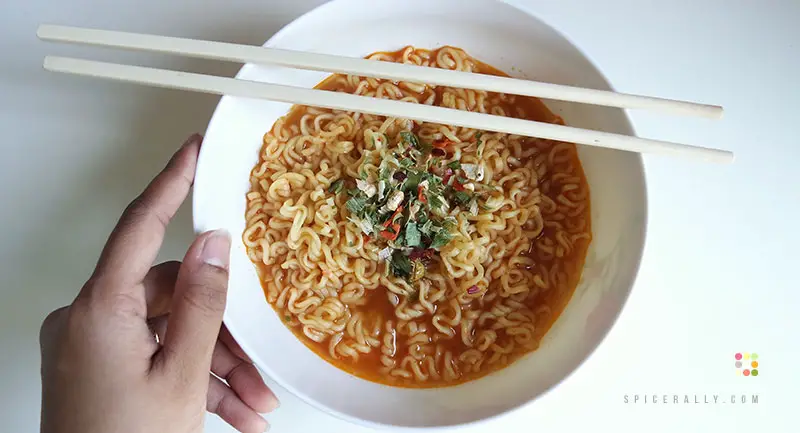 What Is In Ramen Seasoning?
The ramen we all know is basically a type of Chinese-style wheat noodles put into boiling water mixed with the content inside the seasoning sachet, made within a few minutes, and eaten warm. Generally in the USA, we can get ramen with many flavors like:
Chicken Flavor.
Pork Flavor.
Creamy Chicken Flavor.
Roast Chicken Flavor.
Lime Chili Shrimp Flavor.
Picante Chicken Flavor.
Beef Flavor.
Shrimp Flavor
Roast Beef Flavor.
Chili Flavor.
Soy Sauce Flavor.
However, ramen noodles alone are merely a bundle of bland wheat noodles without the seasoning. It is the seasoning that does the actual job of bringing flavor, spiciness, and warmth to the bowl of ramen we enjoy. In fact, the different flavors that we get to purchase utterly depend on the ingredients of the seasoning sachet that is included inside the noodles packet.
Recipes that we could make using a packet of ramen noodles are truly unlimited. If you explore on the internet, you will possibly find hundreds of recipes that incorporate various ingredients, including vegetables, mushrooms, meat, egg, seafood, and many more. 
How about making a warm bowl of spicy ramen noodles to satisfy your spicy food cravings? Click here and get the recipe from this post for an easy yet delicious ramen noodle recipe made using ramen seasoning!
Therefore, ramen is not just a simple bundle of wheat noodles that comes inside a packet with seasoning as an accompaniment, but also a food that can be recreated according to our preferences.
On top of everything, we can see that making your own ramen seasonings at home or DIY ramen seasonings is rapidly gaining popularity among the noodle fan club. The reasons behind this can be many.
However, one major cause for this is the overwhelmingly high amounts of preservatives and salt that could contain in a store-bought ramen packet. We have literally no control over the ingredients included in these seasonings, and they can be very harmful to our health. Hence, health-conscious ramen lovers just buy plain-dried or fresh ramen noodles from the store and make their own seasoning at home by comprising more healthy spices, herbs, and other ingredients. 
Most importantly, we can control the amount of salt that goes into our ramen bowl, which always comes as a plus point when making the ramen seasoning at our kitchens. The blend of spices (the key to flavoring the seasoning) can be customized the way you like. But, however, most of the homemade versions include these ramen spices and ingredients:
Onion powder
Garlic powder
Ginger powder
Sugar
Salt
Black pepper
Paprika
Red chili powder
Cayenne pepper
Dried Chives
Nutritional yeast
In addition to these, to change the taste distinctively, some may also include flavorings such as:
Poultry seasoning
Chicken bullion powder 
Beef bullion powder
Vegetable bullion powder
Soup stock powder
Are you interested in discovering something special on your pizza just like ramen seasoning would upgrade your bland noodles? You are just one tap away from our Little Caesars Zap Pak spice revelation!
While all these ingredients assemble as dry ingredients, we found some homemade seasonings, even including soy and vinegar as liquid ingredients. So, as you see, ramen seasoning, especially the homemade ones, can be just anything…anything that your heart desires! 
Traditional Ramen Seasoning And Spices
Did you know that ramen is actually a Japanese soup that is made with Chinese-style wheat noodles? Most of you might not be aware of the fact since the famous ramen widely available in the USA is just dried plain ramen noodles that come with a seasoning packet.
If not for the instructions given, we would have just munched on the dried bundle of noodles and popped the seasoning packet in our mouths without cooking it!
Well, all jokes apart, ramen is traditionally a soup that originated in Japan. This is typically served in a meat or (sometimes) fish-based broth in Japan. And, it is usually spiced with miso or soy sauce and employs toppings such as:
Chashu (sliced pork)
Nori (dried seaweed) 
Menma (a condiment made from the Lacto-fermented bamboo shoot)
Scallions 
Moreover, practically every area in Japan has its own divergence of ramen, such as:
The tonkatsu (pork bone broth) ramen of Kyushu 
The miso ramen of Hokkaido
And, Mazemen is a ramen dish that is not served in a broth, but preferably with a thick sauce.
However, traditional Japanese ramen usually has a soy sauce or a miso base. Most of the time, they use the ingredients that are unique to their nation rather than using a lot of spices, in order to bring a more herbal flavor from the ramen they make. 
Accordingly, as mentioned on top, traditional ramen is often topped with seaweed, boiled eggs, seasoned pork, fish paste, scallions, and menma.
Long story short, the Japanese basically use natural ingredients to season and flavor their ramen noodle soup instead of using preservatives or high quantities of salt.
What To Add To Make Ramen Spicy?
Admitting the truth, not every one of us could make our own ramen seasoning at home. So, the spiciness of the readymade seasoning sachet inside the noodles packet may sometimes be not enough. Thus, what can we really add to make our bowl of ramen spicy?
After doing our research with many recipes that are popular on the internet, we learned that adding a few hot flavoring agents could really make your ramen spicier. Therefore, try to include these ingredients in your noodle dish if you prefer more intensity and hotness. They are:
Cayenne pepper
Hot sauce
Peppers (Jalapenos, ghost peppers, scorpion peppers, serrano peppers)
Hot chili oil
Chili-garlic sauce
Fresh garlic 
Fresh ginger
Red pepper flakes
Waving Good-Bye For The Ramen Lovers… 
Ramen is entirely a bundle of happiness that comes in a little package. And, this delectable treat will obviously soothe you, calm your soul and make you happy any time of the day.
Something that you should remember with special interest is that if you do not like to add the seasoning sachet that you find with the noodles packet itself, that would be totally fine because you can make your own at home. You have your space to decide what should go in with your bowl of ramen, but make sure that it does not ruin the taste it is supposed to give.