Indian cuisine is one place that took our world of culinary to a whole new level. In fact, a person who tasted Indian food once will not resist tasting them over and over again. Most Indian food gets its distinctiveness solely from the spices they use, which are authentic to their land. True to the words, the complex spiciness and the ambrosial essence that is emphasized through those spices are truly unparalleled to any other savory dish in the world.
Most traditional Indian recipes include their top and best spices like: 
Cardamom
Coriander
Black pepper
Turmeric
Cumin
Ginger
Indian red chili
Garlic
Cassia bark
Fenugreek
Each of these spices contains its own specific flavors and aromas, adding perfect color, texture, and fragrance to foods. So, here we hope to present you with the top ten spices in India. Scroll down to learn what Indians use as their charming ingredient to flavor their dishes and see if you could use them in any of your recipes too.
Top 10 Indian Spices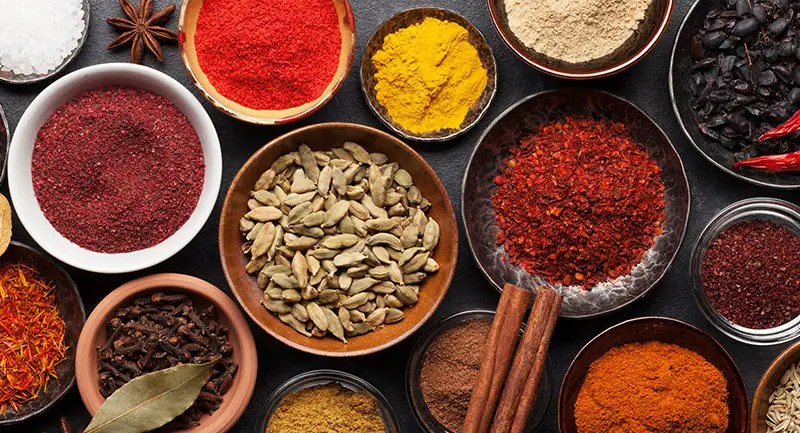 When it comes to spices in terms of India, one single article is certainly not sufficient to cover the entire subject matter. Actually speaking, India is one country around the world that utilizes most seasonings and flavorings for their dishes. Thus, we thought of sharing the ten most essential spices they use to add unique tastes and aromas to their recipes.
01 – Cardamoms (Elaichi)
Known by the eke-name "queen of spices," cardamoms are a true queen by their unequaled flavor and aroma true to the terms. The most common variety of cardamoms used in Indian cooking is Green Cardamoms, or "Chhoti Elaichi". Tamil Nadu of South India is the haven for cardamoms, and they are deemed the best in the world. This area is also known as the Cardamom City, which makes a profit to India in millions of dollars each year. This little pod of spice is very powerful in aroma and tastes great when added to various dishes. In fact, cardamom has the ability to modify the smell and taste of an entire dish.

Indians use cardamoms in most of their specialty curry powders, curry pastes, and curries themselves. The whole pod is either slightly roasted and crushed or the seeds from its green peel are extracted and ground to be added into the food. Also, there is another type of cardamom known as Black Cardamoms (Badi Elaichi/ Kali Elaichi). Black cardamoms are a part of India's popular spice blend, the Tikka Masala Powder. This spice is also used in many Indian signature recipes and has an intense aroma with citrus and mint-like flavor. However, black cardamoms have a robust smoky taste when compared with green ones and are rarely added to the sweets. 
Apart from the great essence it adds to the food, cardamoms also have a few significant health properties. They are plentiful in Vitamin C, Vitamin A, Thiamine, and Calcium. And own attributes in alleviating urinary tract diseases and enhancing blood circulation. Here are some popular dishes in India that contain cardamom:
Cardamom Chicken (Masala Murgh)
Chana Masala
Cardamom and Coconut Pulao
Tofu Tikka Masala with Sauteed Onions
Cardamom Lamb Curry
02 – Black Pepper ( Kali Mirch)
After the queen of spices, here we introduce you to the "king of spices", black pepper. Malabar was the primary home for black pepper, and the most excellent Indian pepper proceeds to arise from this region. Since the good olden days, dried, powdered, and roasted peppercorns have been employed both for seasoning and as customary medicine in India. Black pepper has a woody, warm fragrance that is carminative and strong.

However, Indians combine this into their dishes coarsely crushed, like whole peppercorns or powdered. This spice actually goes well with every savory dish that adds the most flavor to a diversity of spices. Indians use black pepper with most marinades and curries, as a seasoning agent with salt, chutneys, and sauces. Moreover, this has some health benefits too. Black pepper is appreciated for its anti-cancer qualities, anti-inflammatory effects, and the possibility to reduce cholesterol and ease the common cold and upset stomach. The dishes that we mention down below are some famous recipes prepared using black pepper:
Indian Black Pepper Chicken Curry (Murgh Kali Mirch)
Black Pepper Beef Gravy
Moong Dal Khichdi
Sambar
Dum Aloo Gravy
03 – Turmeric (Haldi)
The connection of the Indians with turmeric is not something that started recently. It comes from very ancient days, and that bond is literally beyond our imagination. In North India, turmeric is identified as "Haldi," usually known as "Manjal "in the South. Essentially there are two types of turmeric used in India. The conventional turmeric we all know is primarily and extensively used as a taste and a color enhancer in cooking. The other type, "Kasturi Manjal/Haldi ", is generally used as an Ayurvedic, herbal, or beauty ingredient.

Indians mostly use this spice in its powdered form, as a paste or raw rhizomes cut or sliced. Moreover, they use turmeric in many of their religious and cultural events. Turmeric adds that perfect yellowish tone to the foods and has a lovely earthy fragrance. Most of the time, they add it in with vegetables and lentils to provide those dishes with a rich golden tint and taste. And, they also make turmeric-infused milk which they identify as "Golden Milk". However, Kasturi Haldi/Manjal is not incorporated in food as it is excessively bitter in flavor than ordinary turmeric.
The uncountable number of medicinal properties of this spice is another reason why Indians have made it a staple in their homes. In Ayurvedic usages, turmeric is believed to have many medicinal properties, including stimulating the body's overall energy, reducing gas, dissipating worms, and promoting digestion. Here are five famous Indian foods that contain turmeric as a key ingredient:
Mint and Turmeric Chutney
Turmeric Kulfi
Detox Haldi Tea
Hot Yellow Curry With Vegetables
Cashew and Peas Curry
Not only in Indian cuisine, but turmeric is also another key spice in Thai cuisine too. We have a feature here on Thai spices if you need to excavate more into it.
04 – Cumin (Jeera)
Cumin is one of the most regularly used spices in Indian cuisine and is known as a tempering spice. It pairs well with mustard seeds, particularly in vegetarian dishes. Generally, this is included in food after the seeds are being sauteed in oil to release its fragrance to seep the oil. Most Indians use powdered cumin in masala mixes and marinades. Cumin supplements a hearty nature and richness to curries, soups, and lentils. 
Some Indians also include a dash of ground cumin in plain yogurt to enhance the flavor and for nutritional purposes. Furthermore, this tiny seed is used for its excellent medicinal properties, like its ability to help weight loss, lower cholesterol, and fight bacteria and parasites. Check out these traditional Indian recipes made using cumin:
Jeera Aloo (Indian Cumin Potatoes)
Cumin Chicken Curry
Jeera Rice
Cumin Dal
Chole Bhature
05 – Coriander (Dhania)
Coriander is another staple that you can find in any Indian kitchen. Since ancient times in India, mild, sweet-smelling, and flavorsome coriander seeds have been used in cooking and medical customs. Coriander seeds are obtained from the cilantro plant. And cilantro leaves are used in most garnishes and their Biryani recipes. Moreover, they are used in traditional spice blends like Tikka Masala, Biryani Masala, and Garam Masala. 

Indians use this spice as whole-roasted or ground. Curries, rice dishes, and meats taste superior when coriander is included. In addition to its unique flavor and aroma, coriander has some great health benefits too. It can fight infections, promotes gut health and digestion, and is abundant in immunity-boosting antioxidants. Just check if you have come across any of these coriander-infused dishes from India:
Tomato Rasam
Paneer Masala
Dhania Chicken Curry
Cilantro Chutney
Coriander Rice
Tikka Masala is a flavorful blend of spices added in chicken, paneer, etc. So, if you need to learn more about this masala powder, details are just one click from here.
06 – Cassia Bark (Dalchini)
Cassia bark, with its subtly sweet flavor, is comparable to cinnamon sticks. It supplements robust flavors to meat and curries. And it is necessary for making spice mixtures like Garam Masala and Tikka Masala. However, cassia bark is different from Ceylon Cinnamon and is much more pungent in taste. This spice represents a significant role in Indian cuisine used primarily crushed into small pieces or ground into a fine powder. Cassia bark is also utilized in Indian cooking to give a hint of warmth to tea and hot chocolate.
Moreover, cassia bark is also a spice known for its medicinal properties. It is beneficial for lowering blood sugar, serves as an excellent mosquito repellent, and is effective for nausea and vomiting. So, here are a few authentic Indian dishes that use this spice as an ingredient:
Indian Chai Tea
Chicken Tikka Masala
Indian Vegetable Stew
Potato Cauliflower and Green Bean Curry
Mutton Biryani 
07 – Indian Red Chili (Lal Mirch)
This spice is another remarkable seasoning that takes Indian dishes across the world. The part of red chilies in Indian cuisine is to give an exceptional savory, flavorful, and hot detail to the processed meal. However, not all Indian red chilies are very spicy, and some are mild in terms of fieriness. Red chilies, essentially when ground, also contribute a lovely red color to a dish, making it seem visually appealing. There are different types of red chili used in India as follows:
Bhut Jolokia (Ghost Pepper)
Kashmiri Red Chili
Guntur Sannam
Jwala Chili
Byadagi Chili
Ramnad Gundu
Warangal Chappatta (Tomato Red Chili)

Among these varieties of chili, Bhut Jolokia or Ghost Pepper is among the spiciest types. Indians widely use this type and also Kashmiri Red Chili, which is mild in flavor but has a deep red hue. However, chili can be added in food as dried-whole, crushed, powdered, or as pastes. See if you have ever come across any of these hot and spicy Indian savories:
Indian Red Chili Pickle
Tomato and Red Chili Curry
Rajma Masala
Indian Spiced Lamb Chili
Goan Fish Curry
08 – Garlic (Lasan)
When it comes to traditional and authentic Indian savory dishes, you will undoubtedly taste a hint of garlic in them. In fact, this spice has won a special place in the Indian kitchen as one of their key cooking ingredients. It has a very different spicy, sharp flavor, which is very intense and pretty harsh when eaten raw. However, the strong flavor of garlic settles when it is mixed with other ingredients. 
Indians usually pair it well with ginger and onions. Most of the time, they saute garlic by grinding it to paste with ginger. This way, they transform most of their dishes into incredibly palatable ones which are uncomparable in the aroma. In addition to making pastes out of garlic, they also include it in foods by slicing, mincing, chopping, or crushing the raw pods. Garlic is also perceived to have cardiovascular advantages and has also been proven to prevent heart disease. Here are five traditional Indian dishes made using garlic:
Garlic Kuzhambu
Garlic Chili Chicken
Red Chili Garlic Chutney
Garlic Curry
Chettinad Poondu (Garlic Onion Curry)
09 – Ginger (Adrek)
Indian cuisine is literally incomplete without ginger. It has a distinctive aroma and a spicy taste. Ginger is employed in nearly all pulses, non-vegetarian and vegetarian recipes of classical Indian cuisine. It is widely used in some of the famous Indian chutneys, both sweet and tangy ones. In addition, this spice could be used as a pickle that is savored with rotis, parathas, and naans.
Making ginger tea or Masala Chai is also another habit of the Indian community. Apart from its great flavor and aroma, ginger treats nausea and morning sickness, chronic indigestion and promotes weight loss. Some Indian dishes that have ginger in them are as follows:
Indian ginger Potatoes
Spicy Ginger Chicken
Coconut Chutney
Ginger Tea
Kadai Paneer
Garlic and ginger are another two staples used by vegans in their cooking. If you would like to be enlightened with more details about spices for vegan cooking, click here.
10 – Fenugreek (Methi)
This is another essential spice used by most Indian home cooks and chefs. Fenugreek is a tiny yellow and hard seed that is very astringent and bitter in taste. Generally, Indians grind or dry roast them to get more fragrance and flavor. However, it can be extremely bitter when consumed raw. But, when mixed and cooked with other aromatic spices like coriander and cumin, it changes and provides saucy dishes with sweetness and a deep, unique flavor.
The classic Garam Masala recipe of the South Indians has fenugreek in it to counterbalance the spices used in that mixture. Fenugreek seeds combine well when sauteed with curry leaves, coconut oil, and pandan leaves. And they also include fenugreek leaves in specific recipes. However, besides the unique flavor intensification, it gives to the food, fenugreek has vital medicinal properties like all other spices on our list. It is well-known for reducing blood sugar levels and regulating cholesterol levels. Check out these Indian fenugreek recipes to see if you have tried any of them:
Aloo Methi
Indian Methi Chicken
Fenugreek Seed Curry
Methi Gobi
Fenugreek Paratha
Use Of Spices In India
India is admittedly a land of luscious platters of food, and spices are a key ingredient to give them the most of their flavors. India is a prominent raiser of an abundance of spices. And, from 80 varieties of spices grown in the world, around 50 kinds are farmed here. In fact, over these 50 kinds of spices used in this land have been a vital element in both home kitchens and industrial cuisines. These spices possess a great history in India which had a substantial commercial value back then.
Indian spices have been notified to manifest an extensive range of biological and medicinal attributes that offer helpful health-supporting consequences for many chronic conditions. Moreover, they play significant roles in industries such as cosmetics and Ayurvedic.

Some spices like turmeric are involved in their cultural and religious rituals too. Spices like cardamom and turmeric are native to India, which actually do wonders with most of their dishes. A number of their curries, curry pastes, chutneys, and even sweets and tea (Masala Chai) include most spices. It is a country that enjoys rice, roti, and dosa as most of its main meals. And hence, the spices play an important part in flavoring the complimentary dishes they make to eat with these foods.
If you are curious about discovering more information about South Indian Spices, we are having a detailed article here.
What Is The Most Popular Indian Spice?
According to the data we collected, we see that turmeric is used as the most commonly used spice in Indian cuisine. Besides incorporating turmeric in food, Indians use it in most of their day-to-day life tasks too. This spice is a crucial element in most of their households, cultural and religious ceremonies. 
In addition, India produces approximately all of the world's turmeric growth and uses 80% of it. And, with its intrinsic properties and high content of the essential bioactive composite curcumin, Indian turmeric is supposed to be the best in the world. Therefore, turmeric can be considered the most popular Indian spice. 
The Bottom Line
As you read throughout this article, spices are a fundamental part of cooking in India. The spices mentioned on top are the ones they use with most of their traditional and indigenous recipes. However, except for the basic spices listed above, there are many other spices they use. This is another reason why India has got its name as "land of spices". So, include these flavorings in your food and experience how irresistible your food can taste!