Although sambar powder is familiar to India, it sometimes takes work to get from the Western market. In that case, some of the easily accessible sambar powder substitutes can help you out with the same effect.
The best possible alternatives that could be used instead of sambar powder are as follows:
We are ready to share everything about these replacements and how they'd help you when sambar powder is not around. Keep reading!
The 7 Best Sambar Powder Substitutes
Warm, fragrant, and flavorful sambar is a staple in Indian cuisine. It is primarily used as the base flavoring of sambar curry, one of their most popular vegetable curries. This blend is a combination of several lentils, spices, and herbs, such as:
Chana dal
Urad dal
Toor dal
Coriander
Fenugreek seeds
Black peppercorns
Cumin
Red chiles
Mustard seeds
Turmeric powder
Curry leaves
Coconut
Asafoetida
However, you may sometimes have a hard time finding it in the Western market, even though this is one of the main cooking ingredients in India. But luckily, a few substitutes can be used in place of this spice blend. So, let's share them all with you; check them out to pick the best possible option for you.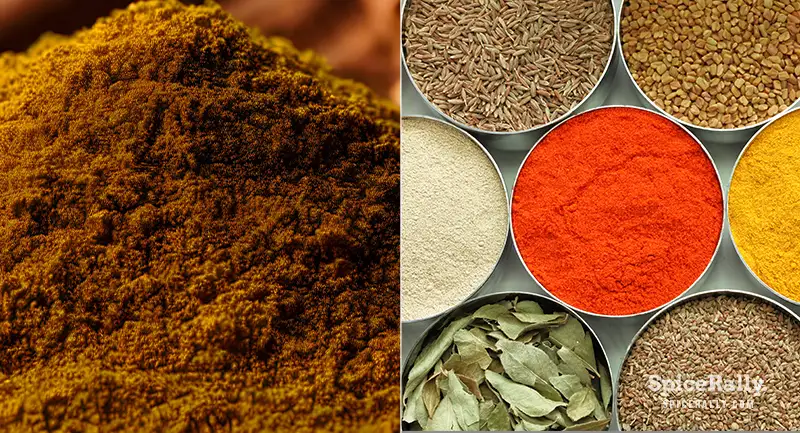 01- Homemade Sambar Powder
As you see, the ingredients used to make this blend are not difficult to find, especially if you visit an Asian grocery store. Making your own sambar powder comes in a bundle of many benefits you don't usually get from any store-bought option. 
Hence, collect the things you can get hold of and put together your own batch of sambar powder at home! This way, you can replace the exact flavor, color, and texture of the ordinary pre-packed spice powder you bring home and can use it with anything that calls for the original product. 
We are glad to announce that we've shared a complete guide to making sambar powder at home in this article. You can check it out and follow our step-by-step instructions to come up with your DIY spice blend!
02- Curry Powder
Ubiquitous curry powder is familiar to both Western and Asian cuisines. However, the recipe for curry powder is different when it comes to Western cuisine and Indian cuisine. But still, both curry powder recipes share some similar ingredients, such as:
Cumin
Coriander
Turmeric
Dry mustard
Black pepper
Fenugreek
Red chile powder
Indian or Madras curry powder can be very similar in flavor and intensity to our topic leader and more powerful than the regular curry powder we use in the West. So, it would be best if you could substitute the Indian curry powder in order to get the closest flavor approximation. 
Nevertheless, you'll not usually find lentils in this option; thus, you might find it less rich in texture than sambar powder. But still, Indian or Western curry powder options are good to go with any dish that initially calls for the original blend. Use in a 1:1 ratio or start with a small quantity and adjust according to your taste.
Click on this link and refer to our detailed article to learn the exact way as to how and why curry powder differs from sambar powder.
03- Thai Curry Powder
This is another great substitute for sambar powder in terms of flavor, aroma, and color. Once again, this curry powder also doesn't typically contain lentils. But still, it has a lot of similar elements, such as:
Red chiles
Coriander
Cumin
Turmeric
Bay leaves for curry leaves
However, sometimes Thai curry powder can be spicier than sambar powder due to the inclusion of additional ingredients like nutmeg, ground ginger, cloves, garlic powder, etc. 
Therefore, you must be mindful when using this alternative in mild vegetable or lentil dishes. However, this is good to go with soups, stews, flavoring broths, rich curries, or stir-fries. Begin with a moderate amount and increase the quantity as you go.
04- Rasam Powder
This is another spice blend coming from Indian cuisine. Rasam powder has very similar flavor and texture elements to sambar powder. This alternative contains ground lentils, unlike many other options listed in our post. Hence, this makes one of the best substitutes for sambar powder, and it also has other similar spices and herbs like:
Cumin
Black pepper
Curry leaves
Fenugreek
Red chiles
Asafoetida
Coriander
Turmeric
Rasam powder might also contain additional elements like garlic and salt. However, this alternative can be used as the ideal replacement for any dish that originally required sambar powder. 
Do not hesitate to swap in a 1:1 ratio since the flavor, texture, and consistency are pretty similar to our topic leader. Rasam powder is easily variable in the store, and you could even make it effortlessly at home.
Follow up on this link and read our helpful article to discover how exactly rasam powder differentiates from sambar powder.
05- Vindaloo Curry Powder
Vindaloo is another type of curry powder used widely in the Goan region of India. This option will not include the lentils. But will have a set of similar spices and herbs featured in sambar powder, such as:
Red chiles
Mustard powder
Cumin
Coriander
Black pepper
Curry leaves
Turmeric
In addition to these ingredients, this option might also contain star anise, cardamom, fennel seeds, etc. Therefore, you should keep in mind that vindaloo curry powder can be more intense and spicier than sambar powder. 
So, it would be best to include a little amount in your dishes when substituting and then build up the flavor according to your preference. Vindaloo curry powder is excellent to go with richly spiced vegetable stir-fries, lentil curries, and even with meat and seafood.
What ingredients make sambar powder so unique in taste and stand out from the rest of other Indian spice blends? Click here to learn more about this authentic Indian flavor booster!
06- Garam Masala
Garam Masala is obviously one of the most popular spice blends in the world and is also a great alternative for our topic leader. You'll be able to find all the spices and herbs (sans lentils) within the complex list of ingredients in this option. 
Garam Masala recipes usually differ depending on the household and region of India. But still, it can offer a very similar effect you would usually get from sambar powder. However, you should bear in mind that Garam masala can be spicier and more potent than sambar powder due to its rich content. 
Thus, we suggest you begin with a small amount, and they adjust the quantity as you go with the recipes. Above all, Garam Masala is widely available in the Western market under many brands.
Although Garam Masala works as a substitute for sambar powder, they possess some major differences in terms of ingredients, usage, and flavor. Click here and refer to our article to learn more!
07- Chaat Masala
This spice blend is another common masala used in street foods in India. If you have nothing else mentioned as sambar powder substitutes on our list, chaat masala can be a better choice to use in pinches. 
The reason is chaat masala possesses a characteristic savory and spicy hint with an edge of tart flavor notes due to the addition of dried mango powder. But it also includes similar ingredients such as:
Red chiles
Coriander
Black pepper
Asafoetida
The flavor profile of chaat masala largely depends on the ingredients used during production. Therefore, sometimes you might not find it very favorable with most lentil or vegetable-based dishes. 
However, it could be used in dishes that call for sambar powder as a secondary element. So, begin with a minimal amount and then build up the flavor by increasing the quantity of chaat masala or mixing it with other ingredients to get a closer taste approximation.
Did You Ever Know That These Options Can Make A Good Substitute For Sambar Powder?
It is crucial to know about the best possible replacements for flavorings, particularly when you make Indian foods. They habitually call for a lot of spices and flavors, so you might sometimes find it challenging to get around all the time. 
In consequence, effective, affordable, and easily accessible options like curry powder, rasam powder, vindaloo curry powder, etc., are some of the best flavor replications you can count on when you don't have sambar powder around. So, what is going to be your best pick? Let us know in the comment section down below!
Related Topics