Rose harissa- Aww! You literally smell it when you hear the words-isn't that so? If you ever get to try this super unique condiment, you must already know how distinctive it tastes. So, we wondered, why not give it a try to come up with our epic homemade rose harissa paste recipe!
On that note, check out the recipe for our ultimate rose harissa paste down below.
Homemade Rose Harissa Paste Recipe
Harissa is typically made with red chili peppers. And this homemade version revitalizes the ordinary harissa with a distinct floral fragrance and flavor.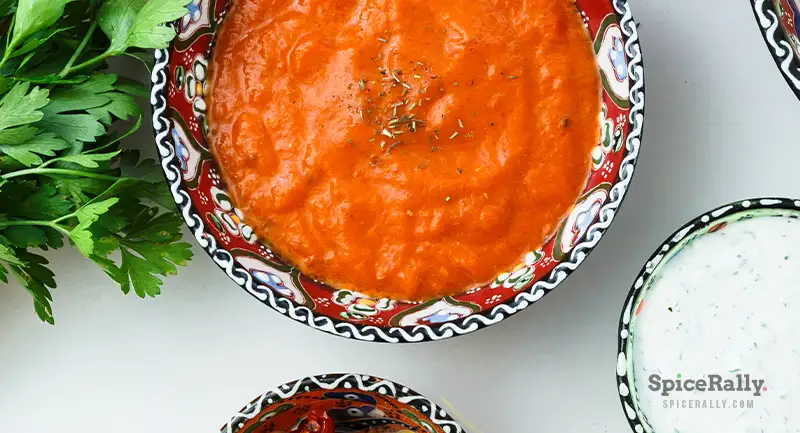 We have used a spicier red chili in our version, but you can even use milder red chili peppers too. So, let's make some rose harissa!
Preparation time- 40 minutes | Cook time- 10 minutes | Additional time- 10 minutes
No: of servings- 08 (Two tablespoons) | Total calories- 32
Dry Whole Spices Required
Half a teaspoon of caraway seeds
One and a half teaspoons of coriander seeds
3/4 teaspoon of cumin seeds
Red Chili Peppers And Other Required Spices
Two chopped serrano chilies (seeds removed)
Four dried chili de Arbol
Four cloves of garlic (peeled)
Two teaspoons of smoked paprika (hot or a mild version, choosing upon your taste preference)
Other Ingredients Needed
One teaspoon of dried rose petals
One teaspoon of rose water
Four teaspoons of olive oil (divided)
Two tablespoons of shallots (roughly chopped)
Half a teaspoon of kosher salt
Two tablespoons of tomato paste
A pinch of sugar
Two tablespoons of lemon juice
Have you ever tried homemade green harissa paste before? Whether your answer is yes or no, we will bring you a recipe to make your own batch of green harissa paste from here.
Step-by-step Guide For Preparation
To set the dry whole spice mix:
Add caraway seeds, cumin, and coriander seeds in a small pan.
Dry-toast these spices over medium-high heat for about 2-3 minutes or until fragrant. But do not let them burn or toast too much.
Transfer the spices to a mortar and pestle or spice grinder and grind them to a fine powder.
Set the spice mix aside.
To make the rose harissa paste:
First, heat a big skillet over high heat.
Then, add the Arbol chilies and garlic to the heated pan and roast them until fragrant and slightly blackened.
Turn off the flame, take out the garlic and keep them aside.
Next, put the roasted chilies in a heat-proof dish.
Put boiling water over the roasted Arbol chilies until they are covered.
Cover with a small plate and steep the chilies for about 30 minutes, allowing them to rehydrate and soften.
Strain the chilies after steeping them for 30 minutes using tongs and coarsely chop them.
Now, put the chopped Arbol chilies, serrano chilies, the dry spice mix, garlic, shallots, tomato paste, paprika, rose petals, sugar, salt, and pulse for about 30 seconds or until roughly chopped and combined.
Then, add rose water, two teaspoons of olive oil, lemon juice, and blend the mixture until very well combined.
Transfer the rose harissa mixture from the food processor bowl to a mixing bowl and mix the remaining olive oil and stir well.
Do the taste check and add salt, lemon juice, and some rose water if necessary.
Consume right away or store in an air-tight glass jar and keep in the refrigerator until use.
If you want to check out our spicy and flavorful classic harissa paste, click here, and we will take you to the recipe of the best homestyle harissa paste ever!
Tasty Notes From SpiceRally…
Our homemade rose harissa paste recipe will stay well in the refrigerator for a few weeks if you freeze them. To freeze them, you will have to put the harissa paste into an ice cube tray (a silicone ice cube tray is recommended). Then, top them with olive and let them freeze. After frozen, transfer the cubes into a freezer bag and enjoy!
Feel free to adjust the amount of salt and sugar as your taste preferences. But do not make it too sweet as it could overwhelm the overall flavor of this condiment.
You can use any type of hot or mild red chili pepper. The options can include Kashmiri red chili peppers, Fresno chilies, Guajillo chilies, etc.
When choosing rose water, be careful not to choose "rose essence". Check the label well before buying, and it should clearly say "rose water".
If you have a thing for trying different dips, we are sure you would also love Chipotle tomatillo green chili salsa. So, how about making your own at home? Click on this link and refer to this article; we are ready to assist you with a simple homemade recipe!
Related Topics