This episode comes as a piece of good news for all the gyro meat lovers out there! We will be sharing all you need to know about the gyro seasoning ingredients and looking into what makes it so special.
The gyro seasoning mix is a flavorful combination of aromatic herbs and spices. Although it is a highly customizable blend, some ingredients often appear in most recipes. They are: 
In addition to these spices and herbs, some seasoning recipes might also include rosemary, sage, anise, dill weed, etc. So, keep reading to learn how these elements add flavor to this blend.
Gyro Seasoning And Its Ingredients
Gyro seasoning is a versatile blend that comes together with several robust and warm ingredients. It is bold, spicy, savory, and adds tons of flavor to whatever type of meat calls for it.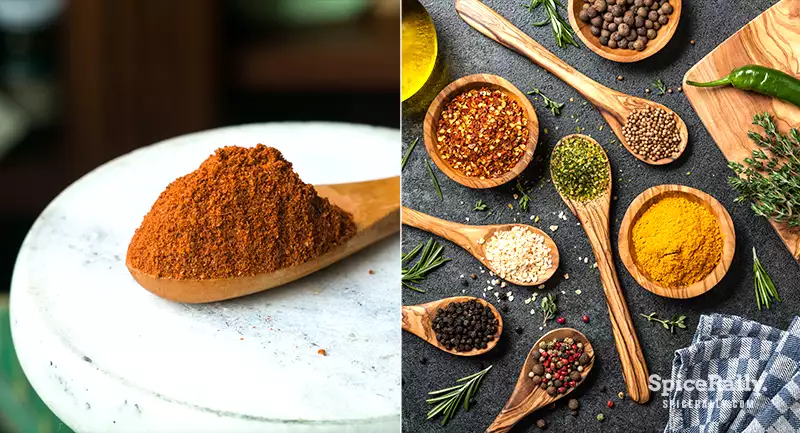 This mix was first created in Greece, but now it has reached Western cuisine. You can get this from the spice aisle of the supermarket or make your own batch at home. 
However, this is also not confined to a standard recipe like many seasoning blends. Yet, we hope to come up with some common spices and herbs that we savor in a majority of gyro seasonings.
01- Paprika
Regular, smoked, hot, and sweet paprika- any of these varieties would add a great depth of flavor to gyro seasoning. Consequently, the taste varies depending on the type of paprika used.
We often see this spice in many of the pre-packaged and homemade options of this blend. Besides adding flavor, paprika adds a vibrant hue to our topic leader. And this spice essentially teams up with the bulk of the ingredients used here.
02- Chili Powder
Chili powder can be either a single element made by pulverizing one type of red chili peppers or contain additional spices like garlic powder, ground cumin, onion powder, etc. Whatever the option used, chili powder still offers a serious zest to this blend with its hot, spicy, savory, and warm flavor notes.
03- Ground Coriander Seeds
The delicate, citrusy, floral, nutty, and earthy undertones of ground coriander seeds significantly complement the richness of the meat. Coriander seeds also stabilize the overall taste of this seasoning mix, while adding a great tang to our subject leader.
However, ground coriander seeds have a more intense flavor than when they are used in their whole form. In addition, this spice pairs well with other ingredients like cumin, thyme, and oregano.
What will you do if you suddenly find out that your batch of gyro seasoning is over? Worry not- we have brought the five best substitutes that will give a very close flavor. Click on this link for more information.
04- Garlic Powder
Garlic powder is another staple in the mix, featuring many gyro seasoning recipes. This spice has a distinctive aroma with pungent and robust flavor notes.
The powdery consistency penetrates deeper into the meat to give an overall garlicky flavor. Garlic powder has the capacity to pair well with most of the ingredients used in this mix.
05- Ground Cinnamon
Ground cinnamon has a more concentrated flavor than cinnamon sticks. Therefore, gyro seasoning gets a unique sweet, slightly peppery, and woody taste. 
The characteristic flavor of cinnamon can stand out alone in many instances. This spice gets along with other ingredients like cumin, coriander, paprika, etc.
06- Ground Cumin Seeds
Rich, bold, and hearty cumin seeds add a great taste to our topic leader when teamed up with coriander seeds and cinnamon. This spice remarkably upgrades the richness of the meat, when integrated with other spices and herbs.
Did you know that ground cumin is an essential ingredient in chorizo seasoning? Click on this link and refer to our detailed article to discover more information about this flavor-packed seasoning blend.
07- Oregano
Oregano has a bright flavor that balances between sweet and spicy. It has a great smell and, therefore, makes anything very appealing. Oregano often pairs well with the rest of the herbs used in this blend, along with cumin and coriander.
Part of why I love Greek food so much is that it is simple, but it's unpretentious. It's authentic

Princess Tatiana of Greece and Denmark.
08- Parsley
Dried parsley has a deep herbal flavor with a slightly bitter undertone. It gives a beautiful green color to this mix and works as a contrast to highlight the other flavors. Parsley essentially gets along with other herbs and spices like coriander and cumin.
09- Thyme
Dried thyme holds a strong flavor with almost minty, floral, and peppery-sweet hints. This herb adds uniqueness to gyro seasoning, making friends with oregano, parsley, cumin, and coriander. Collectively, it will complement the meat.
Montreal steak seasoning is another flavorful blend that comes together with many pungent ingredients. Click on this link and refer to our detailed post to learn everything you need to know about this seasoning.
What Are The Other Gyro Seasoning Ingredients?
Most commercially made gyro meat seasonings would contain other additives, apart from the herbs and spices that we have presented to you on top. And they are as follows:
Salt
Dextrose
Yeast extract
Roasted onions/ dehydrated onions
Rapeseed oil
Wheat starch
Sugar
Other preservatives and additives
Moreover, in some options, additional spices and herbs feature such as:
Dill weeds
Rosemary
Ginger
Marjoram
Anise
Chives
Lovage
Savory
Basil
Allspice
Tarragon
Bay leaves
Bell pepper
The Bottom Line…
Equally flavored with spices and herbs, gyro seasoning is a wonderful creation in the culinary world, made to give a delicious kick to gyro meat. In fact, paprika, garlic powder, ground coriander seeds, ground cinnamon, dried oregano, dried thyme, etc., complement meat like lamb, chicken, and beef to give you an authentic gyro meat experience.
Related Topics