This food is known to come from Greece, but did you know that Americans consume an incredible amount of gyros per year? You should know that since you, including us, are definitely a part of that gyros meat fan base! So, if you have a habit of trying restaurant-made food at home, this article will be your jackpot of the day because we will bring you the most phenomenal homemade gyro meat recipe made from scratch.
So, let's get going on that note!
Most of the flavor and texture of gyro meat come from the spices and herbs added when seasoning the meat. If you are inquisitive in learning more, click here for a detailed article.
Simple And Easy Homemade Gyro Meat Recipe
The homemade gyro meat recipe that we share with you today requires lamb and beef as we bring you a classic American-style gyro. And you will not need a vertical rotisserie. Instead, we will be using a loaf pan that will bake the meat.
Prep time- 15 minutes | Cook time- 1 hour | Additional time – 45 min | Servings – 8 | Calories per serving – 244
Spices And Herbs Required
One tablespoon of minced garlic
One teaspoon of ground cumin
One teaspoon of ground black pepper
One teaspoon of dried oregano
One teaspoon of dried thyme
One teaspoon of dried rosemary
One teaspoon of dried marjoram (optional)
Other Ingredients Needed
One pound of ground beef
One pound of ground lamb
One medium-sized onion (cut into chunks)
Two teaspoons of salt (or you can increase or decrease the amount upon your taste preference)
Other Special Equipments Needed
A 9×5- inch loaf pan
A meat thermometer (optional)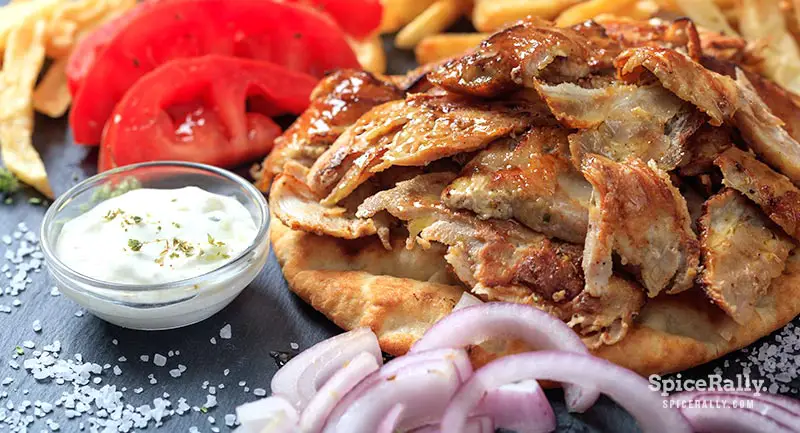 Step By Step Process
You can execute the first step by preheating your oven to 325 degrees Fahrenheit (that is 163 degrees Celsius)
Then, put the chunks of onions in a food processor and grind until very finely chopped or pureed. At this moment, you can also place the pureed onions in the middle of a thin kitchen towel, pick up the ends of the towel and press out the liquid from them over the sink. This step isn't really required, but it will help to squeeze out any unwanted juice.
Now, put the ground meat into a large mixing bowl and add all the spices and herbs along with minced garlic, pureed onions, and salt. Mix with a wooden spoon or with your hands.
Put the meat mixture in the food processor and pulse for about one to two minutes until all the ingredients are well combined.
Next, put the mixture in a loaf pan, compressing it as much as possible.
Bake for about 45 minutes to one hour. You have to bake the meat until it is no longer pink. You can also use a meat thermometer and take the loaf pan out of the oven when the meter records 165 degrees Fahrenheit (75 degrees Celsius)
Then, let the pan cool down to room temperature. Keep the pan juices for later use.
Transfer the meat from the pan onto a cutting board and slice it thinly or as preferred with the help of a sharp knife.
You can drizzle the pan juices over the thinly sliced gyro meat for some extra flavor and enjoy them with pita bread with toppings and sauce!
Did you know that gyro seasoning is a flavorful blend of spices and herbs? So, if you are interested in learning more information, click on this link and refer to our detailed article.
Tasty Notes From SpiceRally -


* You can be totally liberated when choosing the meat! If you do not like any one of these two types of meat, you can just go ahead and use only one. But then, you should take two pounds from the one you chose. And, if you don't want to use either one of them but need to use pork or chicken, still you can go with the meat you prefer.

* After the meat has been sliced, you can put them in a freezer bag and refrigerate them for future use for up to two to three months.

* When you need to reheat the meat slices, you can do it in a hot skillet with a little bit of heated oil.

* Feel free to adjust the amount of salt that goes in your recipe. You can also use a bit more black pepper if you desire more heat. A pinch of cayenne pepper will also bring a pleasant and added spiciness to your meat.

* Try to include all the spices and herbs that we have given on the list above, as they furnish an amazing flavor to your meat dish!
Related Topics