Actually pronounced as "yee-roh" meat, Gyro is a type of meatloaf that originally comes from Mediterranean cuisine. It is generally made with pork, beef, lamb, or chicken generously seasoned with several spices and herbs. In fact, the spices in gyro meat emphasize its taste, and this feature explains what they are and how they help this food with its distinctive savor.
Spices, herbs, and other flavorings of this dish actually require less sophistication. The traditional Greek recipe is pork-based, seasoned with spices like garlic, black pepper, and cumin accompanied by dried herbs such as oregano, rosemary, thyme, and occasionally marjoram. At the same time, American gyro meat is mostly lamb or beef-based, coming together with additional spices like cayenne pepper, paprika, and cinnamon (occasional).
This meat dish is simply amazing, and you might already have felt that. So, this article is going to be one of your most awaited features from SpiceRally, coming with a lot of information. Just keep reading!
What Spices Are In Gyro Meat?
This meat dish is a popular dish in Greece classically made with pork. Countries apart from Greece even make this dish with beef, lamb, or chicken with the recipe evolution.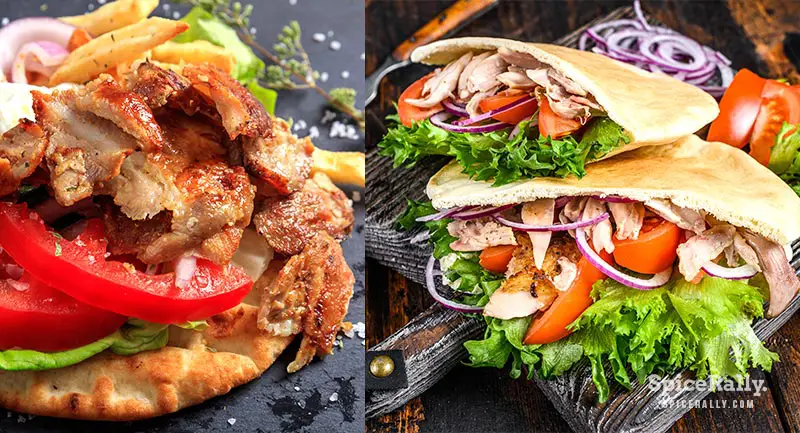 However, as mentioned above, the recipes made in US cuisine are a bit more seasoned with some additional spices like paprika, cayenne pepper, and sometimes cinnamon. Nevertheless, some staple spices and herbs have not been excluded from any of the recipes.
Hence, we will be mainly focusing on those spices and herbs. And we will be explaining how additional spices, too, would make friends with other gyro meat ingredients.
01- Garlic
Aromatic and intensely flavored garlic is a must-use in all gyro meat recipes. Many recipes use freshly minced garlic to get the most flavor. While some recipes also use garlic powder or sometimes both fresh and powdered garlic.
This spice is extremely pungent and sharp in flavor and aroma. Its exceptional taste complements other ingredients, like onions and meat, pairing well with all the spices and herbs used. Since garlic is used in the first few steps of processing, it gets the opportunity to disperse its flavor and aroma more profoundly into the meat mixture.
How would it feel if you got to make your own gyro meat at home? Well, if you are cool with it, here's the best and easiest gyro meat recipe that you can make at home.
02- Black Pepper
Just like garlic, black pepper is also one of the most predominant spices in gyro meat. This spice is often paired with salt with regard to the ubiquitous seasoning- salt and pepper. Almost all the recipes call for black pepper powder or freshly ground pepper, facilitating it to provide its taste throughout the dish.
The peppery, spicy, and earthy notes of black pepper complete the taste of meat and bond well with spices like garlic and the herbs used. This spice is also frequently added in the early steps, followed by salt.
03- Cumin
Ground cumin actually brings an extraordinary essence to the entire dish. We see this ingredient in the classic gyro recipe as well as in American recipes.
This spice is warm, nutty, and flavorful with a counterbalance of slight sweetness and bitterness. Ground cumin is more intense than whole cumin seeds, which makes lovely couples with onions, meat, and other spices and herbs used.
04- Cayenne Pepper
Cayenne pepper is actually not a part of the traditional meat recipe. But, we see this ingredient has been used in many recipes recently.
This spice is hot and fiery with a mild aroma. And, it adds an extra flavor and heat to this dish, coupling with black pepper and pungent spices like garlic.  Due to its robust spiciness, cayenne pepper usually goes in moderately- mostly in pinches.
On your way to learning about the spices used in gyro meat, wouldn't you like to stop by for a minute or two to read our article on the spices in meatloaf? We are happy to cater to you with the relevant information from here.
05- Paprika
Paprika is also an optional spice that is not a staple in the original recipe but is still used for flavor and color. However, depending on the type of paprika you use, the overall taste of the dish can change by getting spicy, mildly flavored, or smoky.
This spice also has the capability to pair well with other ingredients, especially with meat. It pleasingly complements the flavor of cayenne pepper and the herbs used like oregano and thyme.
06- Cinnamon
Just like cayenne pepper, cinnamon is also used in pinches. Ground or powdered cinnamon is a versatile spice that can give a hint of sweetness and woody and slightly spicy notes. Thanks to these flavor elements, this spice can pair well with spices like cumin and contributes an extra flavor to this dish.
Herbs Used In Gyro Meat
Herbs are as much as vital as the spices used in this dish. Most recipes employ dried herbs, while some use fresh ones. 
01- Oregano
Most home cooks and chefs use dried oregano in their gyro recipes. The reason is that dried oregano blends well with other dry flavorings like ground cumin, black pepper, and salt.
This herb is bold, fragrant, and full of flavor with a subtle bitterness and earthy notes. These elements complement the taste of the meat in this particular dish while pairing with other herbs.
I love, love, love street-cart food. Gyros are like a meat-flavored fruit roll-up. A meat roll-up.

Kumail Nanjiani
02- Thyme
Dried thyme is another herb that is usually employed along with dried oregano. And, it is another ingredient that adds a herbal tone to this dish.
Dried thyme has a nuanced flavor profile with floral and mint notes, which is also slightly peppery, earthy, and sweet. Therefore, it becomes a good candidate that helps with completing the overall taste of the dish. Thyme literally works well with all the other ingredients used in gyro meat.
Nothing feels better when you can make your own seasoning blends at home. So, click on this link to get the best gyro seasoning recipe that can be easily made at home.
03- Rosemary
This herb is another member of herbs used in the traditional gyro recipe. In many recipes, it is used in its dried form, while in some, they call for freshly minced rosemary.
Its flavor profile is very, very intricate with hints of many other flavorings, which is also woodsy and exceptionally aromatic. The flavor and fragrance within this herb complement the meat without overpowering the overall taste of the dish. And, rosemary actually makes good friends with thyme, oregano, and especially with garlic used.
What Is Gyro Meat Made Of- Other Gyro Meat Ingredients
As we said earlier in this post, the classic Greek gyro is essentially a huge load of seasoned pork cooked in a vertical rotisserie. In Mediterranean cuisine, this food is often served with pita bread and a special condiment called Tzatziki sauce.
However, when this dish reached Western cuisine and other parts of the world, it evolved and was even made with beef, lamb, and chicken. Accordingly, here's a list of other gyro meat ingredients, apart from the spices and herbs that we can see in traditional and other progressive recipes.
Meat (pork, beef, lamb, chicken)
Onion
Salt
Bread crumbs (occasionally used)
Hello meat lovers! If you are reading this article right now, we bet you don't want to miss our detailed feature on the spices used in corned beef. All you have to do is to click here.
Did You Even Expect To Have So Much Flavor In One Single Meatloaf!
The real secret for a flavorful meat dish is certainly the usage of proper seasonings. Likewise, spices in gyro meat play a significant role in flavoring and aromatizing this delicious dish.
The combination of black pepper, garlic, cumin, and other spices with herbs gives an unprecedented savor to this food, making it so appealing to enjoy any time of the day.
Related Topics