Cumin is a spice companion that always gives you something more than just adding its flavor to a traditional curry. So let's see some impressive ways to use cumin in your cooking and home.
Whole cumin seeds and ground cumin can be helpful to you in ways such as:
So, read along to learn how a pinch of cumin would twist and turn the taste of your dishes, how it could help you get glowing skin, and support improving health!
09 Best Ways To Use Cumin
The delicate yet powerful taste of little cumin seeds always has the potential to boost the flavor of our foods in a unique way. It often pairs with other spices and herbs like cardamom, cinnamon, coriander, nutmeg, mustard, oregano, thyme, etc.
The Asian (especially Indian and Sri Lankan) households are literally obsessed with this spice, so they try to incorporate it into most of their traditional and basic dishes. They often use dry-roasted cumin seeds, sautee them in hot oil or integrate it with their spice or seasoning blends.
So, let's look at some of the great ways you can use cumin seeds or powder to spice up the recipes you love!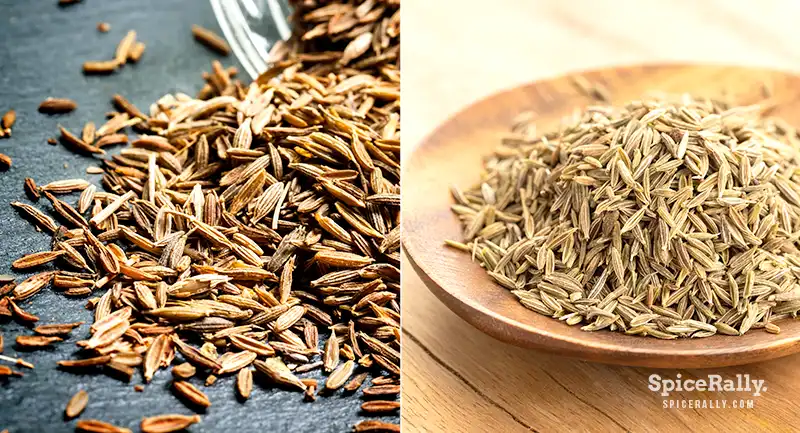 01- When Making Rice, Noodles, Or Pasta Dishes
If you are familiar with regular fried rice or seafood rice, Cumin Rice (Jeera Rice, as Indians call it) is a perfect meal to try if you need a change. This spice also ramps up pasta, spaghetti, or noodle dishes giving them a hint of earthy, nutty, warm flavor.
Cumin rice is perfect for vegans/vegetarians and has a healing property that particularly aids digestion. You can follow up with other ingredients like garlic, turmeric, ginger, tomatoes, meat, seafood, etc. when using cumin to make pasta or noodle dishes. Here are some ideas:
Creamy Garlic Cumin Pasta
Southwestern Spaghetti
Cumin Spaghetti Bolognese
Pasta with Tomato, Yogurt, and Cumin-Spiced Butter
Cumin Lamb Noodles
Mighty cumin dates back to about 5000 years and has way more importance than just a culinary spice. So, if you are interested in discovering more exciting facts about this spice, click on this link and read our detailed post.
02- To  Be Incorporated Into Dips, Salads, And Salad Dressings
Did you ever think a pinch of cumin could take your basic dips and salads to a new level? Well, it's true- just add a dash of ground cumin to your classic hummus, guacamole, or other cream-based dips made from mayonnaise, sour cream, cream cheese, etc.
Moreover, you can also make delectable, fresh, or cooked salads using toasted cumin seeds. Let us bring you a few examples:
Carrot and Cumin Salad
Masala Lentil Salad with Cumin Roasted Carrots
Cumin Paneer Salad
Cumin-infused vinaigrettes and salad dressings are also the perfect complements for those who love a depth of flavor in their salads. You can follow up with fresh cilantro, garlic, lemon juice, apple cider vinegar, or balsamic vinegar to make a more flavorful dressing or a vinaigrette.
Cumin and cayenne pepper must be two ingredients that you often incorporate into your favorite dishes. But did you know that they are way different from one another? To learn about their differences in detail, click on this link and refer to our comprehensive article.
03- To Make Different Types Of Beverages
Cumin is a powerhouse of nutrition that aids in a number of health conditions. And its medicinal quality is known to support weight loss and healthy digestion. Therefore, this spice has been a popular folk medicine, especially in Mediterranean and South Asian households.
The popular CCF drink, which means, Cumin-Coriander-Fennel drink, is one of the most commonly made teas to relieve urinary, gastrointestinal, and digestive-related conditions.
 In addition, toasted ground cumin seeds and whole cumin seeds are boiled with water and are taken as a herbal concoction with pure bee's honey to boost the metabolism and improve weight loss.
Moreover, you can also buy commercially made cumin tea infusions that combine with ingredients like Oolong, Turmeric, or black tea. Apart from herbal teas, this spice also spices up fancy drinks like Margaritas, Sodas, and Iced Tea to give you a distinctive refreshment.
04-To Flavor Vegetables And Lentil Dishes
Indians just love spoonfuls of cumin seeds to pop in hot oil when making their signature lentil dishes! Potatoes, tomatoes, butternut squash, eggplant, chickpeas, red dhal, and other root vegetables and ingredients match perfectly with this spice's flavor.
Check out these popular vegetable/lentil dishes made with cumin:
Jeera Aloo (Cumin potatoes)
Cumin-Infused Vegetables and Chickpeas over Quinoa
Simple Spiced Lentils
Cumin-Scented Lentils With Sausage and Dandelion Greens
Cumin-Spiced Roasted Butternut Squash
He dusted the dough with cumin and coriander and salt before he slid the loaves into the oven on flat wooden boards. Perhaps most important

Alice Hoffman
05- It Can Be Mixed Into Ground Meat Or Seafood Mixtures
Ground cumin adds a profundity of flavor to ground meat or seafood mixtures. It is an excellent flavor booster when preparing your mixtures for sausages, burgers, meatballs, fishcake, shrimp cake, crab cake, etc. To enhance the taste, you can use complementary spices like coriander, cinnamon, garlic, and ginger.
06- To Spice Up Soups, Broths, And Stews
The versatile flavor profile of our topic leader complements simple and richly-flavored soups, broths, and stews. It goes really well with coconut-milk-based liquid dishes. Depending on your preference, you can use whole cumin seeds or ground cumin. Here are some examples from global cuisine:
Carrot Cumin Soup
Cumin Chicken Soup
Creamy Cauliflower Soup with Turmeric and Cumin
Silky Pork and Cumin Stew
Coriander-Cumin Beef Stew with Lime
Did you know that chili powder is also a flavorful addition to soups, broths, and stews? You can find more ways to use this delicious blend- just click on this link and visit our article!
07- When Making Desserts, Candies, And Baked Goods
Cumin is not widely used in baking as cinnamon, nutmeg, ground ginger, or allspice. But it is still good enough to add great flavor to many sweets, desserts, and baked goods. Indians and Sri Lankans commonly use this spice in their traditional sweets like:
Jeera Biscuits (Cumin biscuits)
Kevum (Sri Lankan oil cakes)
Welithalapa (A Sri Lankan sweet made with treacle and rice flour)
Aluva (Another Sri Lankan sweetmeat made with treacle, rice flour, and cashews)
In addition, it is also incorporated into bread puddings, certain buns, bread, and spiced cakes. Cumin candies are small, colorful treats that leave a refreshing, lingering sensation in the mouth. This sweet is popular among Indian and Sri Lankan kids!
08- To Be Integrated Into Sandwich And Wraps
Asians like Indians and Sri Lankans habitually use a lot of spices in their food. Therefore, they often tend to saute whole cumin seeds with complementary ingredients whenever they make finger food or street food stuffings.
Likewise, you could also try a pinch of ground cumin when you make sandwiches or wrap fillings with chicken, beef, salmon, potatoes, etc. Use other flavorings like garlic, onion, ginger, cinnamon, cloves, and turmeric to back up the taste of cumin.
09- Used In Diy Face Packs And Exfoliators
This is obviously one of the least known uses of cumin. But, surprisingly enough, cumin powder or ground cumin can do wonders to your skin, especially when combined with other effective ingredients like honey and turmeric. 
In fact, cumin is one of the special ingredients used mainly in the beauty regime of the Indians. They use this spice to make face packs and exfoliates. They believe that its anti-inflammatory and anti-bacterial properties, along with its antioxidants, help them get healthy, bright glowing skin.
Aren't These Tiny Brown Seeds Doing An Amazing Job In Your Home?
Cumin is beneficial to us as whole seeds and in its ground form. Its flavor intensifies when dry-roasted or put into a hot liquid. However, this spice can complement a wide variety of savory and sweet dishes, including meat, fish, vegetables, rice, and salads. It can also be enjoyed with several healthy beverages and incorporated into homemade face care products. 
Related Topics