Cardamom is probably a spice we may find in many homes as a major household spice. Interestingly, different forms of this spice are added to the dishes differently. So, let's check out some of the amazing uses of cardamom in cooking.
Although there are three different variations of cardamom, we will focus on Green Cardamom in this article. Hence, this spice can be essentially useful in cooking in the following ways:
Let's dig in and see what we have to share about this amazing spice!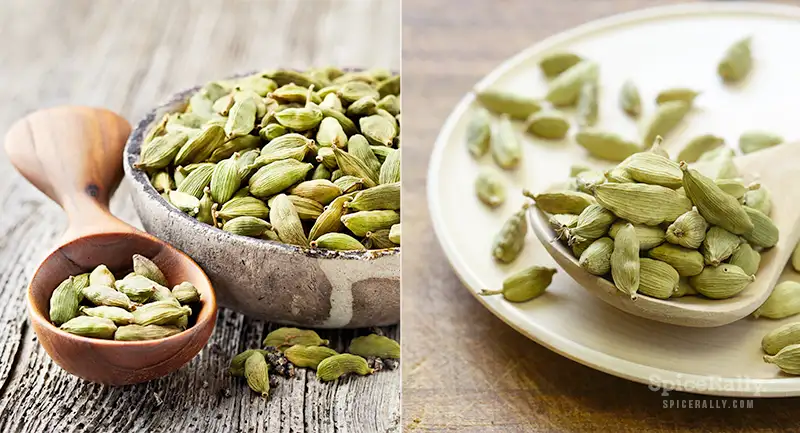 7 Excellent Uses of Cardamom In Cooking
Often known as the queen of spices, green cardamom boasts great flavor and aroma. 
There are a few main forms of cardamom used in cooking such as crushed (raw or dry-roasted pod), extracted seeds, and ground. The form we incorporate this spice in cooking varies depending on the cooking method or the dish we make. 
Let's look at the uses of cardamom, in which form, and why we use it in our daily cooking.
1- Adds Depth To Spice Blends And Seasoning Mixtures
Why is it used?
Green cardamom is a mandatory spice in most authentic spice blends and seasonings from Indian, Middle Eastern, Sri Lankan, North African, and Scandinavian cuisines.
Using this spice gives you a unique, cooling, yet spicy robustness to your blends that could instantly upgrade your dishes.
Cardamom is mostly paired with warm spices like cumin, coriander, cinnamon, black pepper, cloves, etc. Therefore, it could complement the flavor profiles of each of these spices.
In which form and how is it used?
Spice blends and seasoning mixtures are provided with the best taste and flavor of cardamom when it is dry-roasted in a pan and then ground into a powder. Some blends included just the ground seeds while most mixtures contain the whole ground pod.
However, the amounts used often depend on the recipe and batch quantity of each spice mixture or seasoning blend. But still, you may also adjust the amount you use cardamom depending on your preference.
The flavorful outcome!
This spice could result in very powerful and robust spice blends and mixtures. Sometimes it could even intensify their exotic quality by enhancing the richness of particular combinations.
Pro Tip:
If you're making any spice mixture or seasoning blend that requires cardamom, it would be best if you use freshly dry-roasted and ground spice rather than pre-ground cardamom. This way, your spice blend will have more flavor, quality, and shelf life.
2- Spices Up Beverages
Why is it used?
Our topic leader is one of the most renowned compulsory additions used to spice up various cocktails, mocktails, tea, juices, etc. 
It is a non-negotiable ingredient in ethnic recipes like Indian Masala Chai and other healthy beverages. Out of the many reasons, it is mainly because cardamom can enhance the metabolic activity in the body when mixed with other spices and tea.
In which form and how is it used?
If someone is using whole spices in drinks like Masala chai, mulled wine, martinis, mocktails, or cocktails, whole cardamom pods are slightly crushed and added to the brews or liquids. Indians popularly use the mortar and pestle to do this job.
However, there are instances where ground cardamom is used in drinks to get a more concentrated flavor.
Most of the time, this spice is often teamed up with other spices like cinnamon, turmeric, cloves, etc.
One or two pods may make a huge difference in the flavor and aroma of the beverages. But still, the quantity used depends on the recipe or personal choice.
The flavorful output!
One of the main uses of Cardamom in cooking is that it makes a lovely combination with other ingredients to enhance the taste of the beverages, resulting in a spicy-sweet base flavor. This effect gives an exotic touch to the drinks, making them more appealing and better in terms of nutrition.
3- Elevates Curries, Gravies, Soups And Stews
Why is it used?
Most commonly traditional curries, gravies, soups, and stews are based on a spicy, savory flavor profile. Thus, cardamom helps back up other ingredients with its distinctive characteristics.
In which form and how is it used?
You may use whole, crushed cardamom pods or ground cardamom depending on your choice or what each recipe calls. If whole pods are used, they are discarded at the end of the cooking process or left behind as desired.
Regarding soups and stews, this spice goes better with coconut milk-based recipes.
Cardamom can easily overpower the base note of these types of dishes. Therefore, it is used with moderation especially when used as whole pods.
The flavorful output!
This spice packs a punch without being physically spicy, which lends a final delightful warming element to dishes.
4- Adds Flavor And Aroma To Sweet Dishes And Baked Goods
Why is it used?
You may find the flavor and aroma of cardamom in almost every authentic sweet dish especially made in Indian cuisine. 
They are obsessed with using this spice in sweets mainly because of its incredible aroma. 
Moreover, it also can depreciate the unpleasant odor in eggs when used in puddings and cakes.
It makes a beautiful bond with any other spices, sweeteners, and rich ingredients in particular baked goods or sweet dishes.
In which form and how is it used?
Most sweet dishes or baked goods include ground cardamom or powdered cardamom seeds. Some recipes may even contain cardamom-infused syrup. 
Not that the whole pods cannot be used. However, the ground form is more effective to infuse in ingredients used in batters or doughs in baked goods and liquids in sweet treats.
Since a pinch can go a long way in baked or sweet dishes, cardamom is often included with moderation, combining mindfully with other ingredients.
The flavorful output!
Cardamom-infused sweets and baked goods result in a signature taste. Since we are used to the sweetness in such foods, the spicy sweetness gotten from this spice introduces a new flavor dimension.
Did You Know?
Having the capability to elevate the overall taste and aroma of a dish, while also upgrading its nutritional value is one of the most signature uses of cardamom in cooking. In fact, there is scientific data to prove that cardamom when used in powdered form, even helps with regulating blood sugar levels in the human body.
5- Amps Up Dips And Sauces
Why is it used?
Our topic leader is often paired with other spices and ingredients such as cream cheese, tomatoes, olive oil, chile peppers, black peppers, etc. Cardamom essentially helps in highlighting the flavor profiles of these ingredients by backing up their intensities.
In which form and how is it used?
Most of the time, since sauces call for simmering and dips require whipping, ground cardamom seeds or powdered cardamom works best in them. 
In these recipes, whole crushed cardamom pods are hardly used as they might ruin the taste of the dips or sauces when bitten.
Cardamom is a versatile spice that can give so much flavor and fragrance to your dips and sauces even with a pinch. The amounts used are mainly dependent on a particular recipe. However, you may adjust the quantity according to your taste preference as well. 
The flavorful output!
Simmering or whipping results in the essential oils of cardamom infusing with liquids of sauces and dips. This will bring about an unexpected warmth and spiciness to these dishes.
The fragrance of the sauces and dips is amplified, making them more aromatically appealing, especially when paired with appetizers.
6- Used In Making Aromatic Rice Dishes
Why is it used?
Popular rice recipes from Indian, Pakistan, Middle Eastern, and North African cuisines traditionally incorporate cardamom mainly to give their rice dishes a wonderful aroma.
Cardamom often harmonizes with other aromatics like bay leaves, star anise, cinnamon, cloves, cumin, garlic, and ginger. This combination increases the nutritional value of these rice dishes, especially affecting digestion.
In which form and how is it used?
Our topic leader either contributes by adding up to a spice blend that seasons the rice or, tempers with hot oil as whole pods to release their flavor and aroma. 
In some recipes, a bundle of spices including cardamom is infused with the liquid that cooks. This bundle is later discarded once the flavor and aroma get absorbed by the rice.
The flavorful output!
One of the signature uses of cardamom in cooking is using it in rice dishes which prompts savoriness especially when combined with other ingredients. It enriches the coziness of these recipes, resulting in iconically full-bodied and aromatic dishes.
7- Gives A Great Taste To Breakfast Meals
Why is it used?
It brings an exotic touch not only to oatmeal but also to your pancakes and waffles. Adding a dash of cardamom would be the simplest way to make fancy breakfast dishes without too much effort.
In which form and how is it used?
You may choose pre-ground cardamom or freshly ground cardamom seeds for this. Whole cardamom pods will not go well with these recipes. So go with a pinch of ground cardamom sprinkled in your cooked or baked oatmeal, pairing it with fresh or dried fruits and dried nuts. 
You may also infuse a dash of cardamom powder with your waffle batter or pancake batter to spice up the breakfast. Not only for the breakfasts on the sweeter side, you may also incorporate this spice with savory pancakes, oatmeal, or waffles.
The flavorful output!
The unique warmth of this spice, blended with a subtle sweetness is ideal to complement other ingredients used in your oatmeal, pancakes, etc. It undoubtedly backs up the savory recipes. At the same time, cardamom is ideal to elevate the coziness of these recipes, melding with the sweet elements.
Since breakfast plays a major part in nutrition, a pinch of cardamom can go a long way adding up to the final nutritional value of your dish.
Cardamom and coriander are two pantry staples that are often used together. But, did you know that they possess a few differences that need your attention? Follow up on this link and read this article to learn more!
Explore Different Dimensions of Cooking With Cardamom In Your Spice Rack!
Cardamom is a spice that packs a punch that could go a long way in your daily dishes. It usually gives its best when whole pods are a bit dry-roasted and included in food. Different cooking methods call for different formations of this spice to make the best out of its intense aroma and flavor. So, do not forget to use cardamom in your favorite dishes and experience the difference!
Related Topics