Did you know that Tzatziki sauce can be a divine companion to many other dishes apart from its conventional use with gyros? So, if you were looking for other ways to enjoy this sauce, here we come up with a bunch of Tzatziki sauce uses!
The delicious Tzatziki sauce can be eaten and served in many interesting manners. And the best ways are:
So, if you are a real Tzatziki lover, continue reading till the end to find the most exciting ways to use your favorite condiment!
5 Best Ways To Use Tzatziki Sauce
When a certain food is special and becomes one of our favorites, we tend to find new ways to enjoy it without making it boring and ordinary. 
In fact, Tzatziki sauce is such a condiment that can be enjoyed over and over again beyond the typical ways you use it.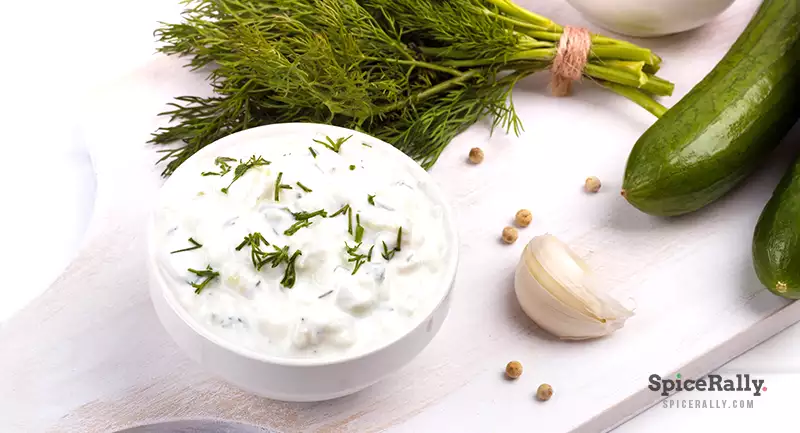 01- As A Dipping Sauce
The smooth, creamy, and chunky texture of this sauce works the best as a dip. If you have kids who hate vegetables, you can try Tzatziki as a healthy and delicious dipping sauce with an assortment of veggies like cucumber, zucchini, carrot, broccoli, etc.
Moreover, our topic leader has this incredible ability to upgrade the taste of pita bread and pita chips. And this also makes a mouthwatering delicacy for batter-fried calamari and prawns, which will bring you the ultimate satisfaction of seafood!
Did you know that tajin seasoning is also a great addition to dipping sauces? Click on this link and refer to this article if you need to find more tasty ways to use this blend.
02- To Mix Into Salads
Surprisingly enough, Tzatziki can be a fantastic twist to your favorite salad! You can either directly mix this into your salad or use it as a salad dressing.
You can also make it runnier if you use Tzatziki sauce as a salad dressing by mixing some water, milk, or thick coconut milk. This dressing will essentially complement fresh Greek salads or any salad that comes together with carrots, cucumber, tomatoes, etc.
In addition, our subject leader will also make a delicious addition to pasta salads, creamy noodle salads, potato salads, and egg salads. Just stir in a spoonful and experience how beautifully it turns your salads into a real treat.
03- To Incorporate Into Mashed Potatoes
Mashed potatoes no longer need to be bland when you have Tzatziki at home! If you have been using sour cream so far, you can simply replace it with a scoop of our topic leader while mashing the potatoes. 
Go ahead and throw in a dash of paprika or cayenne pepper for a serious flavor boost. You can also mix a handful of freshly chopped parsley and serve the mashed potatoes with some bacon or steak. Enjoy the delight, and thank us later!
Did you know that guacamole is as tasty as tzatziki sauce and can be used in many ways, apart from using it with chips or toast? Click here and read this article to learn more delicious ways to enjoy this dip.
04- To Put On The Burgers And Sandwiches
This little trick is to twist-turn your regular lunch into a royal treat. Some Tzatziki on your sandwiches or burgers will literally help to bring out all the good flavors in them.
You can just top your burgers, sandwiches, or toasts with this sauce. Or else, incorporate a spoonful into the fillings or spreads. 
It is best with chicken salad sandwiches, gyro sandwiches, and even toppings, spreads, and fillings that require mayonnaise- just sub the mayo, and you are good to go!
Good mashed potato is one of the greatest luxuries in lifeLindsey Bareham
05- As A Side Condiment For Meat And Fish
Enjoy meat and fish with this sauce like you never did before. Although this is known to complement vegetables, it adds so much flavor as a side condiment for fish, chicken, beef, pork, and other seafood.
Grilled fish, roasted pork ribs, steak, buffalo wings- you can enjoy any of them with our topic leader. In fact, this is an excellent sauce for white fish and rich meat.
You must be interested in learning what to use if Tzatziki sauce is not around. To help you with that, we have listed the best Tzatziki substitutes right in this article.
Tzatziki Sauce Literally Goes Beyond Gyros!
As you see, this condiment can be a fantastic addition to many foods we consume daily. If you ever thought that Tzatziki sauce uses only gets confined to gyros, kebabs, and vegetables, we broke the norm! 
It could be incredibly delicious as a dipping sauce, an ingredient in mashed potatoes, an accompaniment for sandwiches and burgers, etc.
Related Topics